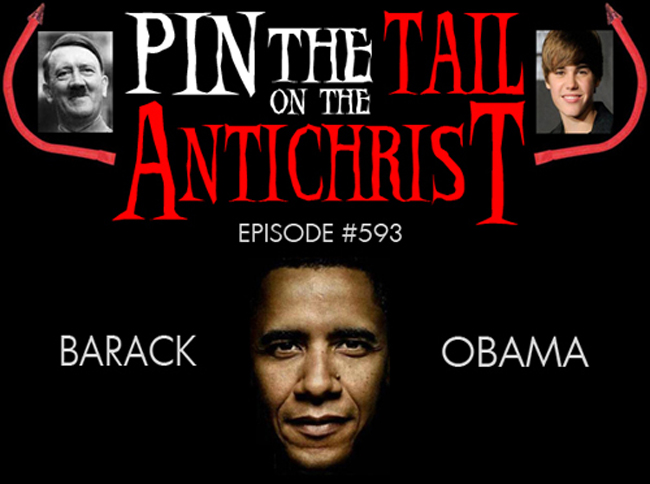 Barack Hussein Obama. AKA Barry Soetoro. AKA Keyser Soze. AKA…today's candidate for consideration on Pin the Tail on the Antichrist! [insert Omen theme music and applause here] So you may be asking, "How could it possibly have taken us so long to consider this guy as a serious contestant on PToA?" We here at Pin the Tail have heard your pleas and couldn't agree […]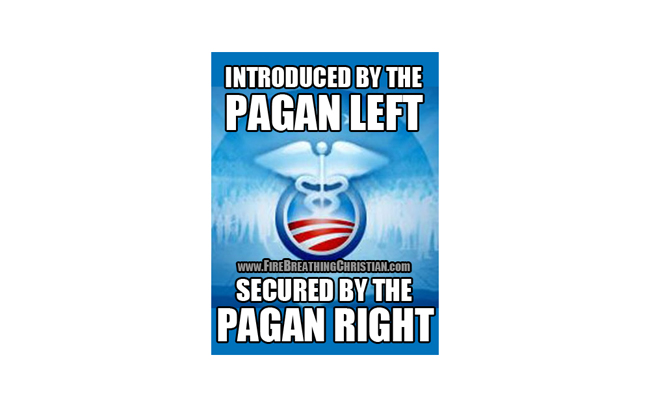 If only we had Republicans running the show in DC, we'd get small government, right? If only we had Republicans in control of the Senate, the House, and the White House all at the same time, we'd see the massive growth in American State power and American citizen dependence reversed, right? This is the rhetorical […]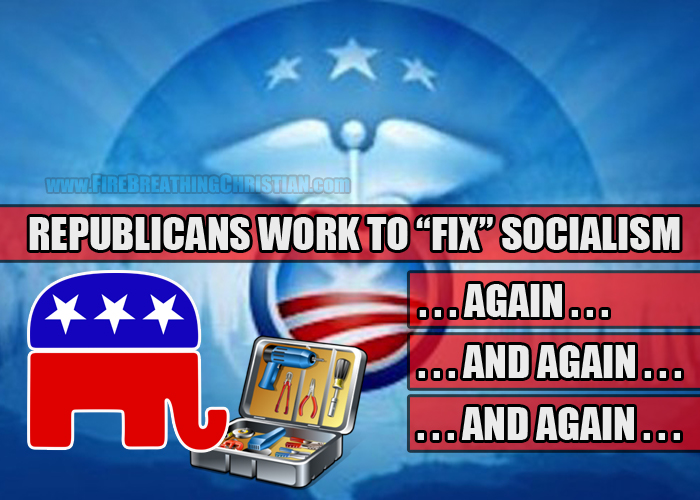 So the GOP is gonna "fix" Socialism for us! Again! Like they've "fixed" the satanic/Socialist public school system. And like they're "fixed" the satanic/Socialist Social Security system. And like they've "fixed" the satanic, black magic fiat economic system that inherently makes masses dependent upon those who claim for themselves the power to magically create fake money out […]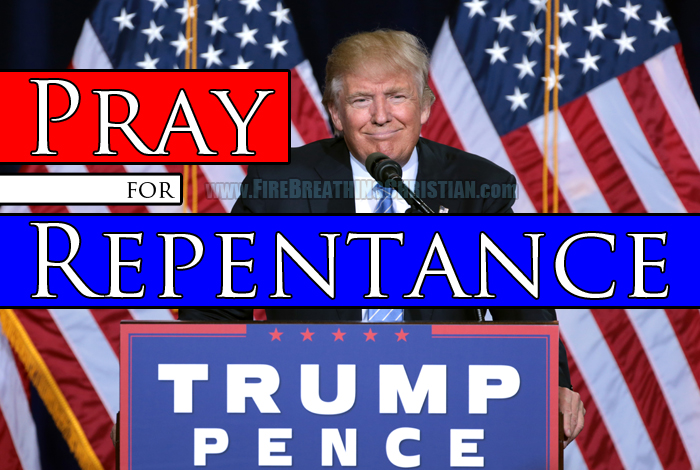 Pray for President-elect Donald Trump. Pray for his repentance. Pray that he will submit to Christ as King while God graces him with the time to do so. Pray for America. Pray for America's repentance – a culture-wide repentance that, if it is to actually happen, must be led and inspired by the repentance of a […]
The US Supreme Court that imposed "gay marriage" and ObamaCare upon America is about to take a lunging lurch leftward. With today's passing of Antonin Scalia, the laughably unfree "land of the free" is almost certain to see a significant slide even further down the rat-hole of DC-down tyranny and the perversion of law. A proud, unrepentant nation that exalts […]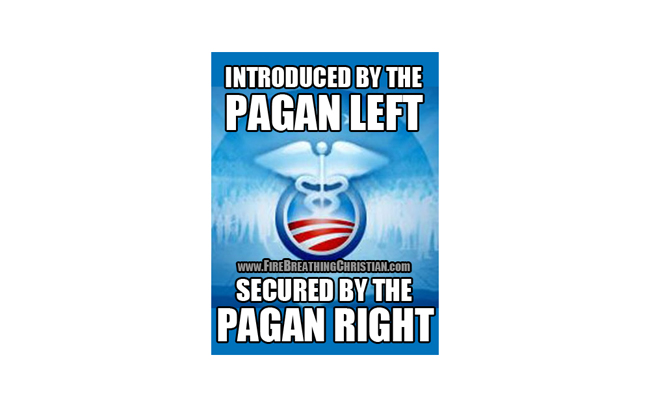 So the Pagan Political Right has once again saved the day for the Pagan Political Left by advancing the cause of State/Corporate control of the health care system through the "legal" preservation of ObamaCare. This decision comes on the heels of the Pagan Political Right going to ridiculous extremes to eek out passage of ObamaTrade. […]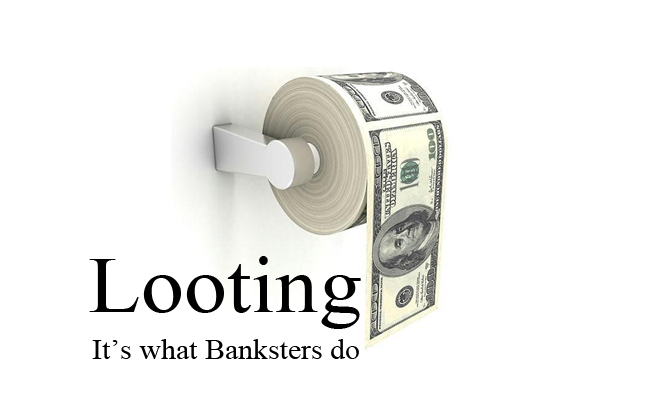 What could be more pure, virtuous and all-'round awesome for us all than a proposed national trade bill that is so incredibly supercool and sweet that nobody who has actually read it is allowed to even talk about the details in public before it's voted on by our beloved "leaders" in DC? What could be more pixie-dust […]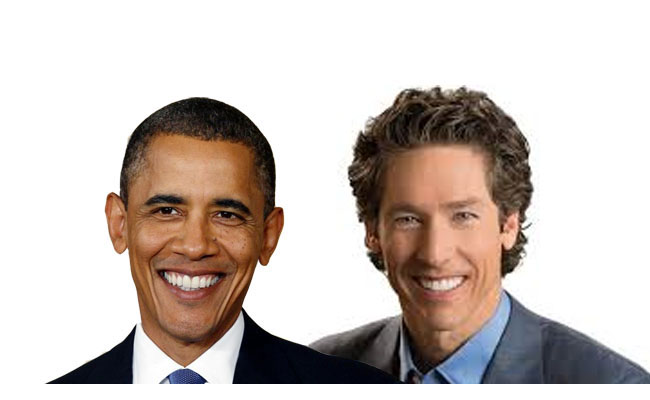 Barack Obama. Joel Osteen. Barack Obama…Joel Osteen… Now what could these two possibly have in common? Hrmmmm… Maybe the better question to many of us would be to ask what they don't have in common. After all, for those of us with a biblical worldview and the naturally following conservative political bent, we tend to view these men in […]
Barack Obama. Joel Osteen. Barack Obama…Joel Osteen… Now what could these two possibly have in common? Hrmmmm… Maybe the better question to many of us would be to ask what they don't have in common. After all, for those of us with a biblical worldview and the naturally following conservative political bent, we tend to view these men in […]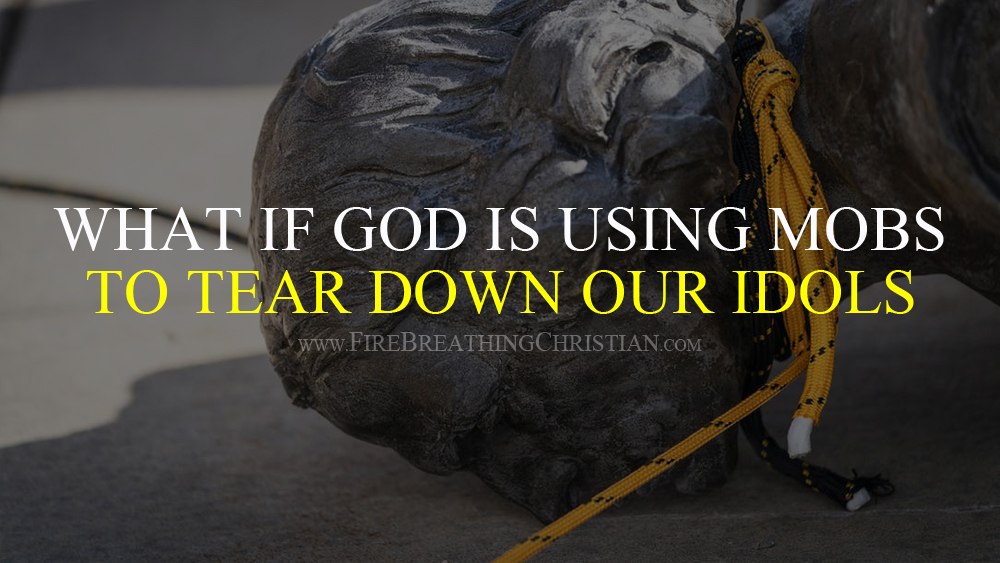 What if God is using raging mobs of evil, lawless people to tear down idols that other people have elevated to a place of worship above Him? As the deep rot that's been spreading under the surface of our culture for generations finally gives way to the open chaos and carnage that it was designed […]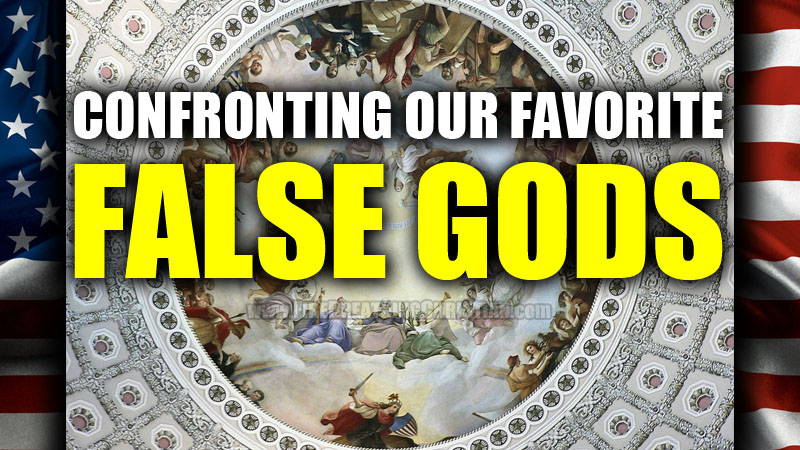 Every now and then God graces us with the ability to clearly see something that's been plainly present all along but, for some reason, had eluded our detection. We can go for years, decades, and even generations as people with blinders on. Sometimes the blinders are cherished possessions that we cling to an attempt to […]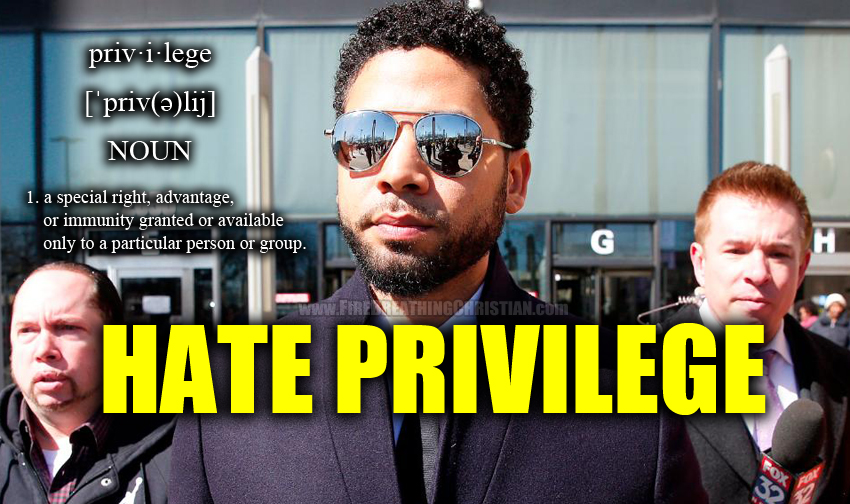 #HatePrivilege is all the rage. . In our culture, some people are not only free to hate, but are encouraged to do so at every turn by corporations, governments, and even "progressive" churches…all in the name of "fighting hate". . Here in 'Merika, if you want to openly discriminate against, oh, let's just say for […]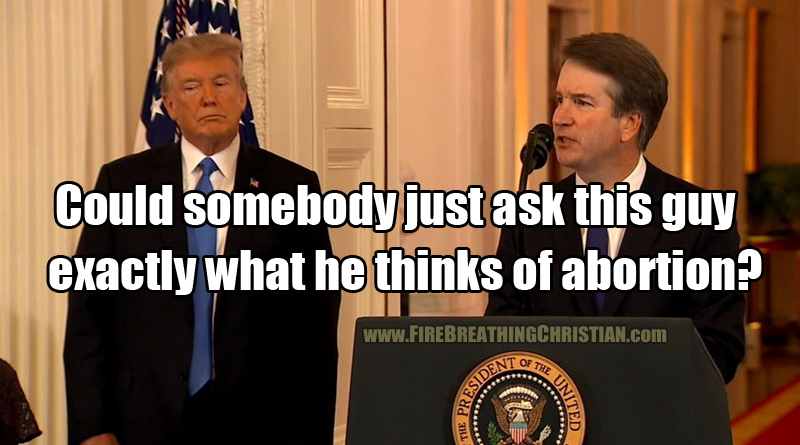 Of all the Orwellian doublethink idiocy that passes for "serious political conversation" these days, none is more Orwellian or more idiotic than the prevailing notion that a President (or anyone else) shouldn't dare ask in a straightforward manner what the exact position of a judge (or anyone else) is on abortion. Could it be that […]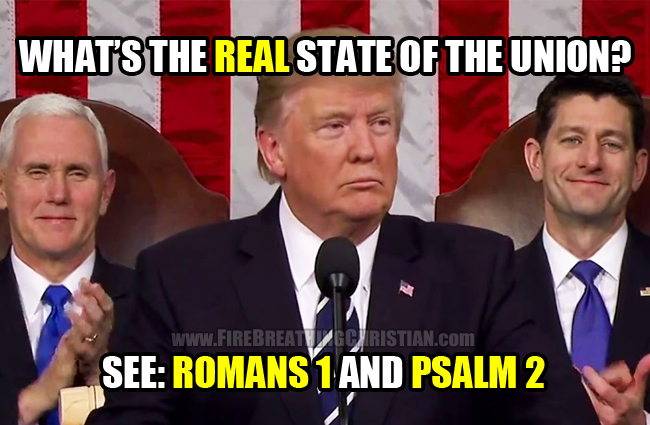 It's that "State of the Union" time again, a time when political leaders at State and Federal levels give grand speeches yammering on about how great, awesome, and incredibly well off we are. While some of the points they make are rooted in truth, most are not. But how do we know which is which? […]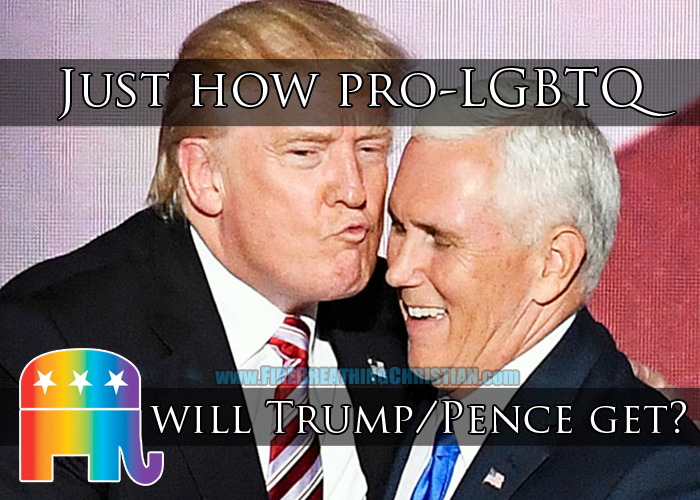 There's a whole lotta gay news coming out of Trumpworld these days. As in pro-gay. As in pro-"let's obliterate the meaning of terms like family, marriage, husband, wife, and even gender itself and pretend it'll all somehow work out in the long run as long as we have better jobs, more money, bigger houses and more stuff". […]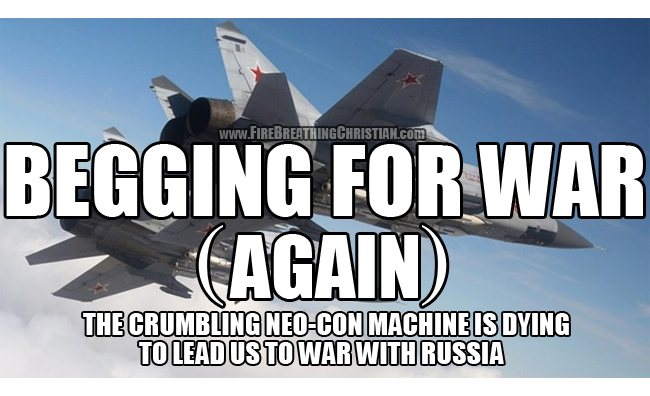 Looks like those evil Russkies are daring to perform military exercises near the Russian border again. Sneaky Commies! Oh wait, you noticed that "near the Russian border" part? And then you thought that maybe there shouldn't be anything particularly alarming about the Russian military performing exercises near the Russian border? Well good for you! Congrats! You noticed the […]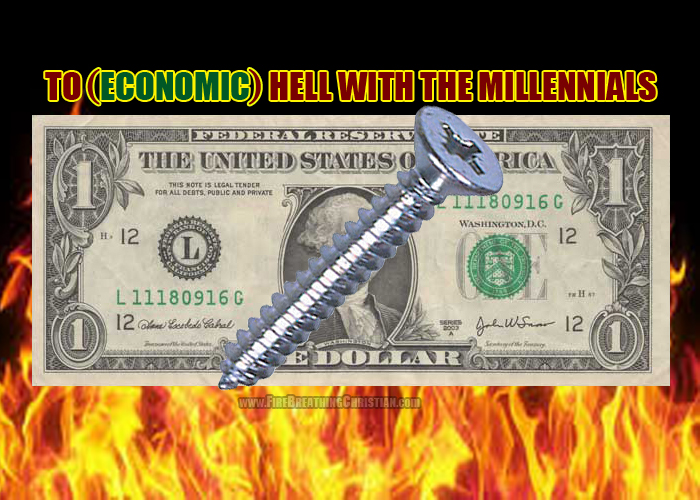 As I write this, financial markets are bouncing near all-time (artificial) highs, with the Dow hovering around 20,000 (a point that also played a central role in last week's article, "Making America Great" Through Anti-Christian Economics.) This sky high (and then some) market exuberance is in no small part due to the next wave of anticipated bailouts of "too […]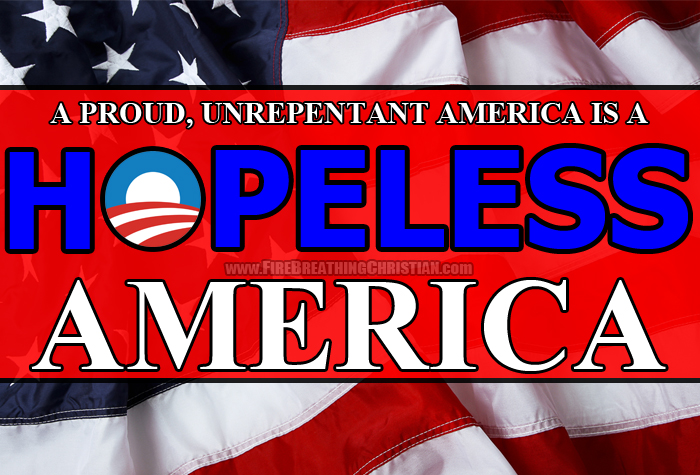 One of the themes of this election cycle in America is clarity. God is showing us what we've become. Clearly. With each passing political curveball and October surprise, painful and embarrassing clarity abounds. We've learned and are continuing to learn a lot about our "Christian leaders". Same goes for our concepts of freedom, liberty, justice, […]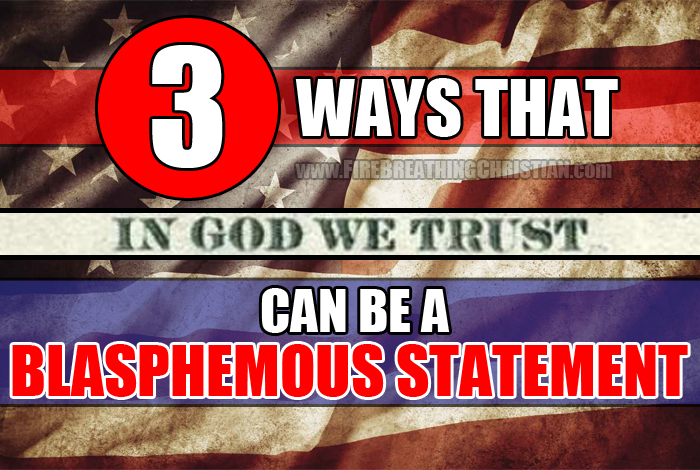 One of the most useful tools the enemy has deployed over (at least) the past 150+ years of American history is conflation. We've been encouraged to conflate America with Christianity, and thereby conflate the American State with God. That's how we ended up a land loaded with professing Christians who mostly cherish and defend overtly […]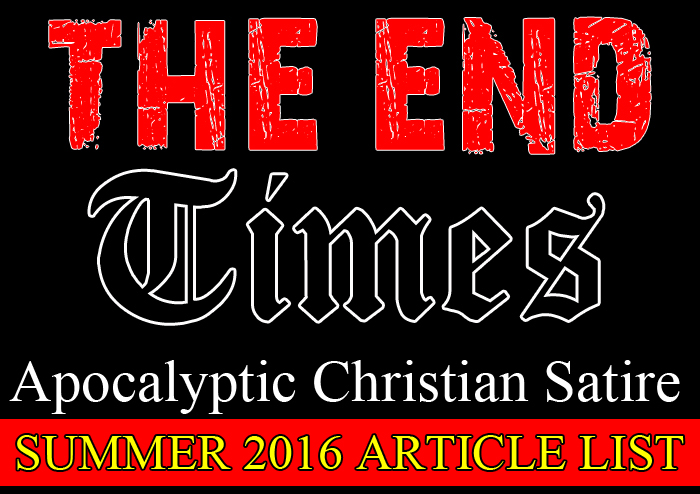 With the Clinton/Trump campaign rolling through the summer, there has been much fertile ground for apocalyptic Christian satire over the past few months. Here's a sample of the work we've done at our sister site, The End Times, over the course of what was indeed a very hot and very apocalyptic summer of 2016: Trump Builds Wall Of […]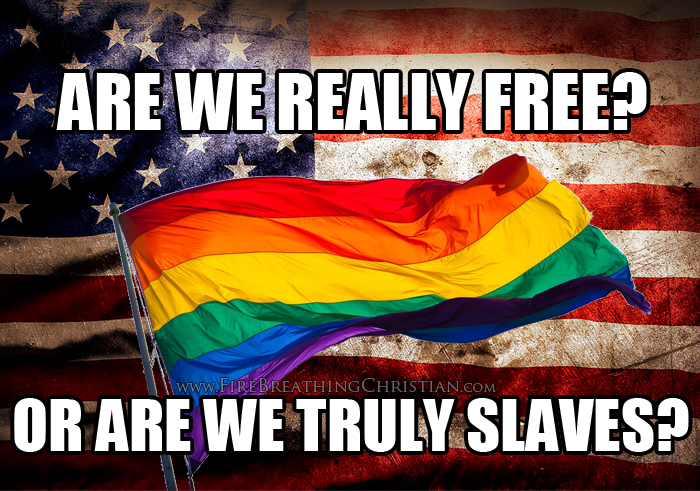 Here we are in late May of 2016, and since asking the question "Are we really free?" in last year's Memorial Weekend post, we've witnessed some truly amazing developments in a still very proud and still very much unrepentant America, including: ObamaCare has been validated by a Republican Supreme Court. The advance of even more Socialism […]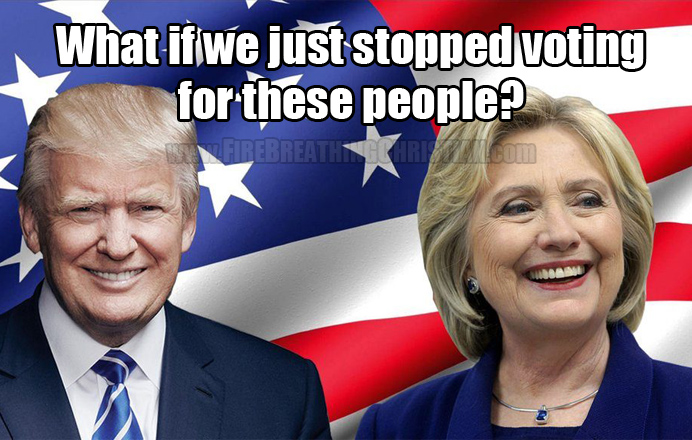 If Batman vs. Superman was bad (and it definitely was), then how should we categorize the ongoing barrage of teaser trailers for Clinton vs. Trump? How concerned should we be that fellow Christians seem to be once again falling right into the "Must Support The Lesser Evil" line? How alarmed should we be that American Christians seem to […]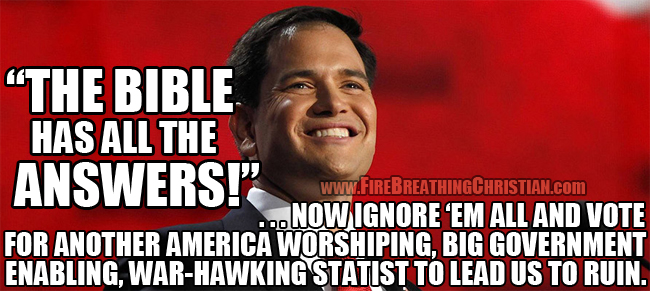 In keeping with the now long-standing American tradition of professing Christian conservatives claiming the name of Christ and an affinity for the Bible in word while pretty much ignoring the Word of God on law and civil government in practice, Senators Marco Rubio and Ted Cruz have locked horns in a political life-and-death battle over who will carry the […]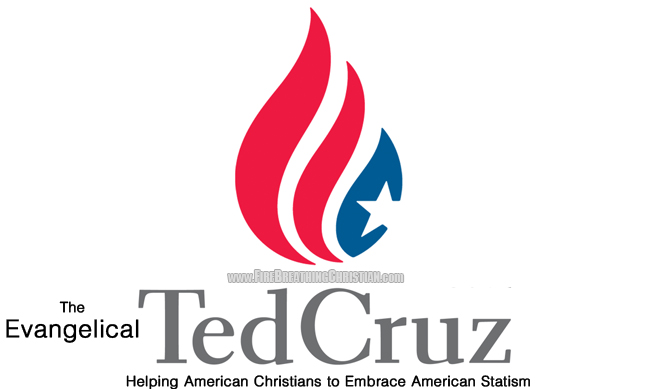 With millions of evangelicals once again offering up pretty much zero resistance as they're herded on cue and right on schedule into a fear-fueled Pagan Left/Right paradigm box so that they might choose from the American Statists placed before them in this cycle's installment of The American Political Puppet Show, it's probably a good idea to take an honest, biblically […]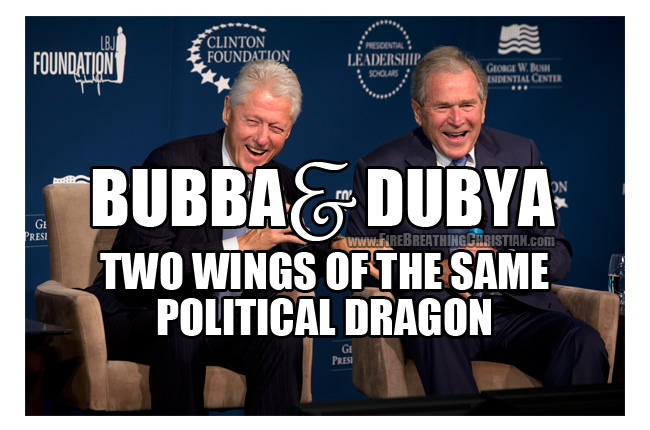 So why do self-described conservatives in America tend to openly (and often quite proudly) favor rank Socialistic/Marxist programs like Social Security and Public Schools? Why do they tend to automatically favor building a larger military and engaging in even more wars when we are, in a word, broke? (See yesterday's How can a "broke" country have the […]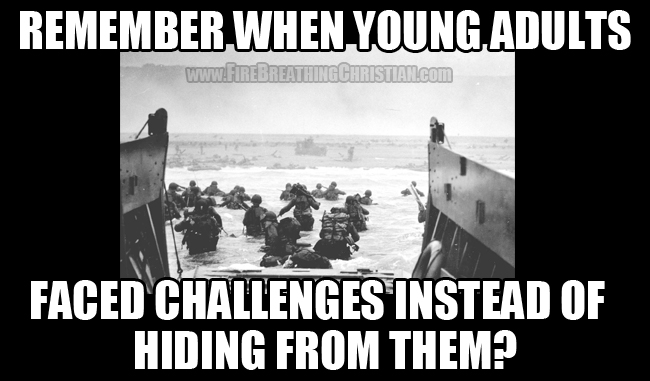 Human history is loaded with examples of young men and women doing what would today be considered amazing things on a fairly routine basis. Oh sure, there were standouts who led soldiers or built businesses in their early teen years, but the norm – the standard expectation – not so long ago was for young men and […]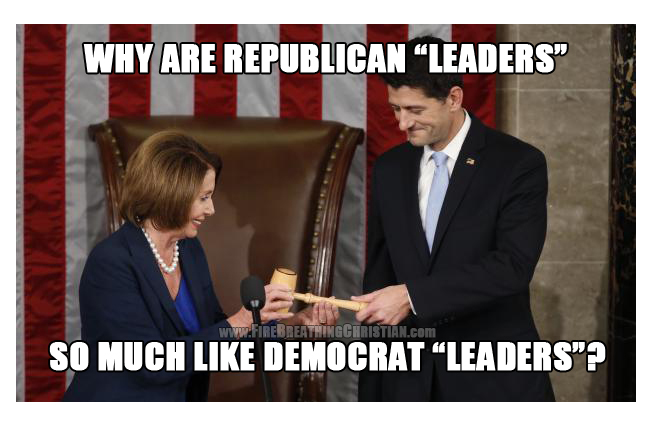 It looks like video documentation of Planned Parenthood ghouls doing everything from casually chit-chatting over drinks about profiting from the sale of baby body parts to plucking the brain from a living child for profitable harvest wont be enough to get us to even remove federal funding from Planned Parenthood …much less shut down Planned […]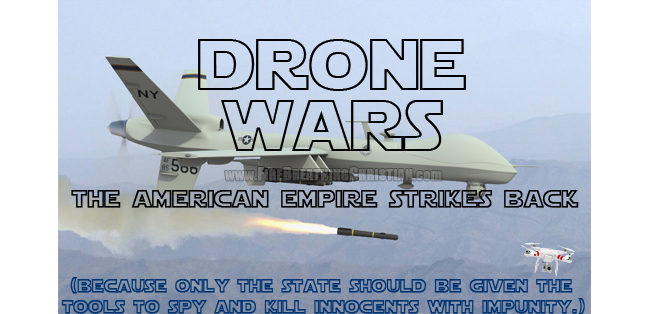 According to the American State, American citizens should be forced to register their private drones with said American State. You know, 'cause citizens might hurt somebody with their drones…unlike the American State, which only regularly spies on and routinely kills innocent people because…well…that's just what The State does, you know? But citizens just can't handle the responsibilities that […]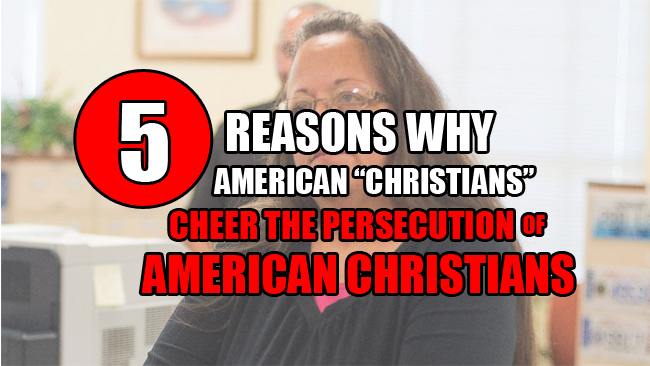 We live in wild and wacky times. And its probably gonna get a whole lot wilder and wackier before it gets much better. That much seems certain. The America of 2015 is so far down the pike (and drain) from the America of just 2000 or 2005 that it really can be hard for many […]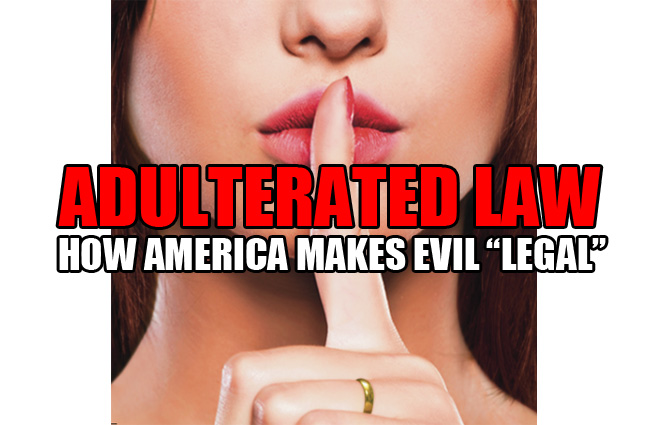 Why is an openly operating adultery business like Ashley Madison "legally" allowed and protected in America? For the same reason that the mass-murder of babies is "legal" in America. (See: Selling murdered baby parts in America? Sure. Why not?) And for the same reason that "gay marriage" is "legal" in America. (See: "Supreme Court" Votes for Wrath […]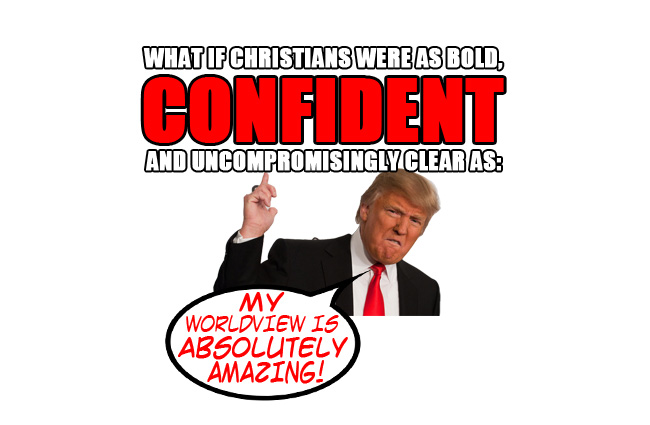 It's no mystery why Donald Trump, also known as The Donald and also known here as The Trumpinator, is crushing his bug-like competitors for the Republican Party nomination. No mystery at all. Just ask someone – anyone – who is even marginally supportive of the Trump 2016 campaign why they are into that campaign at all and […]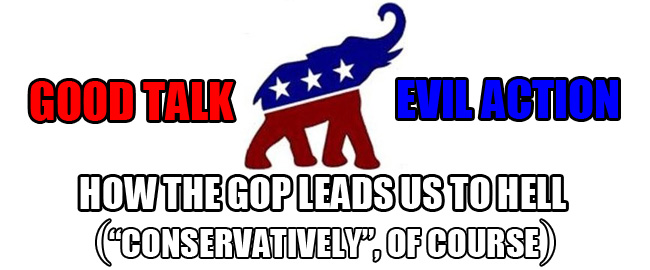 So which of the two All-American Pagan political parties gave us the majority of Supreme Court Justices who gave us "legal" abortion in America? The Republicans. And which of the two All-American Pagan political parties gave us the majority of Supreme Court Justices who gave us ObamaCare, which expands federal funding of…you guessed it…abortion. The Republicans. […]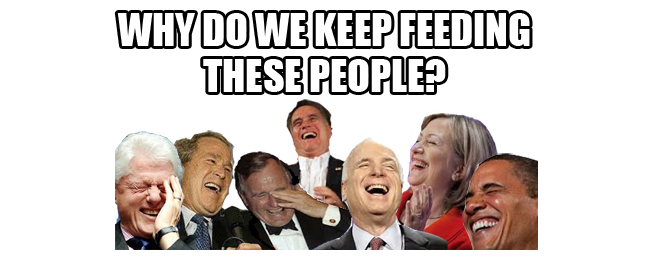 So how is our Pagan "conservatism" and America worship working out for us? How's that 40+ year "pro-life commitment" from the GOP panning out? (See: Note to 'Merica: There is no "God-given right" to murder children. Repent accordingly.) How's that GOP/"conservative" defense of "family values" playing out? (See: Of course Jeb Bush is "fine" with […]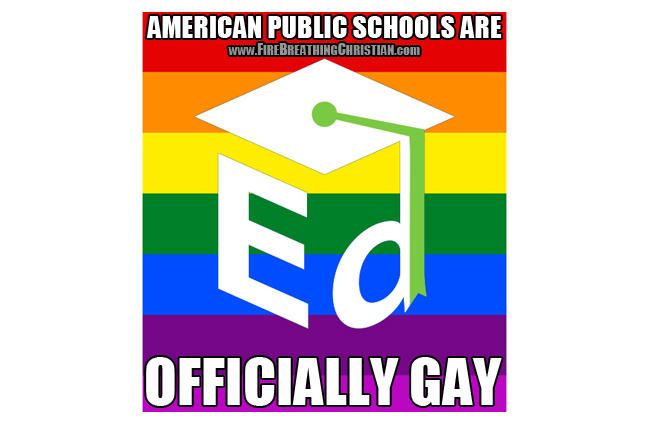 On Friday, millions upon millions of American "Christians" were outraged – outraged, I tell you! – at the "Supreme Court" vote in favor of "gay marriage" as the "law" of the land. Then on Monday many of these very same outraged Christian conservatives freely shipped the delicate, impressionable little boys and girls that God has […]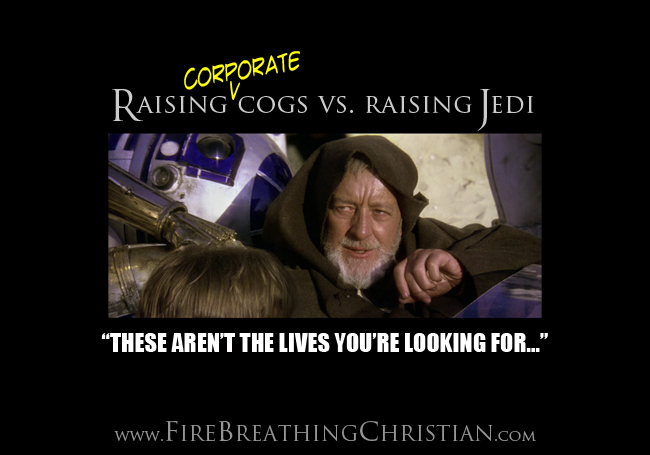 Who are we and why are we here? What makes for a good life right here and now? What makes for a productive life right here and now? What is success? How is it best defined? How is it best pursued? The answers that we provide – and have been conditioned to provide – to […]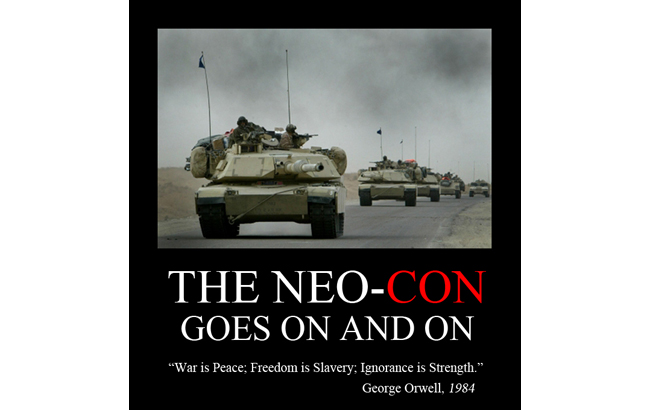 If there's one thing that American "conservative Christians" have been conditioned to love, it's war. War overseas, of course – the kind that you can take in via Fox News from the relative safety and comfort of your rented-from-the-State-to-fund-State-controlled-children's-"education" home here in "the land of the free" and the home of the NSA. (See: How […]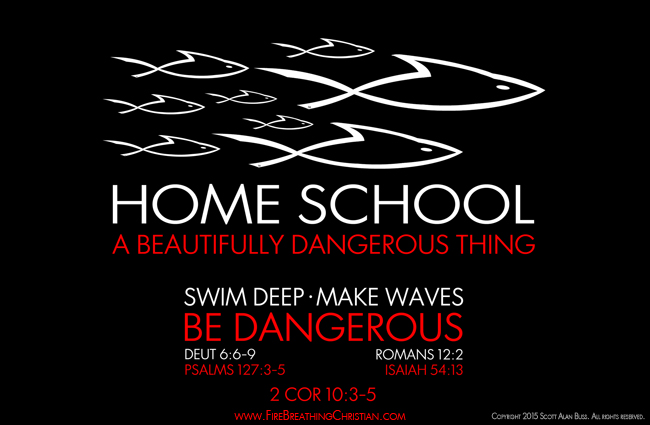 By now many of us have heard at least part of the unfolding tale of the Nauglers, a family of 12 in southwestern Kentucky who choose to live an "off the grid" lifestyle of simplicity that includes, among other things, a family Facebook page (kinda funny, right?). One of many articles chronicling the recent arrest of the […]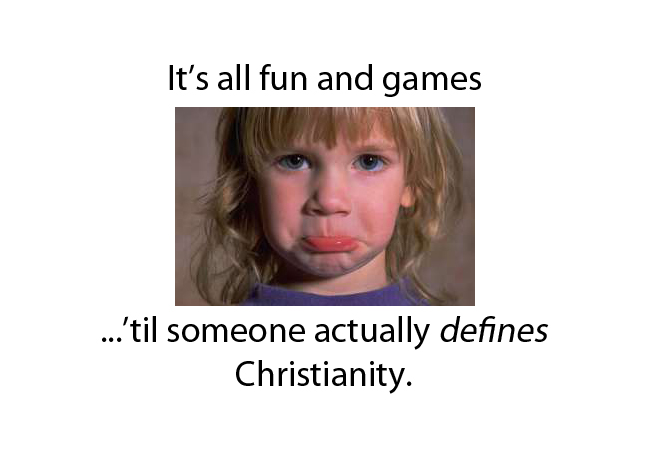 I'm a Christian. You're a Christian. Practically everybody in America is a Christian. Naturally then, this makes practically every politician in America a Christian (Barack Obama, George H.W. Bush, and Bill Clinton included, of course). Just ask 'em. When they respond by saying that they're a Christian, that can only mean one thing: They're a […]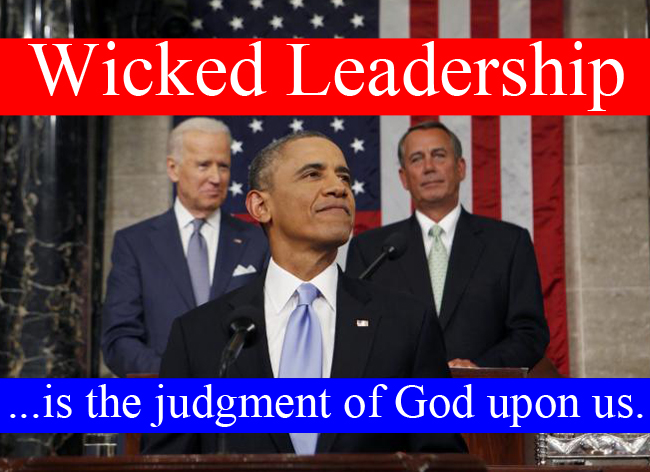 One of the most telling signs of our vulgar and prideful animosity toward Christ the King is our comfort with the knowledge that He will not be addressed by our "leaders" in a formal, official context in anything but the most vague, superficial sense, if at all. He may be cited or used as an […]
One of the most telling signs of our vulgar and prideful animosity toward Christ the King is our comfort with the knowledge that He will not be addressed by our "leaders" in a formal, official context in anything but the most vague, superficial sense, if at all. He may be cited or used as an ornamental […]
Okay, is two enough? Are two unnecessarily imported seeds for possible (and I do mean possible, not inevitable) Ebola pandemic in America enough? Assuming that we manage, by the grace of God, to contain the New York City and Dallas events and hold them to a total of four infected people, can we please stop playing […]
One of the more memorable moments in Cecil B. Demille's The Ten Commandments comes when Charlton Heston – I mean, Moses – comes down from Mount Sinai with the Ten Commandments of God to man. He makes this dramatic return after a long absence during which the people of Israel engaged in rank idolatry and open […]
One of the more memorable moments in Cecil B. Demille's The Ten Commandments comes when Charlton Heston – I mean, Moses – comes down from Mount Sinai with the Ten Commandments of God to man. He makes this dramatic return after a long absence during which the people of Israel engaged in rank idolatry and open […]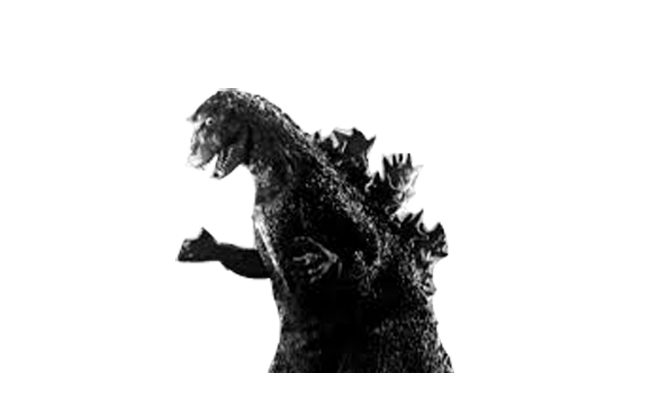 In 1954, greatness was born. It came in a peculiar package and was inherently inclined towards destructive ends, but it was greatness nonetheless. Are we talking about the birth of the super-secret, ultra-conspiratorial Bilderberg Group or maybe the dawn of the super-idiotic, hyper-congenial Miss America Pageant? Nope. While both may well peg the bad-o-meter […]
In 1954, greatness was born. It came in a peculiar package and was inherently inclined towards destructive ends, but it was greatness nonetheless. Are we talking about the birth of the super-secret, ultra-conspiratorial Bilderberg Group or maybe the dawn of the super-idiotic, hyper-congenial Miss America Pageant? Nope. While both may well peg the bad-o-meter […]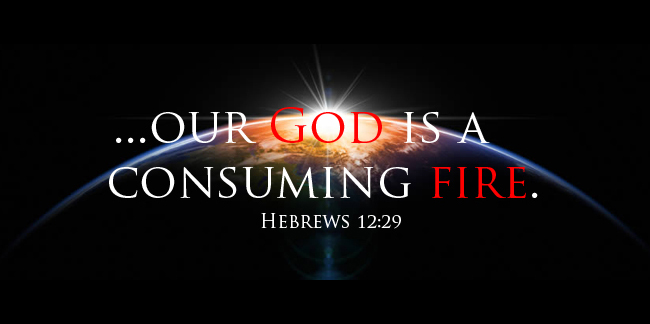 "FIRE…God of Abraham, the God of Isaac, the God of Jacob, and not of the philosophers and savants. Certitude. Feeling. Joy. Peace." ~ Blaise Pascal . I can remember holding my wife's hand when she died. Even now I can vividly recall the moment before and the moment after, but it was the difference […]
"FIRE…God of Abraham, the God of Isaac, the God of Jacob, and not of the philosophers and savants. Certitude. Feeling. Joy. Peace." ~ Blaise Pascal . I can remember holding my wife's hand when she died. Even now I can vividly recall the moment before and the moment after, but it was the difference […]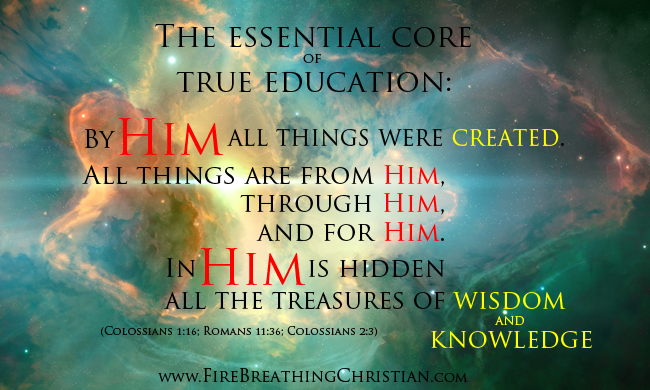 Ever wonder why, no matter how many gajillions of dollars we spend, how many studies we undertake, or how many reforms we make to address the subject of children's education in America, we only seem to be able to continue the steady decline in knowledge, understanding, and character from one generation to the next? If you have […]
Ever wonder why, no matter how many gajillions of dollars we spend, how many studies we undertake, or how many reforms we make to address the subject of children's education in America, we only seem to be able to continue the steady decline in knowledge, understanding, and character from one generation to the next? If you have […]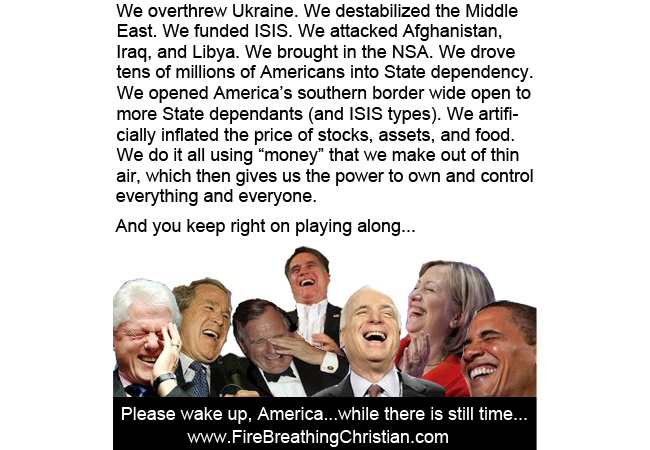 Memes, themes, and the like have become all the rage in this little blip of time known as the social media era. Everything from kittens to politics is now often presented in short, high-octane bursts able to quickly inspire everything from hysterical laughter at what the cute, cuddly little kitties are doing, to burning outrage at what […]
Memes, themes, and the like have become all the rage in this little blip of time known as the social media era. Everything from kittens to politics is now often presented in short, high-octane bursts able to quickly inspire everything from hysterical laughter at what the cute, cuddly little kitties are doing, to burning outrage at what […]

In case y'all haven't heard, Allen West, along with pretty much every other Neo-Con tool in America, thinks that we need to man up, get serious, and roll headlong into serious war mode in Iraq…again… Why, you may ask? (While such questions are still allowed to be asked here in the "land of the free" and […]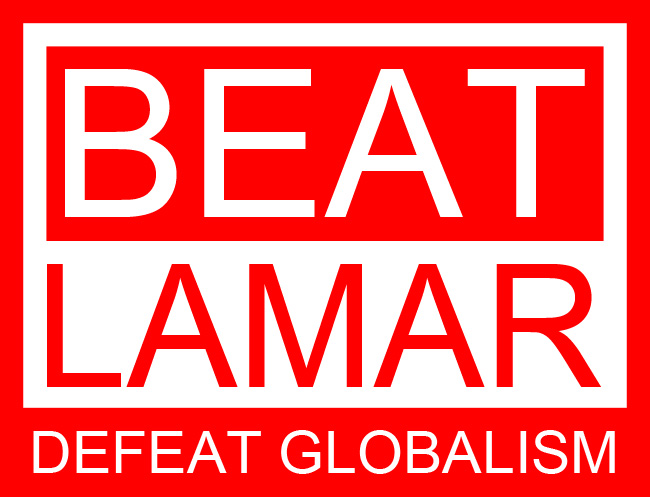 Lamar Alexander. He's folksy. He's polite. He's "successful". And he's a Republican. So he's gotta be good then, right? Well… He's also for adding new taxes, against eliminating Cabinet departments, for raising existing tax rates, for increasing the so-called "debt limit", for expanding Food Stamps, for "Cash for Clunkers", against defunding the "Bridge to […]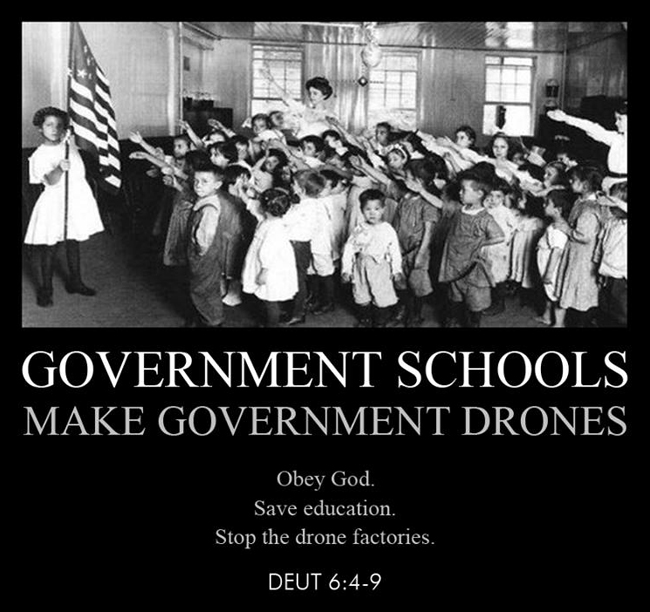 Did you know that reposting or sharing this sort of thing publicly could well end up being a giant step toward you and your family being actively run out of many "good, conservative, Bible-believing Christian churches" in America? Yep, it's sad but true. But should we really be surprised? We ought to already understand that, as believers who strive by God's […]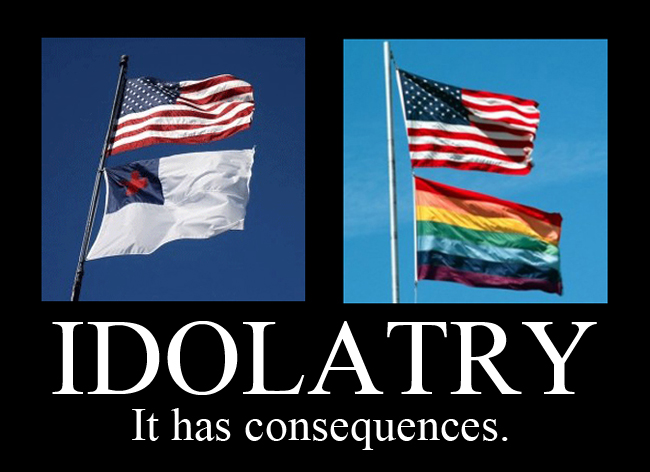 I don't know about you, but I'm not at all into the idea of bending over at the airport so that the TSA can check my underwear for al-Qaeda. Particularly when the Southern border is swung wide open and anyone able to hop, skip, or giggle their way across the border gets an American taxpayer-funded […]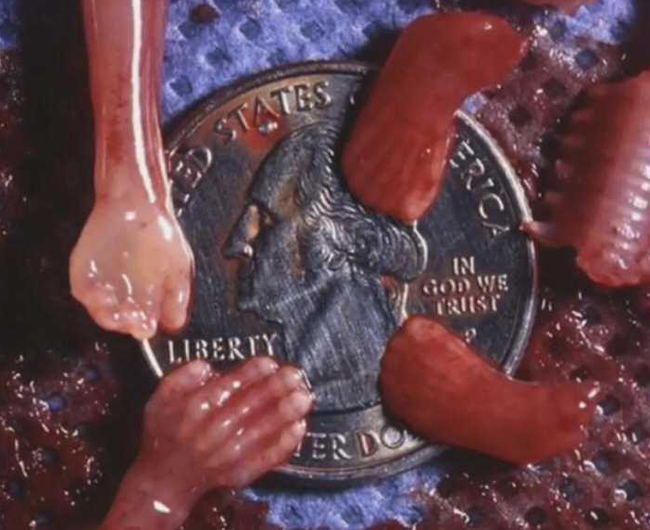 This is a continuation, or Part 2, of yesterday's post, "Our Murderous Narcissism". (Click here to read Part 1.) "Those who want to live, let them fight, and those who do not want to fight in this world of eternal struggle do not deserve to live." ~ Adolf Hitler "If we accept that a […]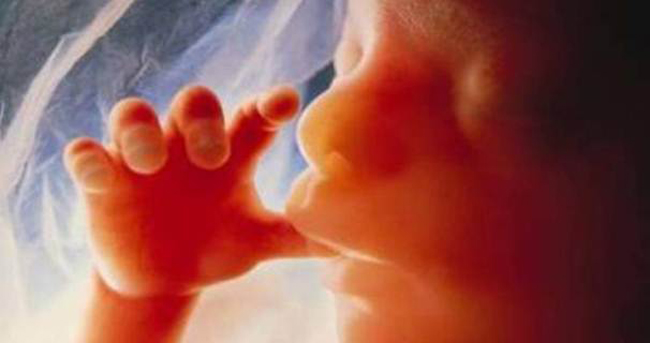 Five years ago I wrote the book Fire Breathing Christians and launched this blog. Feeling a little nostalgic the other day, I decided to thumb through the manuscript again. While I had a good time with that for a bit, I soon found myself stuck on a chapter about the murder of innocent children for convenience in America by […]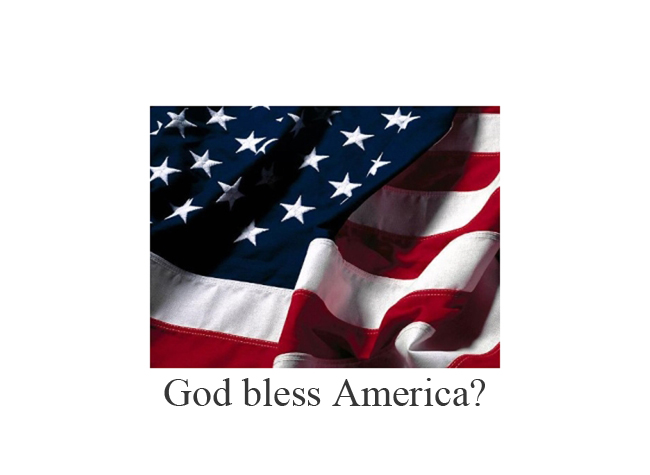 For those of you hoping to find validation for leftist progressive causes or worldviews here after reading (and perhaps smiling at) the title of this post, lemme save you some time and say plainly from the get go: Not. Gonna. Happen. Not at all. The manner in which leftist progressives passionately wage their futile, pouty […]
. . . At this moment in our history, our unique claim to fame is that, when it comes to sheer size and scale of blasphemy and idolatry, there has never in all of human history been a greater, more boastful spiritual whore than America. There's not even a close second, really, though one could make the case for Old Testament Israel being the closest thing to a competitor for this particular award.
What makes America truly untouchable in this contest isn't just the globe-spanning scope and influence of her rank prostitution. It's the fact that she does it all while mouthing her "love for Jesus" that makes it a truly unique and bone chilling horror. This combo gives allows her to coast to the easiest of wins where the gold medal for rebellion is concerned.
But hey, if you're gonna do something, be the best at that thing, right?
And in America, if there's one thing we know, it's that we're #1!
Ever wondered what an Easter Sunday "sermon" including a more vivid description of diarrhea than the purpose of the crucifixion of Christ might sound like?
Nah, me neither…
Yet that's just what the folks at "Truth" Community Church in Springfield, Missouri, were treated to this past Resurrection Day (when they weren't distracted by the big "Easter Egg" hunt, anyway).
This has been a long time in the making, but the day has finally come…
Posted here is the introduction from Fire Breathing Christians – The Common Believer's Call to Reformation, Revival, and Revolution. The book will be released in late October. In the days leading up to launch, I will be posting excerpts from many of its 21 chapters so that you might get a feel for the material without having to go to the trouble or expense of purchasing a copy. Of course, if you like what you see, I fully expect you to buy at least three copies.
By now, everybody expects the Liberal Inquisition. Before one can even finish the thought preceding any pronouncement critical of anything "progressive", they must resign themselves to the knowledge that, should they actually let their politically incorrect words fly, they will be branded.
The Scarlet R will be upon them.