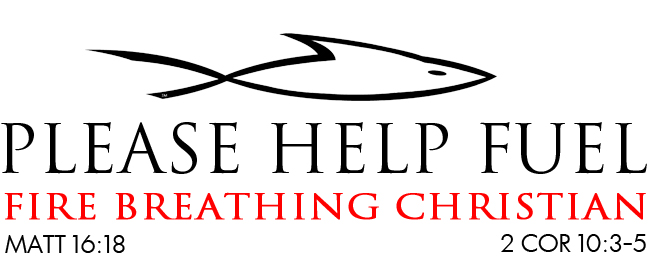 .
Howdy All,
First off, a big thank you(!) to those who support the Fire Breathing Christian mission with your prayers, by sharing the blog posts (and now podcast episodes), and by offering up kind and encouraging words by email and social media. That encouragement is like wind in our sails! God has been so very good to us through His people.
Soli Deo Gloria and woohoo!
While it's sometimes awkward for me to request support, I would now like to respectfully request that those of you who are able please consider financially supporting the cause. We could really use the help right now.
You can find out how to fuel the Fire Breathing Christian mission in this way by clicking here.
Thank you for your prayerful consideration!
In His grip,
Scott
---
~
Please "like" us on Facebook, "+" us on Google+, follow us on Twitter and feel free to sign up for new articles by email using the buttons in the upper right corner of the FBC home page.
Check out The Fire Breathing Christian Podcast too, and see the latest designs at Fire Breathing Tees and the latest memes at Fire Breathing Memes. Thank you for your support!
© 2015 Scott Alan Buss – All Rights Reserved.