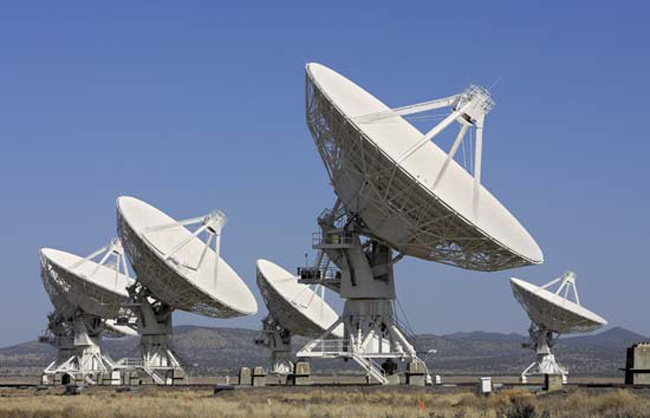 I recently re-watched Contact
 with Jodie Foster (just to be clear, I wasn't watching the flick with Jodie; she was in it). In this adaptation of the novel by Carl Sagan, Foster plays Eleanor Arroway, a scientist inspired by a life long dream to discover "what's out there."
Her career in science eventually leads to her involvement with the SETI program (Search for Extra-Terrestrial Intelligence), which is summarized in the following manner: "The general approach of SETI projects is to survey the sky to detect the existence of transmissions from a civilization on a distant planet – an approach widely endorsed by the scientific community as hard science"
This surveying is done in an attempt to detect any discernable pattern in the radio signals found in space. The ultimate hope and goal is to find something that so contrasts with randomness that it might be reasonably attributed to an intelligent cause – the cause in this case most likely being an alien civilization.
That's the broad, general idea anyway, and it seems reasonable enough to me. Looking for a clear, identifiable pattern as a way of identifying the existence, if not the precise identity of, an intelligent agent responsible for the creation of the pattern in question seems to be quite a reasonable approach.
So off SETI goes, sweeping the skies for discernable patterns that might, when found, ideally be attached to an alien civilization.
In Contact, Ms. Arroway makes the following observations about God while she is pursuing the aliens she is so certain are "out there":
"So what's more likely? That an all-powerful, mysterious God created the universe, and decided not to give any proof of his existence? Or, that He simply doesn't exist at all, and that we created Him, so that we wouldn't have to feel so small and alone?"
One would assume that an honest, truth-seeking, critically thinking scientist of Ms. Arroway's [albeit fictional] stature would at least be slightly inclined to apply the same tests used to detect potential alien civilizations to a search for the potential designer of other things as well, like, say…maybe the cosmos itself.
Yet she misses this.
Completely.
Why?
What makes the awe-inspiring complexity we now see at the microbiological level so invisible to these sorts of "scientists"?
What causes the intricacies of DNA to evade detection by so-called seekers of truth? Why would a particular pattern in space point to an extra-terrestrial civilization as at least a likely source of its design yet the majestically detailed patterns we see at every level throughout all of creation are dismissed as if they were simply…not…there…
Why?
Because of where they lead, that's why.
Carl Sagan and his Eleanor puppet simply will not follow evidence when it leads them to a place that makes them uncomfortable.
Sagan feeds Arroway her, "So what's more likely? That an all-powerful, mysterious God created the Universe, and decided not to give any proof of his existence?" lines even as he has her sweeping the skies for patterns infinitely more simple than those we have in hand for DNA and scores of microbiological systems, all without the slightest indication that he's even noticed the absurd contradiction and hypocrisy involved in this rather rank display of intellectual laziness and double-talk.
The only major difference between Arroway's sought after signal and the patterns we can actually observe at the microscopic level is that the pattern in space that Arroway finds in Contact is entirely fictional, while the observable, tangible intricacies found in DNA and microbiological systems are very much a part of the real world.
So where is the real proof? Where is the evidence for a designer to be found today, right now?
What have you done with this evidence? Will you apply the SETI standard and follow it wherever it leads?
_____________________________________________________________
For more, please head on over to the full FIRE BREATHING CHRISTIAN WEBSITE – Copyright 2009 S.A.Buss