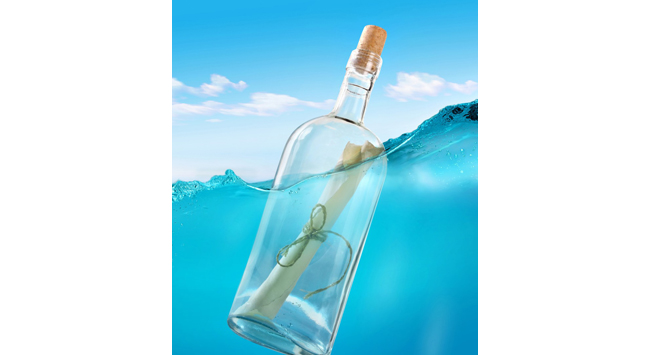 It is beautiful.
It is captivating.
It boasts an inspiring, powerful message presented in the most stirring of words  – language more than capable of making eyes weep and chins quiver with emotion.
It comforts millions with its sweet, spiritual sounding assurances of safety and salvation.
And it is presented as a gateway to infinite spiritual depth…all while bobbing harmlessly on the surface, rolling with the tides and currents of the culture in which it swims.
It is, of course, the "gospel in a bottle"…the preferred "gospel" of the professing Christian church in America and the West.
This "gospel" is safe. It is sequestered. It touches nothing that you don't want it to touch.
It comes in a beautiful container that protects its beautiful words from being sullied by contact with the dirt and grime of the real world and life.
You're a "conservative first" kind of political professing believer who doesn't want to be challenged on certain things or have certain idols tested in the harsh light of that other Gospel? Or maybe you're a liberal type who has his/her/[insert fictional gender here] own idols to protect?
No problemo!
This "gospel" empowers and encourages its followers to pick and choose as they see fit!
It's all about you!
And as an added bonus, this gospel gives you the power to critique others with whom you disagree without worrying about annoying little distractions like biblical consistency and such.
So you can slam and slam and slam away at "those liberals", or "them muzlims", or "the homosexuals" or…well…anyone else you wanna target, all without any fear of contradiction or hypocrisy.
How is this possible, you ask?
Well, most certainly not because you're avoiding being hypocritical or inconsistent in your application of Scripture, but because you simply do not care…and this "gospel" doesn't either!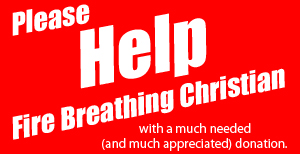 So you wanna claim to have repented, believed, and been saved but have no appetite for seeking and defining what sin is in any detail so that you can even know what to repent of and correct from here on out?
No worries!
Oh, but you wanna keep sending your little ones to the State for "education" even though you've heard more than enough pesky Bible passages to know that probably isn't a very good idea? (See: Redeeming Children's Education: Confronting Our Satanic Approach to the Pursuit of Knowledge.)
No sweat!
And you definitely want to keep complaining about how "those people" (whoever they are) are responsible for wrecking the culture, even though a consistent pursuit and application of the whole counsel of Scripture would reveal that you are right there alongside "them" when it comes to leading our land to ruin? (See: Judgment begins with the Church…not the Democrats.)
Of course! Who wouldn't want to be able to to that, right?!
This "gospel " is just perfect for you!
It includes all of the biblical detail that you want when you want it, and completely ignores any Scripture that you just don't wanna deal with. You pick! You choose!
How cool is that?
Talk about marketable…
Is it any wonder why "the gospel in a bottle" is the preferred "gospel" of American professing evangelicals?
It has literally enabled the professing church to lead this culture to ruin, all while loudly and proudly claiming Christianity and a "love" for the land and people that it is leading to death and hell.
Nice.
May God grace His true people with the zeal, opportunity, and strength to take up His supernatural Gospel-fueled Great Commission and destroy all false gospels with its light by proclaiming and applying the lordship of Christ in every realm of life…right here and right now…while there is still time…
I charge you in the presence of God and of Christ Jesus, who is to judge the living and the dead, and by his appearing and his kingdom: preach the word; be ready in season and out of season; reprove, rebuke, and exhort, with complete patience and teaching. For the time is coming when people will not endure sound teaching, but having itching ears they will accumulate for themselves teachers to suit their own passions, and will turn away from listening to the truth and wander off into myths. ~ 2 Timothy 4:1-4

For though we walk in the flesh, we are not waging war according to the flesh. For the weapons of our warfare are not of the flesh but have divine power to destroy strongholds. We destroy arguments and every lofty opinion raised against the knowledge of God, and take every thought captive to obey Christ, being ready to punish every disobedience, when your obedience is complete. ~ 2 Corinthians 10:3-6
~
If you know of anyone who might appreciate this post, please share it. If you'd like to help support the Fire Breathing Christian mission, please click here.
Please also "like" us on Facebook and feel free to sign up for new articles by email using the button in the upper right corner of the FBC home page. Thank you for your support!
© 2015 Scott Alan Buss – All Rights Reserved.
Soli Deo Gloria!