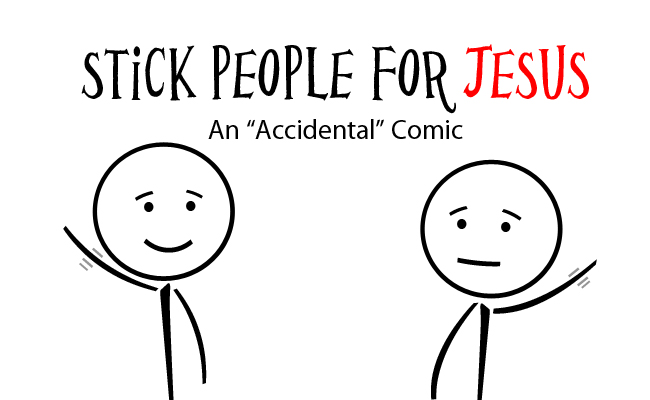 Last week, I realized that the comic strip I'd planned on running here as a regular part of Fire Breathing Christian just wasn't gonna work out. It wasn't gonna happen, and I was bummed.
After much effort was spent over several months' time, I couldn't get what I'd drawn on paper to convert well enough into a digital format with what limited technology I had, and I couldn't afford to buy any, much less all, of what I would need to make that high quality conversion happen. I had tried every way that I could think of to get my original stuff from paper to monitor in a top notch manner, and it just wasn't happening.
Faced with the prospect of things not going at all as hoped or planned, and with the fairly cool (to me, anyway) cartoon I was dying to launch apparently predestined not to make it off the launch pad (at least for a while), I did what any typical, frustrated, red-blooded, cartoon-loving American would do: I quit. I resorted to stick people.
One night early last week I bypassed the hand/pen/paper route, went straight to a digital blank canvas, and started working on some super simple stick-people scenarios and – whaddaya know – it was a hoot!
What began as a reluctantly embraced consolation route to maybe getting a comic on FBC quickly and happily mutated into something cool.
Not complex, to be sure.
Simple.
Very simple (perhaps excruciatingly so).
Yet still kinda cool, at least to me, and whether or not they ever hit anyone else the same way, I had an absolute blast cranking out the first few installments of what became Stick People for Jesus.
Week one kicked things off with Which Jesus?, A Tale of Two Churches, The Awesome Gospel, and Devil's Ed. 101. This week, the adventure continued with Devil's Ed. 101 (The Prequel), Encouragement from Satan, and Jedi Say the Dumbest Things. So far, the feedback and reception to these little stick people has been pretty sweet.
So it looks like Stick People are going to be a regular thing here for a while. Lord willing, I will one day have the time to spend getting a couple of non-comic and comic posts made each day. Until then, I will aim to have at least one post made each weekday whenever possible.
Please feel free to shoot me an email or Facebook message with any thoughts or suggestions that you might want to share.
The Stick People and I thank you for your time and consideration.

If you know of anyone who might appreciate this post, please share it. If you'd like to help support the Fire Breathing Christian mission, please click here.
Please also "like" us on Facebook and feel free to sign up for new articles by email using the button in the upper right corner of the FBC home page. Thank you for your support!
© 2015 Scott Alan Buss – All Rights Reserved.
Soli Deo Gloria!