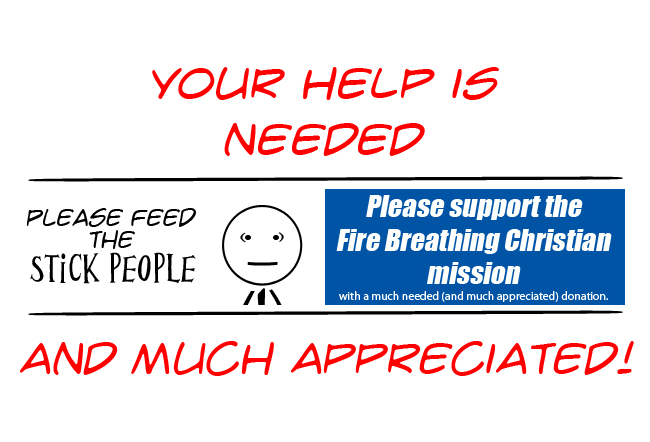 If you're enjoying the material here at Fire Breathing Christian, first off: Soli Deo gloria. God is good!
Your prayers, support, and encouragement are more appreciated than you know. Holly and I are humbled, inspired, and thrilled to have the opportunity to serve and strive to encourage, equip, and grow alongside Brothers and Sisters in Christ that we've been connected with through Fire Breathing Christian.
We need your help. While just about the least comfortable thing that I can think of doing is asking for financial support, the fact is that at this point we very much need just that very thing.
For those who are unable to support the FBC mission in that manner, no worries! We understand completely. Please feel free to use and share any resource available at the FBC site. Our goal and hope is to always keep everything posted at Fire Breathing Christian 100% free of charge.
For those who appreciate and are able to responsibly support our ongoing mission, we respectfully request that you prayerfully consider doing so.
Last month, we set up a page at a cool little site called Patreon, through which Patrons can pledge monthly financial support to Fire Breathing Christian. Potential FBC Patrons can join in by committing as little as $1 per month.
And let me assure you: Not only does each and every dollar count, but we greatly need and appreciate every one of 'em!
To visit the Patreon page for Fire Breathing Christian and learn more about who we are, what we are doing, and where we hope to take FBC in the future, please click on this link.
Thank you all for your prayers, encouragement, and grace-fueled desire to see His will be done on earth as it is in heaven.
Soli Deo gloria…and let's roll!
~
If you know of anyone who might be interested in this post, please share it. Thank you!
Please "like" us on Facebook (using the convenient button in the upper left corner) and feel free to sign up for new articles by email using the button in the upper right corner of the FBC home page. Thank you for your support!
© 2015 Scott Alan Buss – All Rights Reserved.