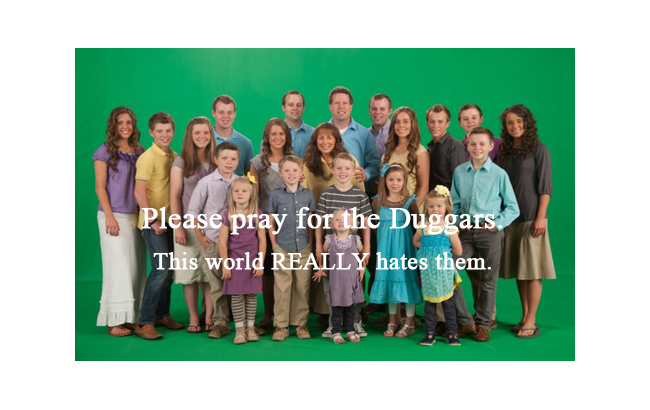 Like many of you, I've recently become aware of the very sad and challenging situation that has come to and through the Duggar family. As I've hopped from article to article trying to better understand things, it's impossible not to notice the intense disdain for this family on the part of a loud and very powerful segment of the culture, and how that segment's sensibilities are accommodated and amplified by most secular (and even many "Christian")media sources throughout America (and the West).
There's no doubt that serious sin has come to light and has been admitted. I'm confident that the Duggars can (and I pray that they will), by God's grace, not only manage to survive this challenge, but thrive. And when I say "thrive", I'm not talking about things like television shows, commercial success or material wealth. I'm not talking about public favor or pop-culture status. I'm talking about seeking first and foremost to glorify Him in this time of trial. I'm talking about diving deeper into the arms, will and nature of God, and continuing to inspire others to do the same, as they have so often done by God's grace in the past.
Of course, all of this is easy for me to say (or type) here, to be sure. I'm not dealing with what they are facing and even if I was, it wouldn't be on the scale that they're witnessing because of who they are and how visible they have become as flawed, grace-fueled ambassadors for Christ in an increasingly Christ-hating, death-loving culture.
Make no mistake: When you proclaim and live for Christ as King as the Duggars have, you will get the full attention and focus of that King's most vicious enemies.
[Tweet "Please pray for the Duggars. This world REALLY hates them."]
So please join me in praying for the Duggar family and all of those directly involved in this situation. May God grace each of them with the desire to seek and submit to His will, demonstrating both humble repentance and faith-fueled strength along the way, all by God's grace and all to His glory.
If we confess our sins, he is faithful and just to forgive us our sins and to cleanse us from all unrighteousness. ~ 1 John 1:9

And we know that for those who love God all things work together for good, for those who are called according to his purpose. ~ Romans 8:28 (emphasis added)

For I am sure that neither death nor life, nor angels nor rulers, nor things present nor things to come, nor powers, nor height nor depth, nor anything else in all creation, will be able to separate us from the love of God in Christ Jesus our Lord. ~ Romans 8:38-39

He who dwells in the shelter of the Most High
will abide in the shadow of the Almighty.
I will say to the LORD, "My refuge and my fortress,
my God, in whom I trust." ~ Psalm 91:1-2
–
If you know of anyone who might appreciate this post, please share it. If you'd like to help support the Fire Breathing Christian mission, please click here.
Please also "like" us on Facebook and feel free to sign up for new articles by email using the button in the upper right corner of the FBC home page. Thank you for your support!
© 2015 Scott Alan Buss – All Rights Reserved.