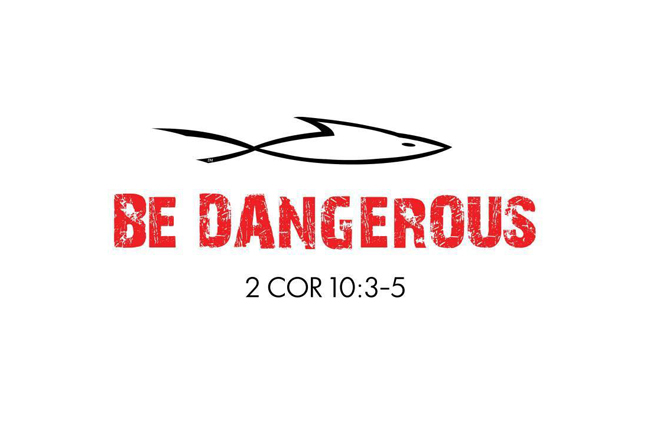 One question I get from time to time is some version of, "So what's with the shark-fishie graphic thing?"
That seems like a fair and reasonable thing to ask, so here's what I hope will be a helpful answer.
The shark/fish image that I use here at Fire Breathing Christian is meant to convey several things, including:
The properly predatory and antagonistic nature of the relationship between Christianity (and therefore Christians) and the anti-Christian worldviews and systems that presently define much the world in which we live. The Gospel and Great Commission are inherently confrontational and corrective. The Gospel command to repent and submit to Christ as King in practice is the most antagonistic (and hated) message to ever hit the ears of prideful men. The Great Commission mandate to make disciples of all people so that they obey Christ as King in practice in every realm of His creation and in every area of life is equally repulsive and vile to the ears and hearts of self-serving, unregenerate men, women, boys and girls. In this context Christians are inherently as antagonistic to the hearts and minds of the unrepentant as anything or anyone can be, and in our Great Commission-inspired drive to conquer every heart and culture for Christ, we are naturally the most feared and hated of all predators from the perspective of self-serving unbelievers. (See: 2 Corinthians 10:3-6; Matthew 28:8-20)


.

The fear and hatred that quite naturally will be applied and acted upon by the world and the worldly in reaction to those who would dare proclaim and apply the lordship of Christ in every realm of life here and now. As touched upon in point #1, the fact that Christians proclaim the most hated command and message to ever hit the ears of unrepentant men will inherently inspire hatred from those men, until and unless the Lord graciously converts them through the faithful proclamation of that otherwise-always-hated Gospel. (See: John 15:18; Matthew 10:22)
It's also important to note one thing that the shark/fish image is not indented to convey:
Any sense of inherent strength or power – even the tiniest little bit – on my part (or on the part of any other Christian identifying with this symbol). I am a wretch saved by God's grace alone. I could do nothing to contribute anything to my salvation and I can do nothing to maintain it. In and of myself, I am completely undeserving of even a breath of God's air, much less knowledge of any of the beautiful truths that He has just begun to show me through His Spirit and Word. Everything that I've been given – including anything that I know about Him – is a gift from Him. I have nothing to boast of in myself. I will (and must), however, boldly boast in Him. (See: Ephesians 2:8-9; 2 Corinthians 10:17)
I hope that this clarification is helpful and that it encourages every beloved Brother and Sister in Christ to swim deep, make waves, and be dangerous.
~
If you know of anyone who might appreciate this post, please share it. If you'd like to help support the Fire Breathing Christian mission, please click here.
Please also "like" us on Facebook, "+" us on Google+, follow us on Twitter and feel free to sign up for new articles by email using the buttons in the upper right corner of the FBC home page. Also feel free to check out the latest designs at Fire Breathing Tees. Thank you for your support!
© 2015 Scott Alan Buss – All Rights Reserved.