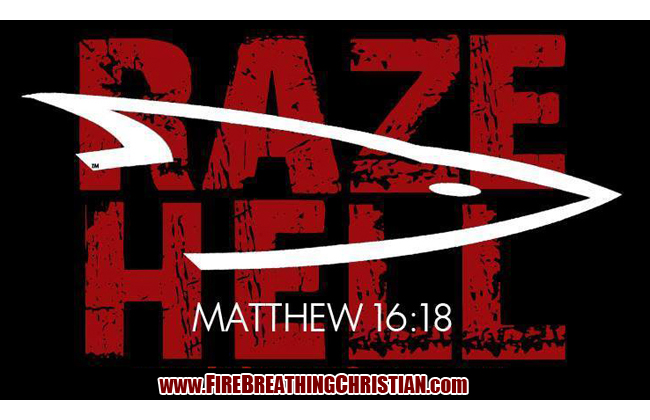 Howdy All,
I hope that this note finds you well and that your week is off to a fine start.
With the one year anniversary of the Fire Breathing Christian mission coming up (on August 1), I wanted to take a sec to thank God for getting us this far and to thank those of you who have prayed, posted, emailed, shared, supported and encouraged us as we've worked hard to get this thing off the ground.
Lord willing, I'll follow this up with a more detailed summary of Year One and battle plan for Year Two in a future post, but for now I wanted to say thank you and touch briefly on a few things.
Holly and I have been inspired and flat-out blown away by what has already been accomplished by God's grace through this little blog in the past 11-ish months' time. It's been truly awesome to connect with more and more of those who share the same vision and passion for the Gospel-fueled Great Commission of Christ our King.
One thing that Holly and I want most, and one thing we know that our Brothers and Sisters alongside us in battle want most, is the presentation of clear, detailed, biblical solutions.
Clear, vivid Christ-centered battle plans, if you will.
This is vital, and our hope is to one day have the opportunity to provide such detailed strategic and tactical thoughts much more frequently than we have been able to do in Year One here at Fire Breathing Christian.
When I was spending my writing time on books, exploring much-needed detailed solutions was just part of the deal. It was normal. But with a full-time office job on my daily schedule, I've had to shelve book projects in order to seriously pursue the Fire Breathing Christian blog.
Overall, this has proven to be a very good decision. In less than a year, we've connected with thousands of folks, inspiring many to consider certain things (like children's education, politics and patriotism) from a Christ-centered perspective in detail for the first time, and encouraging others who have already started down that path to keep on keepin' on, all by God's grace and for His glory.
While I 'm sometimes frustrated by the lack of time that I now have to spend on presenting more detailed solutions, the tactical decision to temporarily focus on the blog at the expense of the books has paid off above and beyond anything we expected at this time last year.
Lord willing, Fire Breathing Christian related projects will one day generate the revenue necessary for us to no longer need the full time conventional job that I have now. Should the Lord see fit to bring that situation about, I will have the time needed to continue the blog, finish two half-complete books that are "on pause" for now (one on Christian education and one on economics), and begin to seriously tackle other projects that are high on our priority list (think: podcasting and videos).
Holly and I are very much looking forward to having the time and resources necessary to tackle those things, should the Lord see fit to provide them. In the meantime, we are thankful and thrilled to be doing what we are able to do now.
Another simultaneously encouraging and challenging item that I want to touch on is that we have for a while now "officially" passed the point at which I am able to interact with all emails and contacts via the Fire Breathing Christian site and social media pages. I still read every single direct email that I receive and I strive to check in on the social media stuff regularly, but with a full time job on top of my family and church obligations (all of which I thank God for; this is not a complaint), there's just no way to keep up. Your grace, patience and understanding is much appreciated.
One thing that Holly and I are aiming for this month in preparation for Year Two of the Fire Breathing Christian mission is a bit of reorganization along with a detailed plan of attack for the coming months. We are changing the way that we do some things and making more meticulous plans as we get ready to roll into our second year so that it might be better, smoother, and even more productive than the first. Your prayers for us in this area are much appreciated as well.
So that's the latest.
Thank you, thank you, THANK YOU for your truly amazing and inspiring support through these first months!
Lord willing, much better is soon to come, all by His grace, all for His glory, and all to the eternal benefit of His people.
Soli Deo gloria…and let's roll!
~
If you know of anyone who might appreciate this post, please share it. If you'd like to see articles like this continue, please click here to help.
Please also "like" us on Facebook, "+" us on Google+, follow us on Twitter and feel free to sign up for new articles by email using the buttons in the upper right corner of the FBC home page.
Also feel free to check out the latest designs at Fire Breathing Tees and the latest memes at Fire Breathing Memes. Thank you for your support!
© 2015 Scott Alan Buss – All Rights Reserved.