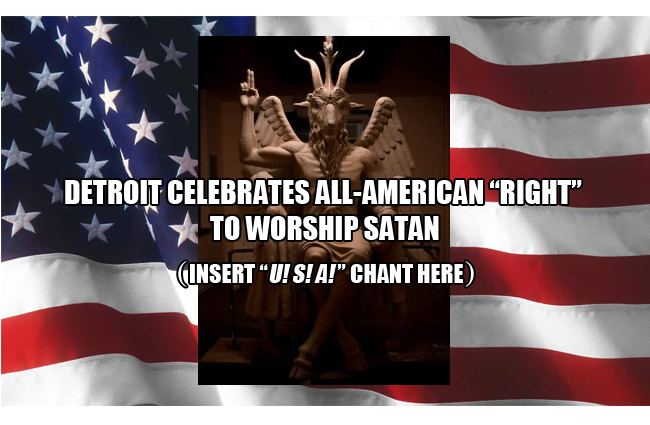 For all o' those professing conservative Christians in America who are somehow actually still confused as to "how, oh how(!)" our culture could have possibly sunk so quickly and deeply into its present vile and disgusting state, our friends the Satanists have once again come along on cue to dutifully remind us of what is really at the root of all the multigenerational cultural rot that's now coming into full bloom here in "the land of the free" and the home of the NSA.
Yes, even Satanists are ultimately God's tools, whether the like it or not (and they don't).
So how is God using these sad, deranged little advocates of suicidal pride in America these days?
Well, there are many ways, of course, but the one we'll take a sec to focus on here is the manner in which He's using them to demonstrate – in increasingly flagrant fashion – the suicidally stupid and destructive power of our All-American adoration of religious pluralism. (See: Note to 'Merica: There is no "God-given right" to worship false gods. Repent accordingly.)
Put another way, God is using these particular tools at this particular time to demonstrate once again that His Word is not optional. It is binding…right here and right now…even in America. (See: Who owns America? (Hint: Not "We the People".).)
So when CBS reports, as they did today, that Detroit is set to host "the largest public satanic ceremony in history" at which a giant statue of Satan will be proudly unveiled and worshipped under the protection of American-style counterfeit "freedom" and "liberty", we really shouldn't be surprised.
At all.
article continues below
This is just "the right to freely worship any god you want" in action.
And what could be more American than that? (See: Well color me satanic and call me America! (Or: How our cherished tolerance for false gods is killing us.).)
So the next time you hear someone  – especially a professing conservative Christian – in America act all confused and appalled at the way the Big Gay Wave is rolling over the culture or how child sacrifice is an openly ongoing and "legally" protected business in America, kindly ask them what they think of the All-American approach to "rights" – particularly the so-called "God-given 'right' to worship any god". (See: Confronting Americult.)
Ask them what the ruling Law of the land really is? (See: What is the ruling law of our land?)
Ask them if they really believe that America has the power to make "legal" that which God has declared to be lawless?
Get them to thinking…lovingly, graciously, but firmly.
That's what we need here and now in America. More than ever before.
Until we lovingly confront and correct this culture – beginning in the professing Christian sub-culture – with the Gospel-fueled Great Commission, we are doomed to a future of more and more murdered babies, the normalization of more and more sexual perversion, and the open worship of more and more satanic false gods…all pursued proudly in the name of American-style "freedom" and "liberty".
~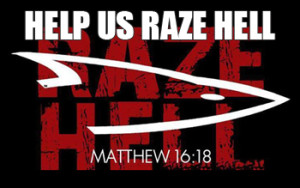 If you know of anyone who might appreciate this post, please share it. If you'd like to see articles like this continue, please click here to help.
Please also "like" us on Facebook, "+" us on Google+, follow us on Twitter and feel free to sign up for new articles by email using the buttons in the upper right corner of the FBC home page.
Also feel free to check out the latest designs at Fire Breathing Tees and the latest memes at Fire Breathing Memes. Thank you for your support!
© 2015 Scott Alan Buss – All Rights Reserved.