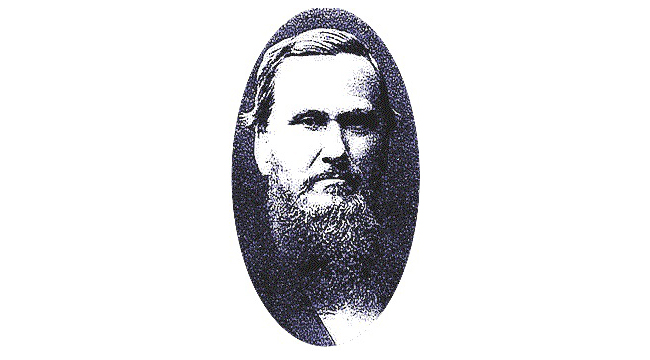 It is so very cool to have true Christian Family preserved throughout God's creation of time and through whom we might learn of His perfect plan and purpose for His creation.
It's also so very cool to have a loving, God-fearing wife who is interested in chasing after the life-preserving truths shown by the grace of God to our Brothers and Sisters in ages past.
Just a few days back my beautiful bride, Holly, forwarded on the following quote taken from a sermon delivered by Robert L. Dabney after the election of Abraham Lincoln in 1860:
"How, then, shall Christians seek the good of this country for the church's sake? First, by everywhere beginning to pray for their country, and along with this, making humble confession of their sins, individual and social; second, by carrying their Christianity into every act of their lives, political or otherwise; by carrying 'Christian conscience,  enlightened by God's Word,' into political duty as had not been done hitherto; obeying the law of God rather than the unrighteousness behests of party; choosing out of all the people able men, such as fear God, men of truth, hating covetousness, and placing such to be rulers over them."
Statism has been booming and blooming in America pretty much ever since Dabney preached that sermon. Sadly, more often than not, the almighty American State has made its advances at the behest of professing Christians. Worship of the American State for well over a century now has played a central role in bringing us to the desperate place in which we now find ourselves. The sooner that we acknowledge and repent of our personal roles in bringing this about, the better.
Many professing Christians claim to "seek the good of this country" and even seem enthusiastic about things like prayer, so long as the details and specifics are left conveniently watery and vague – especially when it comes to personal repentance for having held (and therefore promoted) fundamentally unbiblical ideas. Put some teeth into what things like prayer and "the good of the country" actually mean in a biblical context, and enthusiasm tends to evaporate.
We want our religion in America to be America friendly, don't ya know.
That's where State-worship (inherently promoted through State-controlled "education") naturally leads, after all.
Whenever the Church refuses to tackle, define, and pursue life in the detailed light of the Word, the enemies of holiness will happily step in and define everything in light of the world. Everything we see in America today confirms this.
"Obeying the law of God rather than the unrighteousness behests of party", as Dabney put it, is foreign to most professing American Christians, every bit as much on the self-described "conservative" side of the politically active spectrum as it is on the "liberal" side. After generations of programming through State-controlled "education" and Corporate-controlled pop-culture and political theater, the one thing that the masses of enthusiastic activists on both ends of the modern American political spectrum can agree upon is that
the Law of God will

not

rule over them
. They will tip their hat and wink their eye at God and they will do everything from regularly attend churches and bible studies to singing in choirs and doing all sorts of charitable works, but the bottom line for them is always the same: His law will
not
be their law
in practice
here and now.
The modern American "conservative Christian" approach has become dominated by idolatry of America itself. Men like Dabney understood this threat and the evil that idolatry of the State – any State – would inevitably bring upon those who allowed it to take root.
As long as Dabney's admonition to "carry Christianity into every act of life" is left flexible and open to subjective interpretation via personal feelings and the traditions of men, all is well. We can be enthusiastic enough about that. But defining what it means to "carry Christianity into every act of life" biblically, as in, "obeying the law of God" tends to send most professing American conservative Christians running for their favorite head-hole in the sand.
In a classic "be careful what you pray for" demonstration, God has graced us with clarity.
We are without excuse.
He has graced us with a faithful remnant throughout our history, though at times their apparent light seems to grow so very dim from human perspectives. For generations now, the flame has seemed to flicker and even now seems on the verge of being snuffed out.
But it will not be.
The Great Commisson is not Mission:Impossible.
It will succeed.
He will lead His faithful remnant to victory after victory, all by His grace, for His glory, and to His people's eternal benefit.
Oh, the world will scoff and constantly aim to dismiss or misrepresent the supernatural Great Commission as anything but great and certainly not supernaturally empowered for inevitable, ultimate success.  While it may indeed seem like a Mission: Impossible scenario when measured by man's standards, it is quite the opposite here in "the real world" thanks to the living, loving Lord of all creation preserving, calling, equipping, and personally leading His people along the way.

One day soon, all of the "practical solutions" and "pragmatic approaches" offered to us now by the world and the worldly – including many professing Christian conservatives – who imagine themselves to know how things really work "in the real world", will be swept away and left behind forever.
Presently popular man-centered ideas and rationalizations for lawlessness will finally and fully be abandoned; left alone to the darkness from which they sprang and to where they were always destined to return.
And why?
Because they are absurd.
They are idiotic.
They are destructive.
They always have been and always will be these things because, from their beginning and to their end, they are ideas and concepts in rebellion against God. They have always denied in practice the absolute necessity of Christ as the explicit core of all that they presumed to redefine and warp into a more man-centered and "reasonable" way of understanding and living.
The notion that politics, economics, law, art, science, or anything else could ever have a beginning, end, or focus that was dismissive of Christ the King was, is, and will forever be a most stupid and repulsive notion to the Christ-centered mind.
Dabney understood this at some level. And so have many others.
Of course, this understanding hardly represents a popular, much less prevailing, view today in America – including the professing Christian subculture. But, one day, in spite of present widespread opposition, it will be the light by which we test, measure, and pursue all things in practice every day.
The Great Commission is real. It will succeed. It cannot fail.
Thank God for faithful men of the past and faithful wives and helpers of the Gospel today.
We are one day closer to victory…
Soli Deo Gloria…and let's roll!
~
If you know of anyone who might be interested in this post, please share it. Thank you!
Please "like" us on Facebook (using the convenient button in the upper left corner) and feel free to sign up for new articles by email using the button in the upper right corner of the FBC home page. Thank you for your support!
.
To learn about making a much appreciated (and much needed) financial contribution to the FBC cause, please click here.

© 2014 Scott Alan Buss – All Rights Reserved.