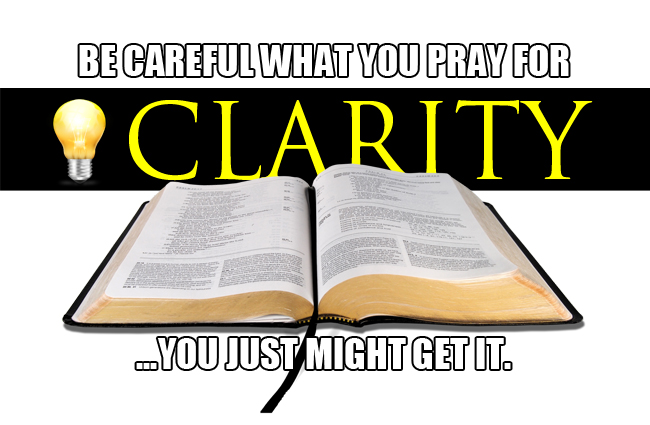 Prayer is awesome.
It's a matchlessly wondrous and supernaturally powerful means of growth and comfort to the Christian.
Through prayer we are able to commune and communicate with the God of all creation in a personal, intimate manner.
Since then we have a great high priest who has passed through the heavens, Jesus, the Son of God, let us hold fast our confession. For we do not have a high priest who is unable to sympathize with our weaknesses, but one who in every respect has been tempted as we are, yet without sin. Let us then with confidence draw near to the throne of grace, that we may receive mercy and find grace to help in time of need. ~ Hebrews 4:14-16 (emphasis added)
There is nothing quite like true prayer.
…and even so, we as fallen people find ways to pervert and abuse this incredible gift.
One such form or motive for abuse is our claiming the use of prayer to avoid that which has already been made plain to us in Scripture.
Let me say from the get-go that there is no doubt that each of us will remain blind to any number of biblical truths that seem obvious to so many others and, until by the grace of God our eyes, hearts and minds are opened, we will remain oblivious to these truths that seem so clear to so many others. This is how the walk of sanctification works, and I am not here targeting the "honest ignorance" or spiritual blindness of anyone on any particular issue at any given moment, so long as that ignorance is genuine and not feigned.
The point of distinctions here is between "honest ignorance" fueled by lack of knowledge or exposure to truth, and a feigned or fake ignorance that has one pretend that truth has not been made plain so that they may continue to avoid (and usually openly rebel against) the truth in question.
This approach is so commonly deployed by many professing Christians in our culture that is has become quite normal and expected. We're all susceptible to this, so let's not get prideful here…
The general pattern goes something like this:
A Christian who claims all of the things that they know they ought to claim – loved for Jesus, trust in the Bible, etc. – engages in conversation with someone on a subject that they generally find uncomfortable and have heard addressed in detail from Scripture before.


.

Said Christian is confronted once again with the clear biblical teaching on this subject, including references to the most clear, relevant, and contextually sound passages on the subject.


.

Said Christian tries to avoid the details of these passages, preferring instead to rely on vague passages out of context or general biblical concepts and principles.


.

When properly pushed away from the vagaries and toward the clarity of Scripture on the uncomfortable subject in question, said Christian then plays the piety card by taking any number of spiritual-seeming, humble-seeming actions, including…saying that they "will pray about it".
Let me be plain once again: We should always be about the business of praying about things, particularly when it comes to our gaining a right understanding of the Nature of God as revealed in His Word. That honest and necessary approach to prayer is not what I am respectfully critiquing here.
What I'm hoping to point out in a helpful manner is that insincere appeals to "praying for clarity" on a subject that we already know full well has been made plain to us in the Word is not wise or good. It is not evidence of spiritual maturity or depth. It is instead a particularly cowardly and deceitful approach to God, His Word, and the gift of prayer.
Whether on the subject of sexuality, gender roles, homosexuality, children's education or any other subject addressed in Scripture, "praying harder" or more when we have already had His truth made plain isn't going to give us legitimate cover for rejecting or dismissing His Word.
Never.
Ever.
To the contrary, such an approach to His Word and prayer will only heap consequences upon us.
And those consequences are now piling up all around us in an American "Christian" sub-culture that has no appetite for uncomfortable truths and no zeal for the consistent pursuit and application of the Word of God.
article continues below
How can we coherently critique or consistently correct professing Christian homosexuality advocates who selectively dismisses the crystal clear Word of God on some issues when we tend to take exactly the same emotion-driven, self-serving, cowardly and deceitful approach to other subjects…like children's education, for example? (See: Jesus Conquers Everything.)
All Scripture is breathed out by God and profitable for teaching, for reproof, for correction, and for training in righteousness, that the man of God may be complete, equipped for every good work. ~ Timothy 3:16-17 (emphasis added)
God has spoken not only perfectly but sufficiently to equip us to truly and profitably pursue every good work in life…including the beautiful and vital culture-shaping work of children's education. (See: Redeeming Children's Education: Confronting Our Satanic Approach to the Pursuit of Knowledge.)
There's no amount of "prayer" that will ever change that.
So let's pray, repent, and educate accordingly.
~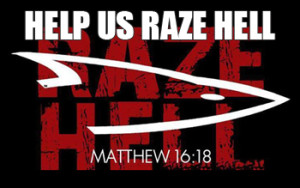 If you know of anyone who might appreciate this post, please share it. If you'd like to see articles like this continue, please click here to help.
Please also "like" us on Facebook, "+" us on Google+, follow us on Twitter and feel free to sign up for new articles by email using the buttons in the upper right corner of the FBC home page.
Also feel free to check out the latest designs at Fire Breathing Tees and the latest memes at Fire Breathing Memes. Thank you for your support!
© 2015 Scott Alan Buss – All Rights Reserved.