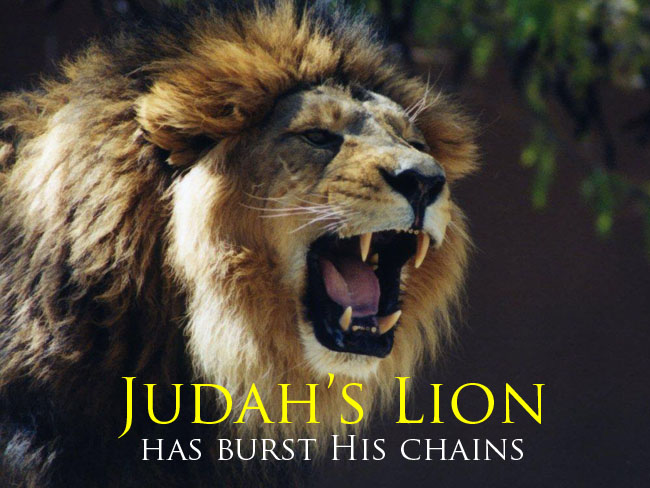 There's nothing like serving the living, active, reigning King of Creation on a lifelong mission of eternal consequence that He has personally called and perfectly equipped you to assuredly accomplish by His grace, for His glory, and to the eternal benefit of His people.
I mean, WOW!
Can I get an "amen!"?
[I know you're reading this and I'm not likely to hear, but that's not the point. Please just humor me.]
Along these lines earlier this year in Roaring into Post-America Christianity and The devil only holds what we leave in his hands. I wrote about what to me is one of the most supercool, supernaturally inspiring bits o' man-written lyrical genius ever:
. . . I love the hymn that proclaims the beautiful, cosmos-shaking, enemy-terrifying truth that "Judah's lion has burst his chains!" Death could not contain Him and nothing can deny Him.

The serpent's head has been crushed and the enemy is bleeding out before our eyes. Victory has been secured and is unfolding as that defeated enemy fades away.

Judah's Lion has chosen His people by His grace through His Gospel and His Great Commission to make His victory ever clearer and clearer throughout His creation.

Art, math, law, economics, business, and education – they're all His, along with everything else. We are here to make that plain, in word and application.

That's our job…all by His grace, all for His glory, and all to our eternal benefit.
With these ideas percolating in my perpetually awestruck little head, I thought it'd be good to take a moment to bask in the glow of some of the many clear passages proclaiming (and therefore assuring us of) Christ the King's present reign and unfolding domination of His creation in time and history.
So check this out…and bask in the glow…:
The LORD says to my Lord: "Sit at my right hand, until I make your enemies your footstool." The LORD sends forth from Zion your mighty scepter. Rule in the midst of your enemies! Your people will offer themselves freely on the day of your power, in holy garments; from the womb of the morning, the dew of your youth will be yours. The LORD has sworn and will not change his mind, "You are a priest forever after the order of Melchizedek." The Lord is at your right hand; he will shatter kings on the day of his wrath. He will execute judgment among the nations, filling them with corpses; he will shatter chiefs over the wide earth. He will drink from the brook by the way; therefore he will lift up his head. ~ Psalm 110 (emphasis added)
The Lord is to be seated at the right hand of the Father until His enemies are made His footstool. Jesus is this Lord who is seated in that place, awaiting His enemies to be made His footstool, as the Father has promised:
Who is to condemn? Christ Jesus is the one who died—more than that, who was raised—who is at the right hand of God, who indeed is interceding for us. ~ Romans 8:34 (emphasis added)
He is the radiance of the glory of God and the exact imprint of his nature, and he upholds the universe by the word of his power. After making purification for sins, he sat down at the right hand of the Majesty on high ~ Hebrews 1:3 (emphasis added)
Now the point in what we are saying is this: we have such a high priest, one who is seated at the right hand of the throne of the Majesty in heaven ~ Hebrews 8:1 (emphasis added)
. . . that he worked in Christ when he raised him from the dead and seated him at his right hand in the heavenly places, far above all rule and authority and power and dominion, and above every name that is named, not only in this age but also in the one to come. And he put all things under his feet and gave him as head over all things to the church, which is his body, the fullness of him who fills all in all. ~ Ephesians 1:20-23 (emphasis added)
. . . Jesus Christ, who has gone into heaven and is at the right hand of God, with angels, authorities, and powers having been subjected to him. ~ 1 Peter 3:21-22 (emphasis added)
This Jesus God raised up, and of that we all are witnesses. Being therefore exalted at the right hand of God, and having received from the Father the promise of the Holy Spirit, he has poured out this that you yourselves are seeing and hearing. For David did not ascend into the heavens, but he himself says, "'The Lord said to my Lord, "Sit at my right hand, until I make your enemies your footstool."' ~ Acts 2:32-35 (emphasis added)
Do we see the theme here? Whether we do or not, it continues…and gets even better:
Now while the Pharisees were gathered together, Jesus asked them a question, saying, "What do you think about the Christ? Whose son is he?" They said to him, "The son of David." He said to them, "How is it then that David, in the Spirit, calls him Lord, saying, "'The Lord said to my Lord, "Sit at my right hand, until I put your enemies under your feet"'? If then David calls him Lord, how is he his son?" And no one was able to answer him a word, nor from that day did anyone dare to ask him any more questions. ~ Matthew 22:41-46 (emphasis added)
Now read the thematic passage quoted again and again in the Word and by the Word made flesh:
Why do the nations rage and the peoples plot in vain? The kings of the earth set themselves, and the rulers take counsel together, against the LORD and against his Anointed, saying, "Let us burst their bonds apart and cast away their cords from us." He who sits in the heavens laughs; the Lord holds them in derision. Then he will speak to them in his wrath, and terrify them in his fury, saying, "As for me, I have set my King on Zion, my holy hill." I will tell of the decree: The LORD said to me, "You are my Son; today I have begotten you. Ask of me, and I will make the nations your heritage, and the ends of the earth your possession. You shall break them with a rod of iron and dash them in pieces like a potter's vessel." Now therefore, O kings, be wise; be warned, O rulers of the earth. Serve the LORD with fear, and rejoice with trembling. Kiss the Son, lest he be angry, and you perish in the way, for his wrath is quickly kindled. Blessed are all who take refuge in him. ~ Psalm 2 (emphasis added)
As Dr. Greg Bahnsen so frequently queried by the light of this wondrous passage: Do we really think that Jesus forgot to ask?
Of course not.
And where does all of this lead?
To our mission: The Gospel-fueled Great Commission:
And Jesus came and said to them, "All authority in heaven and on earth has been given to me. Go therefore and make disciples of all nations, baptizing them in the name of the Father and of the Son and of the Holy Spirit, teaching them to observe all that I have commanded you. And behold, I am with you always, to the end of the age." ~ Matthew 28:18-20 (emphasis added)
So let's get to it…by His grace, for His glory, and to our eternal benefit.
~
If you know of anyone who might appreciate this post, please share it. If you'd like to help support the Fire Breathing Christian mission, please click here.
Please also "like" us on Facebook, "+" us on Google+, follow us on Twitter and feel free to sign up for new articles by email using the buttons in the upper right corner of the FBC home page. Also feel free to check out the latest designs at Fire Breathing Tees. Thank you for your support!
© 2015 Scott Alan Buss – All Rights Reserved.