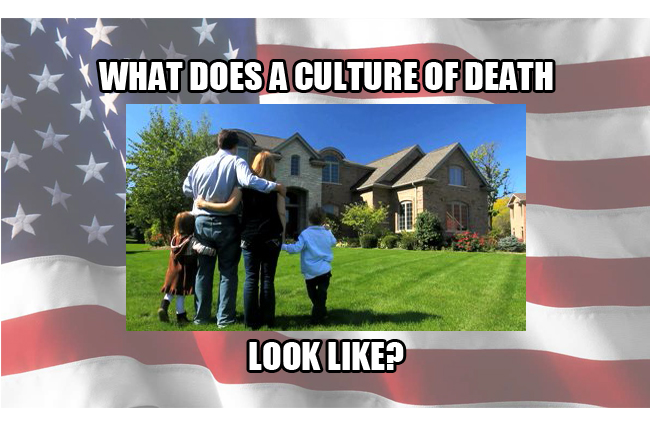 It's easy to see things like "legal" child sacrifice and the "legality" of "gay marriage" and gender chaos as clear signs of a culture of death.
It's easy to point to "Caitlyn" Jenner and roll our eyes.
It's easy to point to Planned Parenthood's openly operating baby butchering facilities with disgust.
But what was it about our culture before its embrace of "legal" child sacrifice that paved the way for the open, ongoing systematic murder and dismemberment of tens of millions of baby boys and girls in America?
What is it about our culture that has enabled and encouraged the Big Gay Wave of gender chaos, marriage un-definition, and family disintegration that is now rolling over the land?
Yesterday in Cultures of death die. America is a culture of death. You do the math, we took a look at our All-American culture of death in light of the following passage:
"And now, O sons, listen to me:
blessed are those who keep my ways.
Hear instruction and be wise,
and do not neglect it.
Blessed is the one who listens to me,
watching daily at my gates,
waiting beside my doors.
For whoever finds me finds life
and obtains favor from the LORD,
but he who fails to find me injures himself;
all who hate me love death."
~ Proverbs 8:32-36 (emphasis added)
When we consider the above passage in context, we understand that our hatred of God is manifested in our refusal to obey His perfect, loving commands. Claiming to love Him – as so many in America do – while failing to keep His commandments is evidence that we are liars. It is evidence that we do not love Him. It is evidence that we love death.
If we say we have fellowship with him while we walk in darkness, we lie and do not practice the truth.
~ 1 John 1:6 (emphasis added)
Whoever says "I know him" but does not keep his commandments is a liar, and the truth is not in him. . .
~ 1 John 2:4 (emphasis added)
When we do not love Him, we love – and reap – death by default:
"…all who hate me love death."
~ Proverbs 8:36
So it is the clear testimony of Scripture that to know and truly love Christ is to walk in obedience to His Word. It is equally clear that to fail to love Him – to reject His Word as our guiding standard for life in every area – is to love and court death by default.
So what inspires a love of death?
What creates a culture of death?
A love of self.
Self-centered, self-serving, self-referential approaches to reality – the pursuit of self as god in practice – is the thing that invariably produces a culture of death, such as the one we are living in now.
In America, children are a burden.
In America, large families are not only the exception to the rule, but an often sneered at and looked down upon exception.
And those crazy huge homeschooling families…those people really don't get it. They don't get America. They just don't understand how things work here in "the real world" – where success is defined by how much stuff, how many toys, how big a house, and how many professional certifications and accolades you have. It's about how many lavish vacations, travels, and adventures you can experience. It's about how much fun and relaxation and entertainment you can enjoy.
It's all about what we want. It's all about pleasing and appeasing self.
It's all about chasing after our dreams of more fun, more stuff, more "me time" and more experiences.
The American Dream is all about us…and not at all about submitting to the lordship of Christ in practice.
This is why we have – and completely deserve – our loud and proud All-American culture of death.
article continues below
This is also why true, supernaturally saved, Spirit-filled Christians in America have been given the Gospel-fueled Great Commission:
And Jesus came and said to them, "All authority in heaven and on earth has been given to me. Go therefore and make disciples of all nations, baptizing them in the name of the Father and of the Son and of the Holy Spirit, teaching them to observe all that I have commanded you. And behold, I am with you always, to the end of the age."
~ Matthew 28:18-20 (emphasis added)
Do we really want to turn the tide against the culture of death rising all around us? (See: The Awesome Gospel.)
Do we really want to see "legal" child sacrifice and profanation of marriage end in America?
Do we really want to see law rooted in Christ, rather than rooted in rebellion against Him? (See: Presuppositional Law: Where we begin with law determines where we end.)
Do we really want a culture of life?
Or would "We the People" prefer to cling to self-centered pride all the way down, insisting that we have the "right" to do that which God hates and has explicitly forbidden? (See: Note to 'Merica: There is no "God-given right" to worship false gods. Repent accordingly.)
Our answer to the Gospel command to repent and submit to Christ as Lord in practice answers all of these other questions all at once. May we repent and submit accordingly…while there is yet time…
~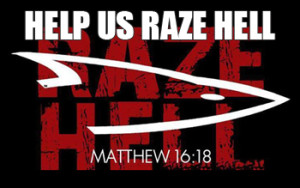 If you know of anyone who might appreciate this post, please share it. If you'd like to see articles like this continue, please click here to help.
Please also "like" us on Facebook, "+" us on Google+, follow us on Twitter and feel free to sign up for new articles by email using the buttons in the upper right corner of the FBC home page.
Also feel free to check out the latest designs at Fire Breathing Tees and the latest memes at Fire Breathing Memes. Thank you for your support!
© 2015 Scott Alan Buss – All Rights Reserved.