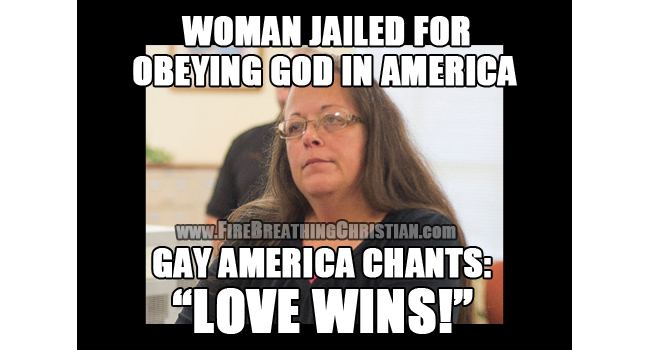 County Clerk for Rowan County, Kentucky – Kim Davis – was led off to jail today after refusing to issue licenses for "gay marriages" in direct violation of the unbreakable, unshakable, universally binding Word of God.
Welcome to America.
Welcome to the New America, where we are now reaping the full, foul fruit of "We the People" as God in practice. (See: Presuppositional Civil Government: Who we view as owning civil government determines how we will pursue civil government.)
In typical Pagan Right fashion, Republican Presidential Wannabe Mike Huckabee responded to news of Davis' incarceration by tweeting out some very Christian sounding words that, when examined even just a little in light of the Word of God, actually turn out to be more of the same secular American Statism-enabling drivel that's helped to produce a "land of the free" where obedient Christians are now jailed for being obedient Christians. Here's the line to which I refer:
✔ @GovMikeHuckabee
Kim Davis in federal custody removes all doubts about the criminalization of Christianity in this country. We must defend #ReligiousLiberty!
While I get and appreciate the first sentence here on one level, let's just note for clarity's sake that what is actually being revealed here is the criminality of the American State. By striving to criminalize Christian obedience and conduct civil government apart from submission to the Nature of God as revealed in His Word, the American State has revealed itself to be a criminal enterprise. The American State is the true and now completely out-of-the-closet criminal here.
Secondly, more significantly, and right on cue, Huckabee does the ol' Pagan Right Winger switcheroo by employing language intended to lure Christians into supporting religious pluralism (which is exactly what The Huckster means by "Religious Liberty"), which just so happens to be something that the God of Christianity despises, clearly condemns, and is even now punishing us for embracing…thanks to the "leadership" of the likes of Mike Huckabee. (See: Note to 'Merica: There is no "God-given right" to worship false gods. Repent accordingly.)
What we are actually seeing here – as enabled just as much by the Pagan Political Right as it has been by the Pagan Political Left – is the natural deterioration of law and government when severed from explicit subjugation to Christ as Lord. What we are seeing with the arrest of Kim Davis is not an attack on "religious liberty", but an attack on those who would really, actually dare to stand upon the lordship of Christ in every realm of His creation, including the realm of civil government.
CBS covered today's milestone (or is that millstone?) event this way:
"God's moral law conflicts with my job duties," Rowan County Clerk Kim Davis told U.S. District Judge David Bunning. . .
"Her good faith belief is simply not a viable defense," Bunning said, noting that allowing an individual's beliefs to supersede the court's authority would set a dangerous precedent.
"I myself have genuinely held religious beliefs," the judge said, but "I took an oath."
"Mrs. Davis took an oath," he added. "Oaths mean things."
Hundreds of people chanted and screamed, "Love won! Love won!" as word reached the dueling crowds outside.
Ah yes…"love wins!"
Get used to hearing that as Christians are jailed (and worse) for standing upon the Word of God in America.
article continues below
It all comes down to this: Who is God?
Who is God in truth…and therefore who is God in practice?
Who is the ultimate Authority here?
In "Judge" Bunnings' worldview – a worldview shared by even most professing Christians in America, the ultimate, true God in reality and therefore in practice is clearly The Almighty American State. (See also: Statism 101: State-run "education" makes a State-dependent population.)
This is where "We the People" as God in practice invariably and inevitably leads. (See: Presuppositional Law: Where we begin with law determines where we end.)
In Kim Davis' worldview, at least as much as we can see of it from her stand, the ultimate, true God in reality and therefore in practice is…God.
Choose this day, America, which you will serve.
"And if it is evil in your eyes to serve the LORD, choose this day whom you will serve, whether the gods your fathers served in the region beyond the River, or the gods of the Amorites in whose land you dwell. But as for me and my house, we will serve the LORD."
~ Joshua 24:15 (emphasis added)
~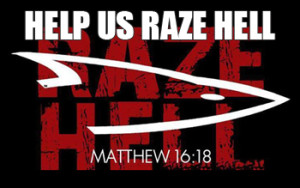 If you know of anyone who might appreciate this post, please share it. If you'd like to see articles like this continue, please click here to help.
Please also "like" us on Facebook, "+" us on Google+, follow us on Twitter and feel free to sign up for new articles by email using the buttons in the upper right corner of the FBC home page.
Also feel free to check out the latest designs at Fire Breathing Tees and the latest memes at Fire Breathing Memes. Thank you for your support!
© 2015 Scott Alan Buss – All Rights Reserved.