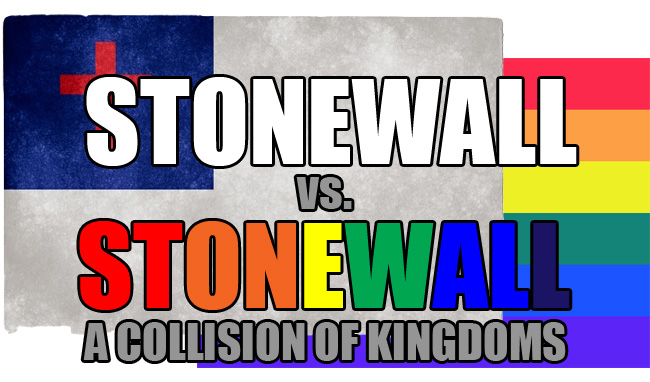 "The queer shall inherit the earth."
That's what a gang of tolerance Nazis desperately trying to shout down, drown out, and generally intimidate dissent (all in the name of love, of course) had scrawled on a banner they carried along to protest a college campus appearance by Pastor Doug Wilson. That banner and those Nazis are featured subjects for consideration in a soon-to-be-released film that I cannot recommend enough.
The film – Stonewall: The Coming Free Speech Apocalypse – is set for release in October and looks to be a must-see, perfectly timed Kingdom-call-to-arms event. (You can watch the first trailer for Stonewall by clicking here. You can also visit the official site for the film by clicking here.)
Beyond tackling vital issues at a critical time, Stonewall appears to be the sort of quality production that Christians aren't much known for these days (to our great shame). It not only tackles the most urgent of subject matter even as the enemies of Christ rape, pillage, and burn the culture down around us, but it does so with style and force not only rare but often purposefully avoided in most of what passes for Christian film these days. Stonewall is high octane, high-polished grit in the best paradoxical sense, delivered right on time, dropped into the middle of a culture war that Christians must now embrace and fight to win.
In God's providence, there's another new film by the name Stonewall set for release soon. Tomorrow actually. That film chronicles "a young man's political awakening and coming of age during the days and weeks leading up to the Stonewall Riots." The slightly more detailed storyline summary at IMDb informs us that…:
"The plot revolves around the 1969 Stonewall Riots, the violent clash that kicked off the gay rights movement in New York City. The drama centers on Danny Winters, who flees to New York, leaving behind his sister. He finds his way to the Stonewall Inn, where he meets Trevor before catching the eye of Ed Murphy, manager of the Stonewall. He colludes with corrupt police and exploits homeless youth."
How precious.
And how sweet…a contrast, I mean.
As in: A contrast of kingdoms.
As the culture burns and Christ awakens His people to engage His enemies in accordance with His Gospel-fueled Great Commission, I can't think of a more welcome worldview collision and contrast than that offered by these two Stonewalls.
The culture of disintegration and death vs. the culture of truth and life.
The culture of futile, suicidal rage against God vs. the Author and Sustainer of all true love and life.
The phony, fleeting, wannabe kingdom of the dead vs. the all-conquering Kingdom of Jesus Christ. (See: Jesus Conquers Everything.)
That's what I'm talkin' 'bout!
So bring it on!
article continues below
If, after watching the trailer for Stonewall: The Coming Free Speech Apocalypse, you are half as jazzed as I am about this perfectly timed, beautifully crafted Kingdom call-to-arms, please support the work of filmmaker Darren Doane. (His earlier documentary, COLLISION: Christopher Hitchens vs. Douglas Wilson
, is one of my favorite films. If you haven't seen it, you need to. Really.)
If we want to actively honor the Lord and advance His Kingdom as He has commanded and equipped us to do through His Gospel-fueled Great Commission, we have to support those fighting the good fight, tearing down enemy strongholds, and taking every thought captive to Christ with the talents given them.
Soli Deo Gloria…and let's roll!
~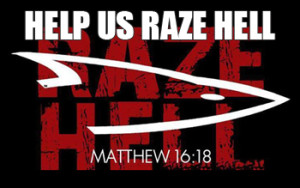 If you know of anyone who might appreciate this post, please share it. If you'd like to see articles like this continue, please click here to help.
Please also "like" us on Facebook, "+" us on Google+, follow us on Twitter and feel free to sign up for new articles by email using the buttons in the upper right corner of the FBC home page.
Check out The Fire Breathing Christian Podcast too, and see the latest designs at Fire Breathing Tees and the latest memes at Fire Breathing Memes. Thank you for your support!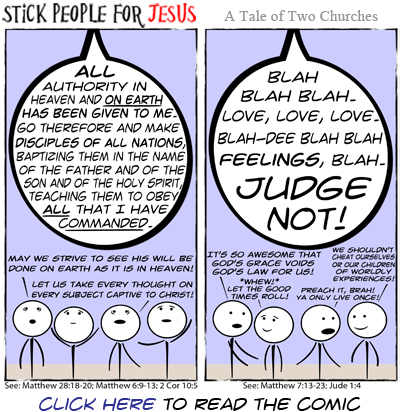 © 2015 Scott Alan Buss – All Rights Reserved