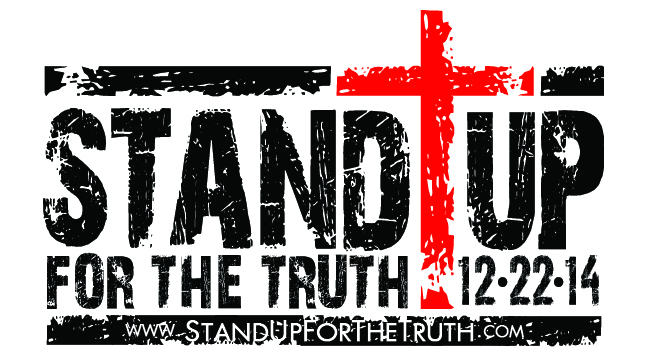 Over the past week of holiday wackiness (and I mean the good kind), I've been blessed to visit family in the Chicago area and spend Christmas day with Holly's wing of our family here in Middle Tennessee. I've also had the opportunity to endure/savor assembling a supercool KidKraft retro-style kitchen for my precious 21-month-old gem, Rosie, and I've begun to work on a new project to (hopefully) include here soon at FBC, Lord willing. There are many updates, tidbits, and stories to share, and I hope to get deep into that mode soon. In the meantime, though, I wanted to share a link to another cool moment that came along earlier this week as I was able to join the folks at the Stand Up for the Truth program for about forty minutes on Monday afternoon. (You can hear the podcast recording by clicking here.)
We talked about our pastors' responsibility in leading the church (and therefore the culture) to where it is today and what we can lovingly do about it. We also talked about children's education, truth, justice, and the recent wave of unrest that has come in the wake of two grand jury non-indictments of police officers. We even got a bit into eschatology and dominion (wow!). As always, being on air with Mike and Amy was a blast.
Lord willing, I will get a compilation of links to past Stand Up for the Truth appearances posted at the FBC site soon so that there can be easy access to the 25 or so shows I've had the honor and pleasure of doing with Mike, Amy, and the crew.
There is much that I hope to get rolling here at FBC as 2014 gives way to 2015. I am looking forward to next week and next year in ways I could never have anticipated just six months back. God is good!
In the meantime, I hope that you and yours have a wonderful rest of the weekend and Lord's Day.
Soli Deo Gloria,
SAB
~
If you know of anyone who might appreciate this post, please share it. If you'd like to help support the Fire Breathing Christian mission, please click here.
Please also "like" us on Facebook and feel free to sign up for new articles by email using the button in the upper right corner of the FBC home page. Thank you for your support!
© 2015 Scott Alan Buss – All Rights Reserved.
Soli Deo Gloria!