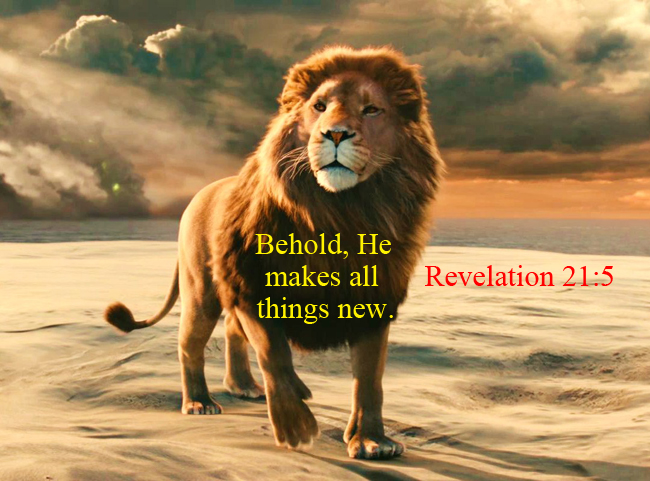 Nothing beats focusing on Christ. Nothing is more awe-inspiringly cool or supernaturally invigorating than staring at Him in contemplative wonder and soaking up the matchless splendor of His Nature on display.
While there is value and importance in considering the nature and methods of His enemies, it is only by keeping Him at the center of our worldview that we are able to experience the matchless confidence, hope, and joy that He inspires as we take to the field of battle here and now in our everyday lives by His grace and for His glory.
When we allow our eyes and minds to wander from Him while surveying the battlefield onto which we've been placed, we then begin to doubt. We begin to believe that His enemies are far greater and more powerful than they are. This empowers and enables them to pretend and ravage a little longer, which they like quite a lot.
When we drift from Christ as our anchor, we begin to doubt that things like culture can be saved. We begin to doubt that art, technology, literature, and any number of thoroughly contaminated creations have any real hope of restoration. When we forget Him for even a moment, the corruption of His creations by His enemies seems complete to the point that those creations have been rendered irreconcilably lost. This emboldens His enemies all the more to further pervert things, which has the effect of inspiring those not focused on Christ to doubt even more, and the vicious cycle continues.
The more we doubt, the more His enemies are freed to destroy and gloat. The longer this cycle persists, the more impossible His mission of comprehensive restoration seems.
How can things like art, economics, and politics possibly be purified? Can there even be such a thing as purely Christ-glorifying film, literature, and economic activity? Can there possibly be such a thing as purely Christ-glorifying exploration, cultivation, and adventure? How can concepts so seemingly complete in their contamination by sin ever really and truly be restored?
Aren't they all lost?
Aren't they better off left abandoned to the enemy who has corrupted them in such a comprehensive, pervasive manner?
These are the things that quite naturally and automatically creep into our minds when we stray from Him as the centerpiece of our thinking.
And they are all lies.
He is the image of the invisible God, the firstborn of all creation. For by him all things were created, in heaven and on earth, visible and invisible, whether thrones or dominions or rulers or authorities—all things were created through him and for him. And he is before all things, and in him all things hold together. ~ Colossians 1:15-17
The beautiful, liberating, and supremely inspiring truth is that all things in the creation that He called "good" – both material and immaterial – were made by Christ, through Christ, and for Christ (see: Colossians 1:15-17; Romans 11:36). This clear and comprehensive truth covers everything – including art, architecture, mathematics, language, law, politics, technology and everything else. The fact that rebellious creatures have been allowed for a season (and for His purposes) to pervert both material and immaterial components of His creation in no way renders those things permanently defiled or lost.
Quite the contrary.

He is even now about the business of reconciling all things unto Himself and has blessed us with the task of taking back the material and immaterial territory that has been temporarily claimed by His enemies. We have been called and equipped for this magnificent mission by His grace through the Gospel-fueled Great Commission.
And Jesus came and said to them, "All authority in heaven and on earth has been given to me. Go therefore and make disciples of all nations, baptizing them in the name of the Father and of the Son and of the Holy Spirit, teaching them to observe all that I have commanded you. And behold, I am with you always, to the end of the age." ~ Matthew 28:18-20 (emphasis added)
Standing before and around us on the battlefield in which we've been purposefully placed are His enemies. These enemies of Christ the King have built their phony, fading kingdom not on their own creations. They have nothing of their own to build with. They can only pervert what He has already made, and so all that they think they have is merely a temporarily corrupted version of what He has made…and what He is in the process of reclaiming and restoring by His grace through the purposeful use of His obedient people.
So when we're talking about "the world" or "the systems (or ways) of the world" that are even now being overcome by Christ, we are not talking about King Jesus doing away with art, film, writing, teaching, economics, education, cooking, eating, mathematics, philosophy, or any other good thing that He has made. We are instead talking about Him overturning the perversion of those things. We're talking about Him removing sin from the good things that He has made, not removing the things themselves. Those things are His and He will purge them of sin as he goes about the process of restoring His creation.
In a very real sense, the "things" of the enemy aren't really things at all. They are perversions of real things. In a very real sense, they aren't even real; they are perversions of reality.
The things that have been perverted are all His, and completely so. They were made by Him, through Him, and for Him.
The perverted versions that we see around us now are but fading mirages; counterfeit pseudo-realities on temporary parade…a parade that He is about to rain on to the point of washing it all away.
Therefore, if anyone is in Christ, he is a new creation. The old has passed away; behold, the new has come. All this is from God, who through Christ reconciled us to himself and gave us the ministry of reconciliation; that is, in Christ God was reconciling the world to himself, not counting their trespasses against them, and entrusting to us the message of reconciliation. Therefore, we are ambassadors for Christ, God making his appeal through us. We implore you on behalf of Christ, be reconciled to God. For our sake he made him to be sin who knew no sin, so that in him we might become the righteousness of God. ~ 2 Corinthians 5:17-21 (emphasis added)

And he who was seated on the throne said, "Behold, I am making all things new." ~ Revelation 21:5
He really and truly is making all things new.
All real things, as He is the One whose nature defines reality.
All true things, as He is the One who personifies truth.
Every perversion of His creation will be swept aside.
Material and immaterial, He's taking it all back. He's purifying it all.
Keep this in mind as His enemies proudly rage, pout, persecute and distort. Their time is ending, and soon.
The Gospel-fueled Great Commission saves every real and true thing, all by the grace and for the glory of the God who owns, defines, and personifies reality. And all to the eternal benefit of His people, who will enjoy everlasting exploration, growth, cultivation and adventure in the perfectly restored creation to come.
Soli Deo gloria…and let's roll!
~
If you know of anyone who might appreciate this post, please share it. If you'd like to help support the Fire Breathing Christian mission, please click here.
Please also "like" us on Facebook and feel free to sign up for new articles by email using the button in the upper right corner of the FBC home page. Thank you for your support!
© 2015 Scott Alan Buss – All Rights Reserved.
Soli Deo Gloria!