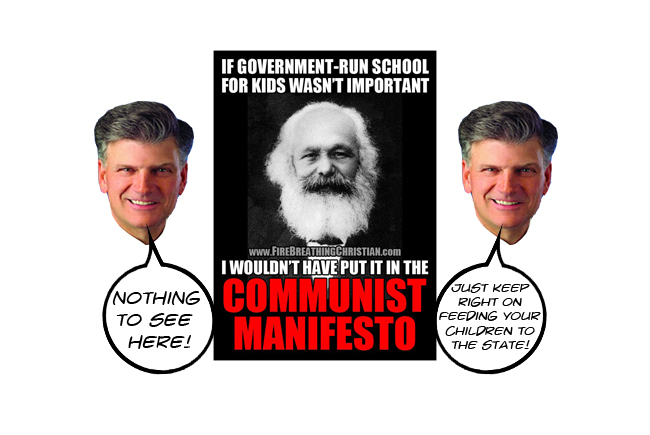 There's something bizarre about watching someone try to kill a hornet with a nuclear strike while simultaneously protecting the hornet's nest from which it came, but that's pretty much what we're witnessing now from many "Christian leaders" who seem to take every opportunity to express outrage and even threaten civil disobedience over the looming Supreme Court pronouncement on the subject of "gay marriage". (See: Waiting for the "Supreme Court" to break the ice beneath our feet.)
As Fox News reported this week, Southern Baptists are about to "get serious"…about something…:
Prepare for civil disobedience.
That's the message one prominent pastor is sending to some 16 million members of the Southern Baptist Convention.
Jack Graham, pastor of Prestonwood Baptist Church in Texas, said American Christians should be prepared for massive fallout if the Supreme Court legalizes same-sex unions.
"We want to stay in the system," Graham told me in a telephone interview. "We want to work in the system. We want to support our government. We want to obey its laws."
But.
"But there's a coming a day, I believe, that many Christians personally and churches corporately will need to practice civil disobedience on this issue."
Pastor Graham has been wrestling with this issue for a while now, and that's a good thing. What's not so good is that many in the "Christian leadership" camp have, more often than not, defended and enabled the worldview factories that have produced the tipping-point generation in which we now seem to live.
By "worldview factories" I mean government-run schools for children. (See: The God of Government "Education".)
During Pastor Graham's career in Southern Baptist church leadership, especially over the past 10-15 years or so, there has been a growing movement from the grassroots to formally advocate the removal of Christian children from these explicitly anti-Christian worldview factories known as public schools. That movement has been dismissed, ignored and often times openly repudiated and opposed by "Christian leaders" from various evangelical denominations, including Southern Baptists.
Another (even more famous and powerful) Graham has come out swinging in the past against those who advocate removing Christian children from immersion in a system of "education" that is in harmony with both the Communist Manifesto and the serpent's presentation of "the pursuit of knowledge" in Genesis 3. (See: Redeeming Children's Education: Confronting Our Satanic Approach to the Pursuit of Knowledge.)
As we covered earlier this month in Franklin Graham's Incoherent "Fight" Against the Homosexual Agenda, most of the same "Christian leaders" who are going nuts on the "gay marriage" issue have long been about the business of pompously propping up, coddling and defending the explicitly unbiblical and anti-Christian construct of State-run children's education.
Back in April, we asked, Have the "We will not obey!" Christian "leaders" repented of their role in bringing us to this hellish condition in the first place?
The answer now sadly seems to be about the same as it was then.
So who's most responsible for the "Supreme Court" proclamation that's about to come and plunge the culture even deeper into darkness?
The professing Christian church, that's who. (See: Judgment begins with the Church…not the Democrats.)
And who's most responsible for leading the professing Christian church to State compliance on this and so many other issues?
It's State-programmed "pastors" and "priests", that's who. (See: Why is the beast of Socialism eating our children? Ask your pastor.)
So as guys like Franklin Graham, Mike Huckabee and the like take to the stage to "lead" us in opposition to the hornet whose nest they've proudly and passionately helped to build, expand and protect, let's keep our eye on the ball and not buy into the hype.
Every generation of Americans will continue to become more Statist, more dependent on the State, and more pro-gay (and whatever comes next), all by design, for as long as we refuse to submit to Christ's commands on the vital subject of children's education.
Killing stray hornets is fine and good. It needs to be done.
But obsessing over the occasional hornet while protecting and expanding the nest from which it comes?
That's just idiotic, unproductive and dangerous.
The product of a fundamentally flawed "education", you might say.
~
If you know of anyone who might appreciate this post, please share it. If you'd like to see articles like this continue, please click here to help.
Please also "like" us on Facebook, "+" us on Google+, follow us on Twitter and feel free to sign up for new articles by email using the buttons in the upper right corner of the FBC home page.
Also feel free to check out the latest designs at Fire Breathing Tees and the latest memes at Fire Breathing Memes. Thank you for your support!
© 2015 Scott Alan Buss – All Rights Reserved.