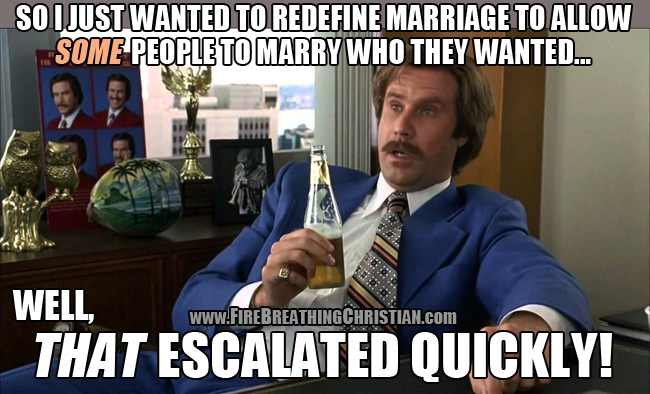 Here we are in mid-June of 2015 and the clock is ticking. The countdown is on. The formal, official American repudiation of God's binding Word on the nature of family, marriage and sexuality is heading our way fast. We know it's coming. We can feel it. We can't see clearly enough to know exactly when it'll get to us, but we can hear the Jaws music ramping up. We know it won't be long. (See: Gender Chaos: The Insanity (and Impossibility) of "Sex Change".)
While we're doing our best to dog-paddle while bleeding out here in the middle of our All-American "ocean of freedom" from the Law of God, we have a great opportunity. Several, actually.
First, we have the opportunity to turn away from the Pagan Right and Pagan Left representations of what is happening to us now. (See: How to NOT stop the Big Gay Bullies that are raping the culture.)


.

Then we have the opportunity to look honestly at the reality of our present situation and begin deal with it productively by acknowledging that all of the insanity and darkness rolling over us now has always been the inevitable end of our proud ongoing American multi-generational rebellion. (See: How has "Christianity" paved the way for gender chaos insanity?)


.

If we are blessed with the desire and ability to take those first two essential steps, then we will finally be prepped and able to repent in a meaningful, biblically defined manner. (See:

Will we repent or will we be destroyed?

)
Make no mistake: Repentance and broken submission is our only hope.
Begging for forgiveness from the King whose Nature "we the people" have openly mocked with every act of open rebellion against Him is our only hope. (See: Note to 'Merica: There is no "God-given right" to worship false gods. Repent accordingly.)
So as we watch and listen to Fox News, MSNBC, Rush Limbaugh, Mark Levin and every other Pagan Right/Left mouthpiece that will never call "we the people" to open repentance and complete submission to Christ as King in practice, we cannot afford to forget who they are, where they're coming from, and where they've led us thus far (because we have allowed them to).
We must remember who is King.
We must remember who has all authority right here and now in America and everywhere else in His creation.
We must remember that we are to do everything that we are able, by His grace, to see that His will is done on earth as it is in heaven.
We must remember the apparently long lost and forgotten Gospel-fueled Great Commission of Jesus Christ and we must cling to it now, as the doom of this American culture fast approaches, lest we fear man and continue in the cowardly, apathetic manner that brought us to this condition in the first place.
Let's be clear: There is but one Supreme Court, and it is not in Washington DC.
While the American court deliberates and prepares its verdict – its pathetic attempt to redefine God's unbreakable reality – His people are already being blessed with great opportunities to stand, suffer and advance His Kingdom here and now, even as the the ice begins to break wide open beneath the feet of the proud and unrepentant. (See: How to truly love (and really save) America.)
Pray that we will seize those opportunities, by His grace and for His glory, so that whatever comes after this will be much more clearly, lovingly and obediently His. (See: Roaring into Post-America Christianity.)
~
If you know of anyone who might appreciate this post, please share it. If you'd like to help support the Fire Breathing Christian mission, please click here.
Please also "like" us on Facebook, "+" us on Google+, follow us on Twitter and feel free to sign up for new articles by email using the buttons in the upper right corner of the FBC home page.
Also feel free to check out the latest designs at Fire Breathing Tees and the latest memes at Fire Breathing Memes. Thank you for your support!
© 2015 Scott Alan Buss – All Rights Reserved.