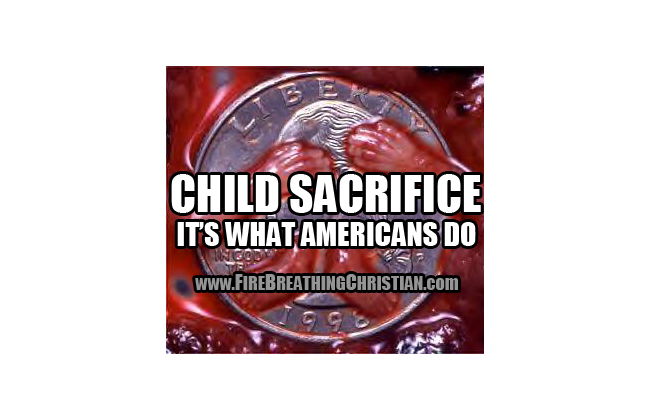 What would you call a person who casually discusses over a nice crunchy salad their personal role in the systematic murder and dismemberment of innocent children so that their little baby body parts might be most effectively marketed and fed to others?
Evil?
Sure.
Demonic?
Yeah.
Disgusting, vile, and repulsive?
Yes, yes, and yes.
But don't forget to add the following equally valid and important labels:
Legally protected.


.

Legitimate businessperson.


.

Recognized health-care provider.
In America – the "land of the free" and the home of the NSA – these three tags apply to the Planned Parenthood representative recently caught on video discussing at length and in detail the manner in which babies are murdered so that their organs might be most effectively harvested.
And why do these three tags apply?
Why is the Mengele-esque hellishness described so casually by Deborah Nucatola, Planned Parenthood's senior director of medical research, over a nice lunch in a nice restaurant legally protected as legitimate business in America?
Why is Planned Parenthood's systematic murder and dismemberment of innocent children on a scale that would make Nazi Germany blush celebrated here in Orwellian America as, of all things, a vital part of our "health care" system? (See: 51,000,003 reasons why America owes Nazi Germany an apology.)
The flagrant, obscene evil so nonchalantly addressed by the salad crunching demonic Ms. Nucatola is legal and legitimate in America because "We the People" have come to believe that we have the power to define that which is lawful apart from the unbreakable Law of God.
"We the People" actually believe that we have the power to determine what is right, wrong, lawful, and lawless.
In this delusionally prideful and arrogant state, we've severed the meaning of all of our most cherished concepts and virtues from explicit connection and subjugation to Christ. In doing so, we've consigned these things and all that they touch to death.
Contrary to popular American opinion, "We the People" cannot and will never be able to pursue (much less sustain) any true and lasting liberty, freedom, justice, and law apart from God's unbreakable Word.
We may like to imagine that we have such power, but we do not.
There is no "right to murder children", no matter what "We the People" say.
There is no "right to print or sell porn", no matter what "We the People" say.
And there is no "right to practice homosexuality", no matter what "We the People" say. (See: Who owns America? (Hint: Not "We the People".))
article continues below
What we are seeing unfurl all around us is the natural consequence of our long-held All-American denial of God's Nature as the exclusive and necessary source of all true liberty, freedom, justice, and law. When we decided that His Nature as revealed in His Word was not to be our standard in the realms of civil government and politics, we resigned ourselves to the fate that we are experiencing now. When we refused to strive for Christ's rule over us politically, we consigned ourselves to be ruled over by tyrannical, godless men. (See: Note to 'Merica: There is no "God-given right" to worship false gods. Repent accordingly.)
So as we watch the Big Gay Wave continue to roll (see: A Tale of Two (Gay American) Cities) and we witness the likes of Ms. Nucatola happily chatting away about her "legally" protected, "legitimate" business of providing "health care" by way of the systematic murder of babies for convenience and profit, understand this: This is what Christ-mocking perversions of law, liberty and freedom always produce. And it will only get worse from here, until and unless we repent and submit to Christ as King in practice.
~
If you know of anyone who might appreciate this post, please share it. If you'd like to see articles like this continue, please click here to help.
Please also "like" us on Facebook, "+" us on Google+, follow us on Twitter and feel free to sign up for new articles by email using the buttons in the upper right corner of the FBC home page.
Also feel free to check out the latest designs at Fire Breathing Tees and the latest memes at Fire Breathing Memes. Thank you for your support!
© 2015 Scott Alan Buss – All Rights Reserved.