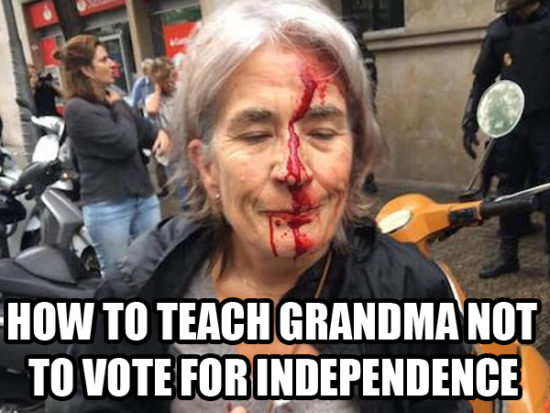 What do self-described "indivisible" governments do when pesky things like democracy get in the way of their claim to indivisibility?
Put another way, what happens when a federal government pretending to be all about "the will of the people" is confronted with a majority opinion that says the federal government in question should no longer rule over them?
You know, like the Founding Fathers did a while back.
What do federal governments pretending to revere democracy and the will of the people do then?
Well, as if we didn't have enough examples already, we got another dramatic, bloody answer to that question over the weekend when the federal government in Spain went absolutely nuts on the people of Catalonia, who simply wanted to peacefully vote (you know: practice democracy) as to whether Catalonia should secede from Spain.
For such a gross violation of "indivisible State" principles, many of the Catalans taking this unthinkable stand were beaten and shot with rubber bullets. Grandmas and grandpas were bloodied along with younger Catalans, leaving quite a clear impression as to what The Powers That Be think of "the will of the people" when it conflicts with (or seeks to flat out nullify) the will of the "indivisible" State ruling over them.
Whatever the intended impact of the Spanish crackdown on Catalans, it seems to have backfired, and dramatically so, with the reported vote tally favoring secession by an 89%-11% blowout.
Here's a snippet of The Daily Mail's post on the Catalan conflict:
"Catalan officials claimed 90% of 2.2million voters had called for independence in an 'illegal' referendum blighted by violent scenes which left at least 888 people injured.
World leaders condemned the brutal scenes after officials revealed that hundreds of protesters have been injured so far.
Officers were seen kicking and stamping on protesters as they stormed buildings and seized ballot boxes.
Footage captured in the village of Sarria de Ter in the province of Girona showed authorities using an axe to smash down the doors of a polling station where Catalan president Carles Puigdemont was due to cast his vote.
He said the region had won the right to become an independent state with the referendum results due in a few days.
And in Barcelona, the region's capital, officers fired rubber bullets at thousands of protesters demonstrating against their votes being denied. . . "
Clearly this is democracy in action – hard fought, high stakes action the likes of which we're not (yet) accustomed to in America.
Which is why it's so important that we pay close attention to this in America.
The "indivisible" State that is championed routinely through songs, pageantry, and pledges, simply cannot and will not allow the will of the people to be done when said will conflicts with the interest of the self-described "indivisible" State. Remember: Even our own Pledge to the "indivisible" power of the State above us was written by a devout Socialist for the purpose of promoting Socialism.
So take a good look at the bloodied grandparents of Catalan.
And remember: Not only would the Founding Fathers of America never take The Pledge, they'd never buckle under to those who would advocate the notion of indivisible political power above them.
That's how they became the Founding Fathers.
Let's hope and pray that God gives the Catalan people enough perseverance to win the day over a federal government that clearly despises the notion of true freedom, true liberty, and true political power for the masses.
---
If you've benefitted from the work done at Fire Breathing Christian, we ask that you
consider financially supporting the cause. You can do this in one of three ways: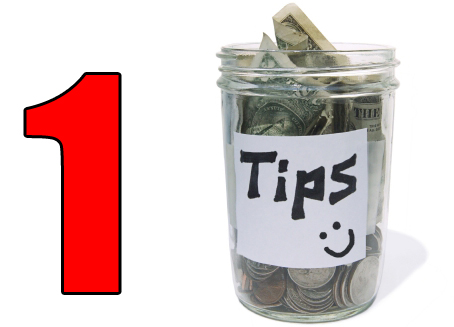 You can drop a few bucks in the tip jar by making a one-time donation through PayPal.

You can make a regular contribution by joining our monthly support team.

You can use our Amazon.com affiliate link every time you order anything at Amazon.com.
We depend on God's provision through His faithful people.
Thank you for supporting Fire Breathing Christian!
---

Please check out our video channel and our news satire site.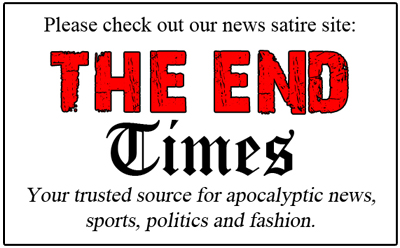 ---
You can also help support the Fire Breathing Christian mission by checking out these books:
Stupid Elephant Tricks – The Other Progressive Party's War on Christianity takes a painful but much needed look at how Christ-less "conservatism" has captivated Christians and co-opted them into helping march the culture ever deeper into darkness: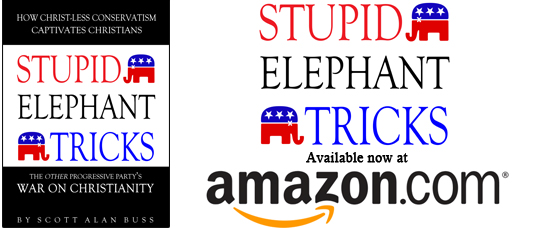 _____________________________________________________
The Beginning of Knowledge: Christ as Truth in Apologetics is an approachable, easy to read introduction to Christ-centered apologetics: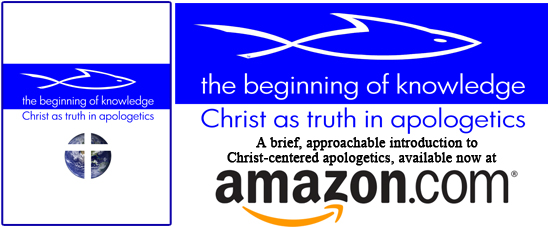 _____________________________________________________
Apathetic Christianity: The Zombie Religion of American Churchianity explores the tragic true horror story of all-American dead religion masquerading as Christianity: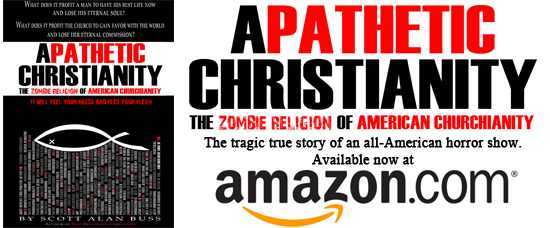 _____________________________________________________
On Education is a compilation of some of the most provocative and compelling Fire Breathing Christian articles on the subject of children's education: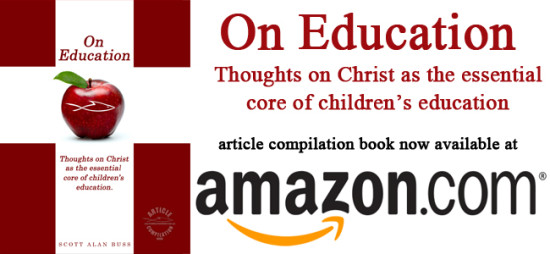 _____________________________________________________
There Is No "God-Given Right" To Worship False Gods is a compilation of some of the most provocative Fire Breathing Christian articles on the subject of America's embrace of a satanic approach to religious liberty: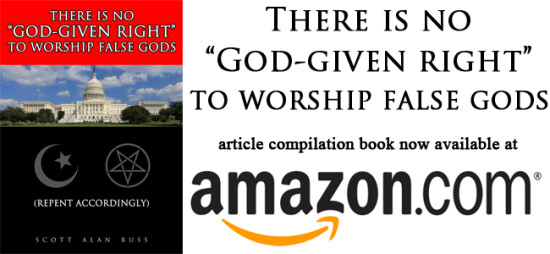 _____________________________________________________
Fire Breathing Christians – The Common Believer's Call to Reformation, Revival, and Revolution is the book that first presented the FBC mission to apply the Gospel-fueled Great Commission in every realm of God's creation: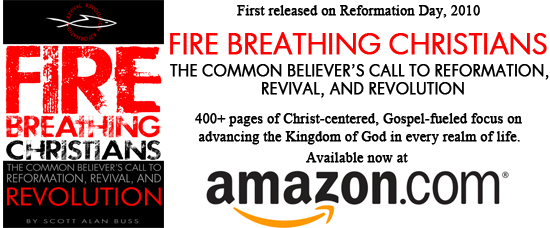 _____________________________________________________
An alternate white cover version of Fire Breathing Christians is available:

_____________________________________________________
There is also an alternate black cover version of Fire Breathing Christians:

Finally, here are a few good intro/reminder links for those of you who are new to Fire Breathing Christian and curious about exactly what's goin' on 'round here:
What are you, some kind of [insert label here] or something?!
What's with that shark-fishie graphic thing?
Intro to Fire: The Power and Purpose of the Common Believer
When the Bible gets hairy. (Or: Is it right for men to have long hair?)
And especially this one: Never forget that apart from God's grace you and I are complete morons.