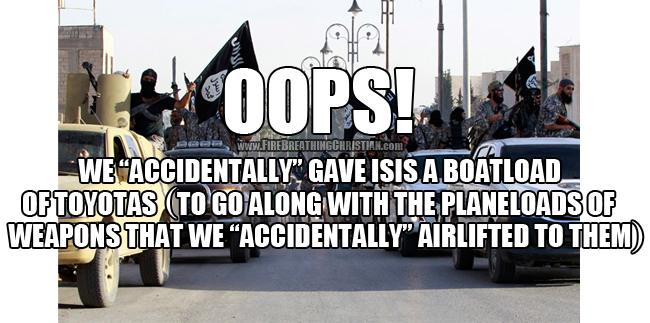 No wonder the American State is all "outraged" and such over Russia's deadly serious not-playin'-around-at-all strikes on ISIS in Syria.
America has way too much invested in this ISIS outfit to just let it get all blowed up and stuff.
As we reported in October in Oops! We "accidentally armed ISIS"…again…, we've "accidentally" airlifted weapons to ISIS in Syria before. ISIS has been the regular recipient of "accidental" help from the American State and its allies.
And apparently weapons aren't all that the supposedly broke American Empire is sparing no expense to "accidentally" get into ISIS' hands.
As Zero Hedge reported this week:
U.S. counter-terror officials have launched an investigation into how ISIS got so many of those identical Toyota pickup trucks which they use in their convoys.
They don't have to look very far …
The Spectator reported last year:
The [Toyota] Hilux is light, fast, manoeuvrable and all but indestructible ('bomb-proof' might not, in this instance, be a happy usage).  The weapons experts Jane's claimed for the Hilux a similar significance to the longbows of Agincourt or the Huey choppers of Nam. A US Army Ranger said the Toyota sure 'kicks the hell out of a Humvee' (referring to the clumsy and over-sized High Mobility Multipurpose Wheeled Vehicle made by AM General).
***
The fact is the Toyotas were supplied by the US government to the Al Nusra Front as 'non-lethal aid' then 'acquired' by ISIS.
Al Nusra Front is literally Al Qaeda.
Neato.
File that one away for the next time you hear about how we have to go to war here, there, and everywhere to combat the evils of ISIS…while protecting the open, "legal" operation of baby mass murdering facilities all across America. (See: Problem>Reaction>Solution – Why we will beg to have our freedoms taken away and go to war forever. and  If ISIS did to one American child what Planned Parenthood does to millions, we'd go to war and kill them for it.)
~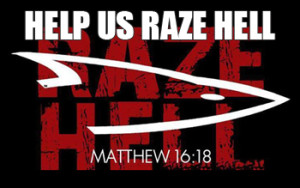 If you know of anyone who might appreciate this post, please share it. If you'd like to see articles like this continue, please click here to help.
Please also "like" us on Facebook, "+" us on Google+, follow us on Twitter and feel free to sign up for new articles by email using the buttons in the upper right corner of the FBC home page.
Check out The Fire Breathing Christian Podcast too, and see the latest designs at Fire Breathing Tees and the latest memes at Fire Breathing Memes. Thank you for your support!