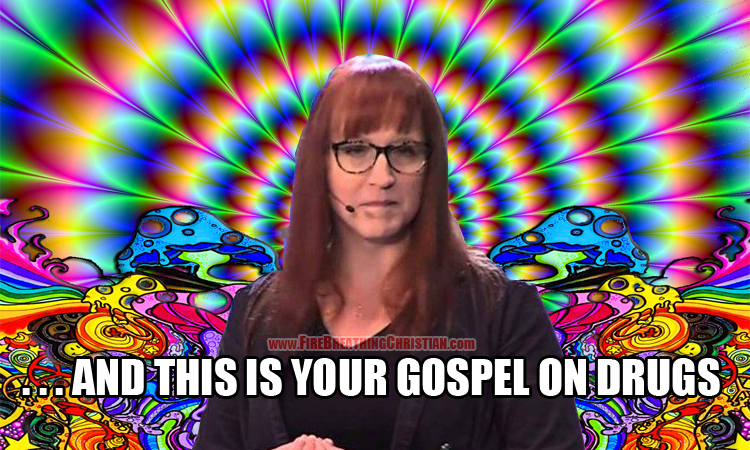 So now we have America's first "transgender Baptist preacher".
Neato.
Not surprising, of course, given that the typical Gospel presentation in the typical American Baptist church has been so gay and so small for so very long. Or that American "conservative Christians" have been freely feeding their children to the state for "education" in an explicitly satanic approach to knowledge and life for generations now. Or that "conservative Christian" American priests and pastors have been enabling and encouraging this multigenerational immersion in an anti-Christian approach to children's "education". Or that…well…you get the picture…
So it is that generations of particular approaches to the Gospel and the State-supervised mind-sculpting of the young have led us to where we are now, which is a place well represented by progressive Baptist preacher Daniel Robinson, who pretends to be a woman and is hailed in American pop-culture as "The Most Radical Preacher in America".
Daniel's testimony includes the following, as reported by MSNBC and others:
"I have known my entire life that the world was wrong about me, that on the day I was born, when the doctor took a cursory glance between my legs and authoritatively declared 'It's a boy,' he was wrong—dead wrong," Robinson told the Alliance of Baptists in St. Louis this month.
He said that one day in his early seminary days he contemplated suicide, but an "angel of the Lord" that he called "reason" stopped him.
"What if God hasn't fixed you because you're not broken?" Robinson said he heard inside of himself.
"That can't be true," he thought. "The Bible says I'm broken."
"What if the Bible is wrong?" the voice said. "What if you've been reading it wrong?"
Robinson told those gathered that in that moment he "sacrificed his certainty" and hoped that God would count it as "righteousness."
In other appearances, Robinson has explained that he went into therapy but kept his gender identity issues as secret until graduating from Baylor due to the seminary's policies about homosexuality and transgenderism. He also took a position as pastor of Meadow Oaks Baptist Church in Temple, Texas during his time at Baylor.
Robinson's wife, Danyelle, expressed her support about his desire to identify as a woman.
In 2014, he worked as a transitional minister at Calvary Baptist Church in Washington, D.C., and was ordained there as a woman.
"Allyson Dylan Robinson is a minister of the gospel, trained for the task, and ordained to the gospel ministry by another community in which she has served as pastor," former leader Amy Butler wrote at that time. "Over the course of her journey, God has invited her to step into the faithful witness of a new identity, a true identity, and a new name."
Robinson now speaks as an itinerant preacher and appeared at Bruce "Caitlyn" Jenner's renaming ceremony last year.
"Frankly I consider Job, Gautama Buddha, Joan of Arc, Rumi and Johnny Cash to be my spiritual predecessors far more than Augustine, Aquinas or Barth," he told the Alliance of Baptists this month. "My hymnal has a lot less Isaac Watts and Fanny Crosby, but it's full of Bob Dylan, Bruce Springsteen, Tupac and Beyonce."
So what exactly does the typical "conservative" Baptist (or member of any other Christian denomination) have to say in response to Mr. Robinson's selective use of Scripture? What do they have to say in response to his emotion-driven, self-centered, self-referential, and self-serving approach to the Word of God?
Nothing, that's what.
At least not anything substantive and coherent.
Why?
Because when it comes to covering and defending their favorite idols – be they public schools, religious pluralism, social security, or the American State itself – these "conservatives" typically treat Scripture with the same selective, self-serving seriousness that Daniel Robinson employs on the issues of sexuality and gender.
In this, Daniel Robinson is truly the hard earned fruit of American "conservative" religion.
---
If you know of anyone who might appreciate this post, please share it. If you'd like to see articles like this continue, please click here to help.
Please also "like" us on Facebook, "+" us on Google+, follow us on Twitter and feel free to sign up for new articles by email using the buttons in the upper right corner of the FBC home page.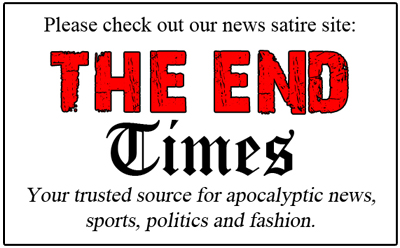 Please check out The Fire Breathing Christian Podcast too, as well as the latest designs at Fire Breathing Tees and the latest memes at the Fire Breathing Memes page.
You can also help support the Fire Breathing Christian mission by checking out these books:
Stupid Elephant Tricks – The Other Progressive Party's War on Christianity takes a painful but much needed look at how Christ-less "conservatism" has captivated Christians and co-opted them into helping march the culture ever deeper into darkness: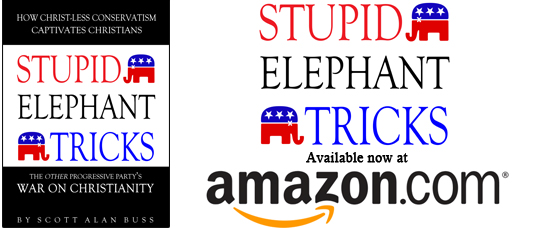 _____________________________________________________
The Beginning of Knowledge: Christ as Truth in Apologetics is an approachable, easy to read introduction to Christ-centered apologetics: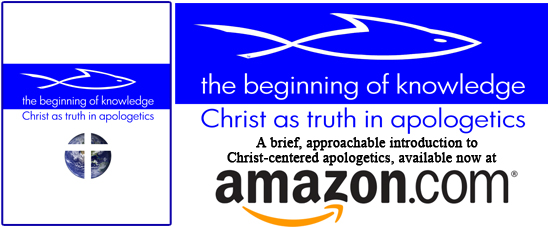 _____________________________________________________
Apathetic Christianity: The Zombie Religion of American Churchianity explores the tragic true horror story of all-American dead religion masquerading as Christianity: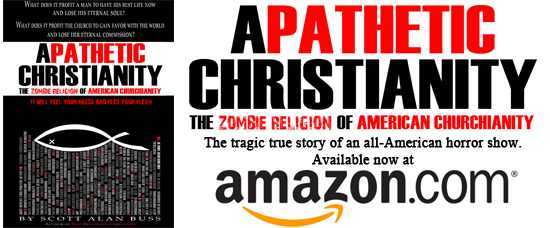 _____________________________________________________
On Education is a compilation of some of the most provocative and compelling Fire Breathing Christian articles on the subject of children's education: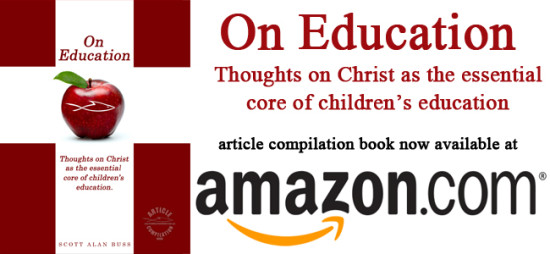 _____________________________________________________
There Is No "God-Given Right" To Worship False Gods is a compilation of some of the most provocative Fire Breathing Christian articles on the subject of America's embrace of a satanic approach to religious liberty: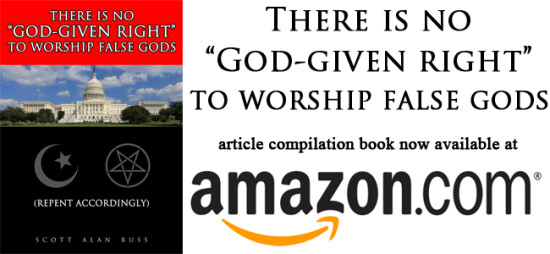 _____________________________________________________
Fire Breathing Christians – The Common Believer's Call to Reformation, Revival, and Revolution is the book that first presented the FBC mission to apply the Gospel-fueled Great Commission in every realm of God's creation: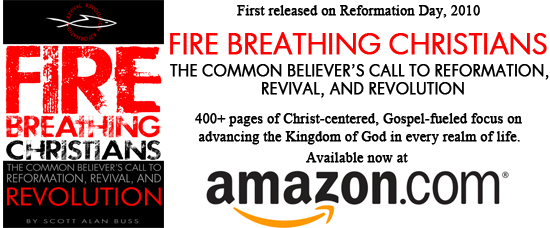 _____________________________________________________
An alternate white cover version of Fire Breathing Christians is available:

_____________________________________________________
There is also an alternate black cover version of Fire Breathing Christians:

Finally, here are a few good intro/reminder links for those of you who are new to Fire Breathing Christian and curious about exactly what's goin' on 'round here:
What are you, some kind of [insert label here] or something?!
What's with that shark-fishie graphic thing?
Intro to Fire: The Power and Purpose of the Common Believer
When the Bible gets hairy. (Or: Is it right for men to have long hair?)
And especially this one: Never forget that apart from God's grace you and I are complete morons.
Thank you for your support!