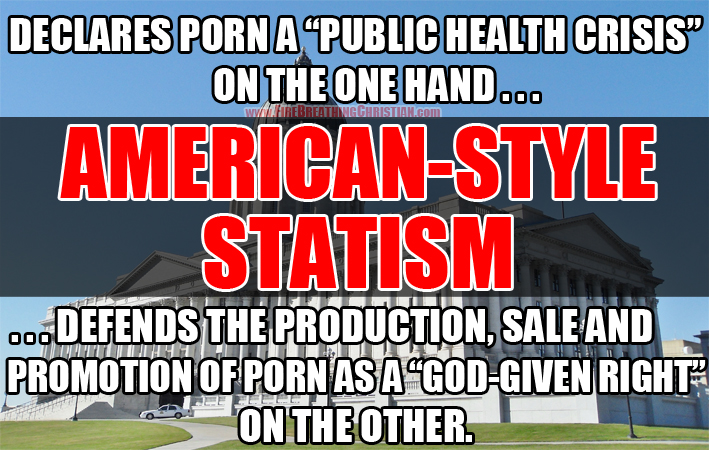 On the plus side: Utah has declared pornography to be "a public health crisis".
On the not-so-plus side: America (Utah included) has declared and continues to declare the production, sale and purchase of porn to be a "God-given right" and "freedom" which must be vigorously protected by the full force and power of the American State.
See the problem?
The gigantic, flaming, neon-lit problem that will be religiously avoided by pretty much everyone else covering this story, I mean?
Here's one example…
As reported by KSL, Utah has become first state to declare pornography a public health crisis. Here are some samples from the article, with bold emphasis added and a few added comments made in red:
Utah became the first state in the country to declare pornography a public health crisis, and called on the industry and businesses Tuesday to help keep "evil, degrading, addictive" materials away from children. Gov. Gary Herbert signed a resolution the state Legislature unanimously passed earlier this year calling for education, prevention, research and policy changes to address the pornography "epidemic.""We realize this is a bold assertion," the governor said, acknowledging some would disagree that it has become a health crisis. "It is, in fact, the full-fledged truth."
Sen. Todd Weiler, R-Woods Cross, said his resolution doesn't ban anything or infringe on freedom of speech.

[Which, in America includes the "freedom" – often cited as a "God-given 'right'" to produce, promote, and purchase porn.]

. . .  Weiler also called on the multibillion dollar pornography industry to "help us protect children from your evil, degrading, addictive harmful substances. If adults want to do that, that's their choice."
So, according to the good conservative Republican political leaders aiming to protect us from the evils of porn, we can "call on the multibillion porn industry for help" in better – or "more responsibly" – managing our "freedom" to produce and consume porn, but can we actually call upon the Lord and build our approach to law on His unbreakable, life-giving Word?
Ummm, nope.
No way.
Not in a "land of the free" where the American State and its top tier icons and idols trump Scripture without a second thought even in the minds of most professing Christians in the land.
Just try to suggest that the Founding Fathers might have gotten anything meaningful wrong in their approach to crafting the Constitution and you will get ten times the passionate pushback from ten times the "Christian Americans" as you will get if you suggest that the Bible needs to be interpreted and applied by the light of the Founders and Constitution rather than the other way around.
This is why nothing's working, people.
This is why it's getting darker and darker in America.
After many fat years of phony prosperity and contrived comfort, the long term fruit of our long-running America Idolatry is finally coming home to roost. The judgment of God is upon us in many forms, including "conservative Christian" leaders who are as committed as any Muslim, witch or Satanist to avoiding the Word of God as our standard in law and life.
Even though we see so clearly the fruits of a satanic approach to "freedom" and an anti-Christ spin on "liberty", we refuse to address their root cause by repenting and submitting to Christ as King in practice. We're way too proud and way too American for that kind of thing.
Until that changes – until, by God's grace, we repent and obey His loving, life-defining commands in our approach to law, civil government and everything else – we are destined for more of the same – we are begging for more of the same – in Utah and everywhere else.
---
If you know of anyone who might appreciate this post, please share it. If you'd like to see articles like this continue, please click here to help.

Please also "like" us on Facebook, "+" us on Google+, follow us on Twitter and feel free to sign up for new articles by email using the buttons in the upper right corner of the FBC home page.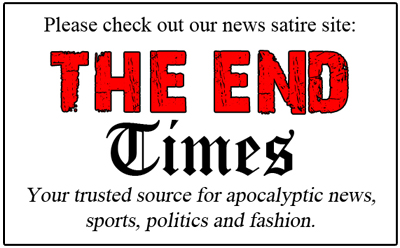 Please check out The Fire Breathing Christian Podcast too, as well as the latest designs at Fire Breathing Tees and the latest memes at the Fire Breathing Memes page.
You can also help support the Fire Breathing Christian mission by checking out these books:
Stupid Elephant Tricks – The Other Progressive Party's War on Christianity takes a painful but much needed look at how Christ-less "conservatism" has captivated Christians and co-opted them into helping march the culture ever deeper into darkness: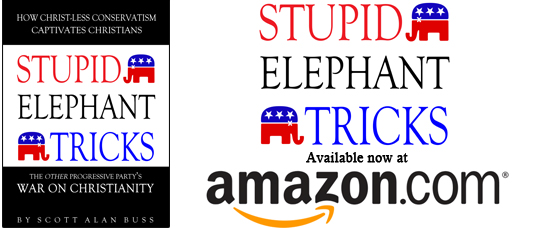 _____________________________________________________
The Beginning of Knowledge: Christ as Truth in Apologetics is an approachable, easy to read introduction to Christ-centered apologetics: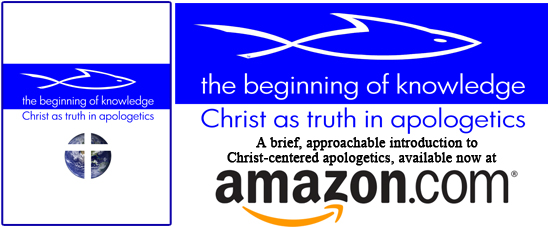 _____________________________________________________
Apathetic Christianity: The Zombie Religion of American Churchianity explores the tragic true horror story of all-American dead religion masquerading as Christianity: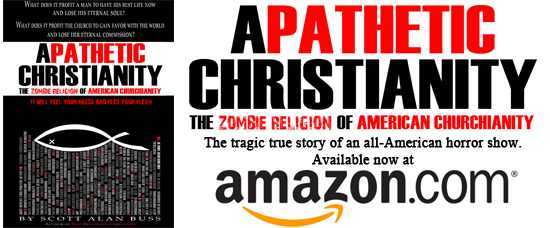 _____________________________________________________
On Education is a compilation of some of the most provocative and compelling Fire Breathing Christian articles on the subject of children's education: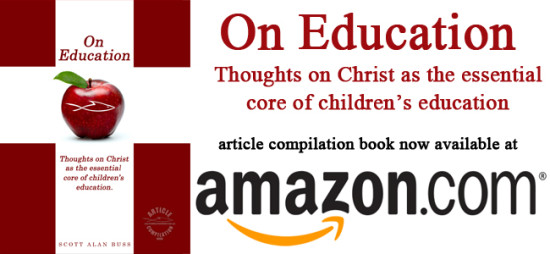 _____________________________________________________
There Is No "God-Given Right" To Worship False Gods is a compilation of some of the most provocative Fire Breathing Christian articles on the subject of America's embrace of a satanic approach to religious liberty: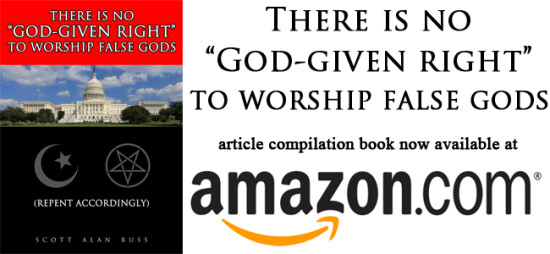 _____________________________________________________
Fire Breathing Christians – The Common Believer's Call to Reformation, Revival, and Revolution is the book that first presented the FBC mission to apply the Gospel-fueled Great Commission in every realm of God's creation: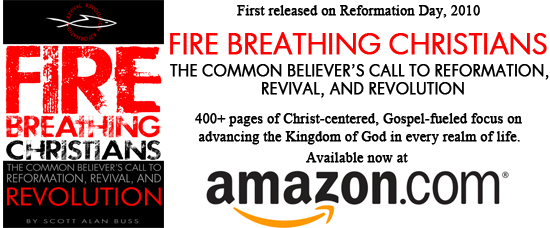 _____________________________________________________
An alternate white cover version of Fire Breathing Christians is available:

_____________________________________________________
There is also an alternate black cover version of Fire Breathing Christians:

Finally, here are a few good intro/reminder links for those of you who are new to Fire Breathing Christian and curious about exactly what's goin' on 'round here:
What are you, some kind of [insert label here] or something?!
What's with that shark-fishie graphic thing?
Intro to Fire: The Power and Purpose of the Common Believer
When the Bible gets hairy. (Or: Is it right for men to have long hair?)
And especially this one: Never forget that apart from God's grace you and I are complete morons.
Thank you for your support!