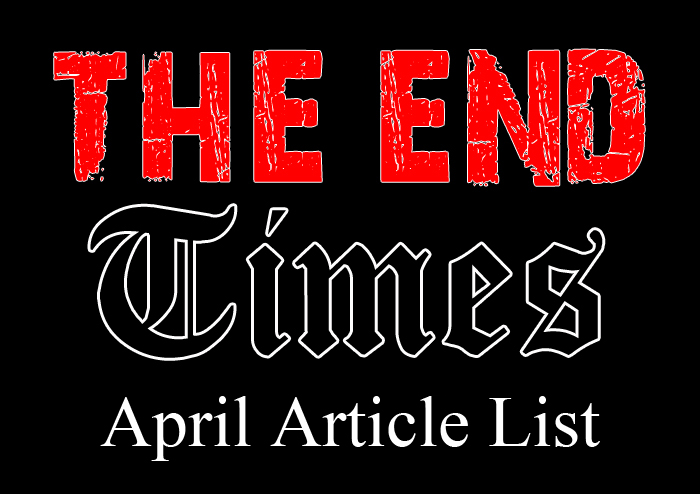 Howdy All,
The time has come for a monthly update on The End Times, our recently launched Christian satire site.
Here's a list of most of the articles that were run over at The End Times in April:
Sauron To Seek GOP Nomination For Overlord Of Middle Earth
Trump "Tells It Like It Is", According To Millions Of Proud, Unrepentant Professing Christians In America
"Outraged" Christian Parents Boycott Gay-Promoting Target While Happily Shipping Their Kids To Gay-Promoting Public Schools
Ted Cruz Won't Stop Appointing Imaginary Cabinet Members
Trump Casino And Strip Club To Offer "Evangelical Discount" As Thank You For Evangelical Support
Dr. Evil Hired As TBN Staff Physician/Coordinator Of Global Domination
American Satanists Thankful For America's Satanic Approach To Religious Liberty
Americans Outraged Over Portrait Change On Fake Money
Desperate GOP Begs Gandalf To Halt Trump's March To Nomination
Sixth Grader Ostracized For Not Instantly Assuming Prince Is In Heaven
Elevation Church Releases "Cult Of Steven Furtick" Coloring Book For Adults
Al Gore Celebrates Earth Day By Buying Another 12,000 Square Foot Mansion
Joel Osteen Insists He's Having His Best Migraine Now
Bob Larson Performs Exorcism On Unruly House Cat
Peter Popoff Thrills Fans By Levitating Their Wallets Into His Hands
Jim Caviezel Stops Signing Autographs As "J.C."; Says It's Too Confusing For Some People
First Transgender Baptist Preacher Credits "Giant Truckload Of Acid" With Helping Him To See The Light
Jack Van Impe Tries Viewer Hypnosis To Halt Decline In Ratings
Homeschooling Family Of 19 Accidentally Leaves Child Home Alone During Field Trip To Europe
Baptist Potluck Fellowship Meal Descends Into Wild Rampage Of Gluttonous Excess
Charisma Magazine Goes Full Belieber
Michael Moore Threatens To Eat North Carolina If It Will Not Allow Men Into Women's Restrooms
Youth Pastor Distraught After Finding No Basis In Scripture For Youth Pastor Concept
Donald Trump To Launch "Absolutely Amazing" New Presbyterian Denomination
Bernie Sanders "Appalled" At System's Redistribution Of Delegates He's Worked So Hard To Earn
Perpetually "Outraged" And "Horrified" Parents Plan To Keep Right On Feeding Their Kids To Public Schools
Megachurch Proud Of How It Immediately Splits Up Families Upon Entry Into Building
Joel Osteen "Not Sure" How Martyrdom Could Possibly Be God's Best For Anyone
Andy Stanley Leads Torch Wielding Mob Of Megachurch Fanatics To "Purge The Land" Of Small Churches
Local Congregation Rooting For All Hell To Break Loose So Jesus Will Come Back That Much Quicker
Beth Moore Suggests Catching Holy Spirit With Butterfly Net
Jenner To Sing "I Am Woman" At PayPal Sponsored Super Bowl Halftime Show
Hillary Suggests 298th Trimester Abortion For Bernie Sanders
Floyd Mayweather Self-Identifies As A Woman Just Long Enough To Win Every Women's Boxing Title
Pope Finally Admits He's The Antichrist
Christian Parents "Shocked" That Anti-Christian Education System Is Teaching Their Children Anti-Christian Values
Milk-Fed Congregation Convinced It's Feasting On Meaty Truth
Apple To Release NSA-Approved "All Seeing EyePhone"
TD Jakes Launches Clothing Store Chain For Big And Tall Heretics
Benny Hinn Raises X-Wing From Dagobah Swamp During TBN Telethon
Health And Wealth Preacher Laughs Off Inability To Cure His Own Male Pattern Baldness
Pat Robertson Receives "Word Of Knowledge" That Pat Robertson Is A Heretic
Cult Leader Hands Out Wrong Kool-Aid At Picnic, Has To Start Cult Over From Scratch
In Desperate Last Ditch Effort To Destroy Ted Cruz Campaign, Jeb Bush Endorses Ted Cruz For President
John Hagee Announces Manned Mission To Blood Moon
Christian T-Shirt Maker Forced To Retire After Running Out Of Secular Logos To Rip Off
Benny Hinn Uses Suitcoat To Decapitate Man
So far reception to The End Times has been very encouraging. We've had several posts get over the 10,000+ facebook "like" mark, so things are starting to roll…
It's been fun (and hopefully helpful) to touch on challenging, important points in a medium not known for depth. We really appreciate your prayers and support, even if satire isn't your thing.
Please share this list or individual articles with anyone you think may be interested. Facebook "likes" for The End Times' Facebook page would also be a very big help.
Soli Deo Gloria…and let's roll!
---
If you know of anyone who might appreciate this post, please share it. If you'd like to see articles like this continue, please click here to help.
Please also "like" us on Facebook, "+" us on Google+, follow us on Twitter and feel free to sign up for new articles by email using the buttons in the upper right corner of the FBC home page.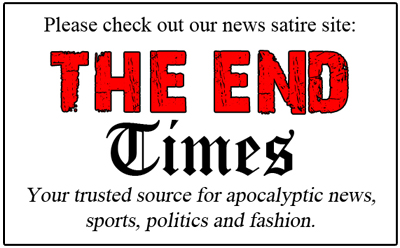 Please check out The Fire Breathing Christian Podcast too, as well as the latest designs at Fire Breathing Tees and the latest memes at the Fire Breathing Memes page.
You can also help support the Fire Breathing Christian mission by checking out these books:
Stupid Elephant Tricks – The Other Progressive Party's War on Christianity takes a painful but much needed look at how Christ-less "conservatism" has captivated Christians and co-opted them into helping march the culture ever deeper into darkness: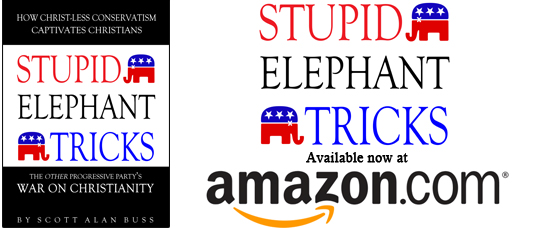 _____________________________________________________
The Beginning of Knowledge: Christ as Truth in Apologetics is an approachable, easy to read introduction to Christ-centered apologetics: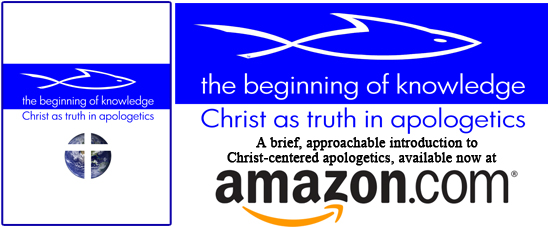 _____________________________________________________
Apathetic Christianity: The Zombie Religion of American Churchianity explores the tragic true horror story of all-American dead religion masquerading as Christianity: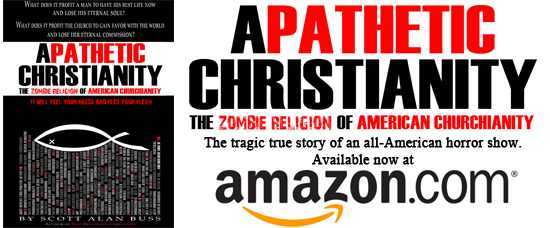 _____________________________________________________
On Education is a compilation of some of the most provocative and compelling Fire Breathing Christian articles on the subject of children's education: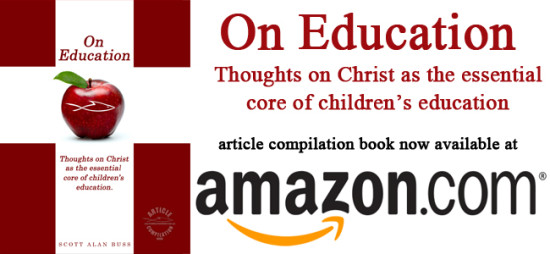 _____________________________________________________
There Is No "God-Given Right" To Worship False Gods is a compilation of some of the most provocative Fire Breathing Christian articles on the subject of America's embrace of a satanic approach to religious liberty: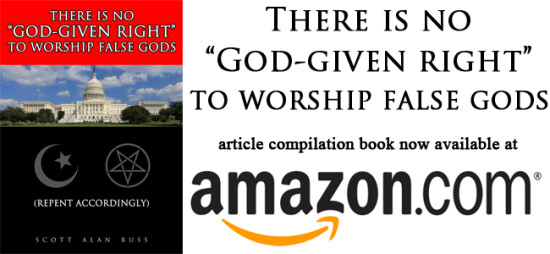 _____________________________________________________
Fire Breathing Christians – The Common Believer's Call to Reformation, Revival, and Revolution is the book that first presented the FBC mission to apply the Gospel-fueled Great Commission in every realm of God's creation: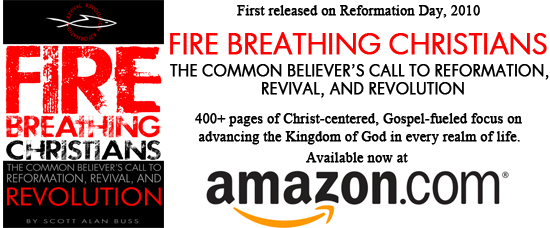 _____________________________________________________
An alternate white cover version of Fire Breathing Christians is available:

_____________________________________________________
There is also an alternate black cover version of Fire Breathing Christians:

Finally, here are a few good intro/reminder links for those of you who are new to Fire Breathing Christian and curious about exactly what's goin' on 'round here:
What are you, some kind of [insert label here] or something?!
What's with that shark-fishie graphic thing?
Intro to Fire: The Power and Purpose of the Common Believer
When the Bible gets hairy. (Or: Is it right for men to have long hair?)
And especially this one: Never forget that apart from God's grace you and I are complete morons.
Thank you for your support!