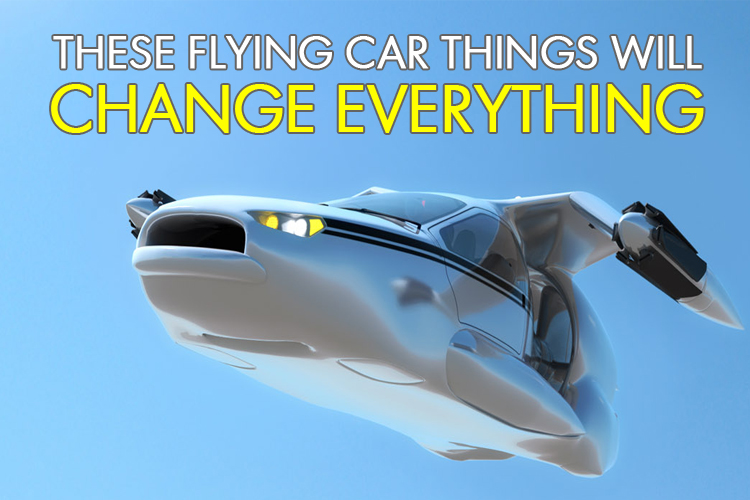 Believe it or not, things are getting better.
Much better.
All the time.
Things are getting much better in many ways, yet we're not inclined to notice 'em because of so many other things getting so much worse so quickly. And let's face it: We're much more inclined to dwell on the negative – the disaster story – than we are to focus on the positive things that unfold around us.
"Gay marriage"…the bathroom wars…Trump/Clinton…the Ghostbusters reboot…it's easy to see why so many people get so depressed and just sort of stay there. It's easy to see why we're so often inclined to overlook and take for granted the fact that most of us drive cars that would have been viewed as crazy gaudy on the luxury front just 50 years ago and flat out sci-fi impossible 100 years back.
We routinely assume our access and entitlement to incredible tools and luxuries like the Internet, air conditioning, personal computers and smartphones that make the Star Trek communicator of Captain Kirk fame look like a bad sci-fi joke.
Talk about radically under-estimating the advance of technology in the real world: Just set a vintage '60s Trek communicator – the science fiction fantasy communication device imagined back in the sixties as something we might actually have in hand hundreds of years in the future – and compare that bad boy with, say, an iPhone 6.
Or an iPhone 5, 4, or even an original base model iPhone from waaaay back in 2007.
One of my favorite nostalgic apps for the iPhone is one that makes the ol' Star Trek communicator cricket chirp sound when you whip it around like Kirk so often did with his creaky, pathetic old school "communicator" back in the day.
See what I mean?
We are so ridiculously blessed with technology!
This has been a theme of recent podcasts both at the newly re-launched Fire Breathing Christian Podcast and The Hell Razer Report, as well as in numerous articles that we try to crank out to keep y'all properly jazzed and thankful to God for the incredible blessing of technology and what we can do with it. (See also: How God's Gift Of Technology Is Forcing Us To Think And Grow Biblically for more on this subject.)
Along those lines, it seems like the perfect time to have a gander at one of the major soon-to-come, culture-shaking (in a good way) techs that we haven't written about here before.
I'm talkin' 'bout flying cars.
They're inevitable, you know.
They'll be here before you know it and when they arrive they will bring massive changes to the way we live. And, like other techs we've regularly hammered on and thanked God for here (PCs, Internet, 3D printing, robotics, etc.), the emerging technology of the flying car will be a powerful force for the promotion of decentralization. Which is another way of saying that it will be an incredible tool for spreading liberty and economic empowerment.
In Welcome to Larry Page's Secret Flying-Car Factories, Bloomberg gives us some insight as to what's going on right now on the flying car front:
Three years ago, Silicon Valley developed a fleeting infatuation with a startup called Zee.Aero. The company had set up shop right next to Google's headquarters in Mountain View, Calif., which was curious, because Google tightly controls most of the land in the area. Then a reporter spotted patent filings showing Zee.Aero was working on a small, all-electric plane that could take off and land vertically—a flying car.
In the handful of news articles that ensued, all the startup would say was that it wasn't affiliated with Google or any other technology company. Then it stopped answering media inquiries altogether. Employees say they were even given wallet-size cards with instructions on how to deflect questions from reporters. After that, the only information that trickled out came from amateur pilots, who occasionally posted pictures of a strange-looking plane taking off from a nearby airport.
Turns out, Zee.Aero doesn't belong to Google or its holding company, Alphabet. It belongs to Larry Page, Google's co-founder. Page has personally funded Zee.Aero since its launch in 2010 while demanding that his involvement stay hidden from the public, according to 10 people with intimate knowledge of the company. Zee.Aero, however, is just one part of Page's plan to usher in an age of personalized air travel, free from gridlocked streets and the cramped indignities of modern flight. Like Jeff Bezos and Elon Musk, Page is using his personal fortune to build the future of his childhood dreams.
How postmil is that?
Something to think about.
And thank God for.
Soli Deo gloria…and let's roll!
…or maybe fly…
…yeah, I like that better.
---
If you know of anyone who might appreciate this post, please share it. If you'd like to see articles like this continue, please click here to help.
Please also "like" us on Facebook, "+" us on Google+, follow us on Twitter and feel free to sign up for new articles by email using the buttons in the upper right corner of the FBC home page.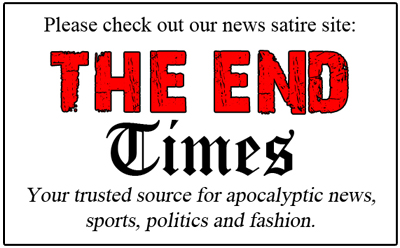 Please check out The Fire Breathing Christian Podcast too, as well as the latest designs at Fire Breathing Tees and the latest memes at the Fire Breathing Memes page.
You can also help support the Fire Breathing Christian mission by checking out these books:
Stupid Elephant Tricks – The Other Progressive Party's War on Christianity takes a painful but much needed look at how Christ-less "conservatism" has captivated Christians and co-opted them into helping march the culture ever deeper into darkness: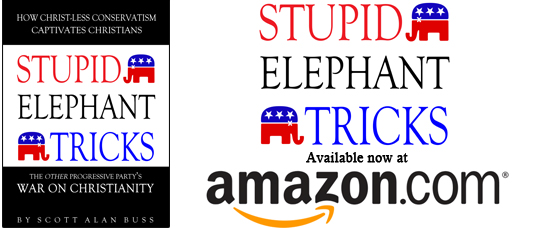 _____________________________________________________
The Beginning of Knowledge: Christ as Truth in Apologetics is an approachable, easy to read introduction to Christ-centered apologetics: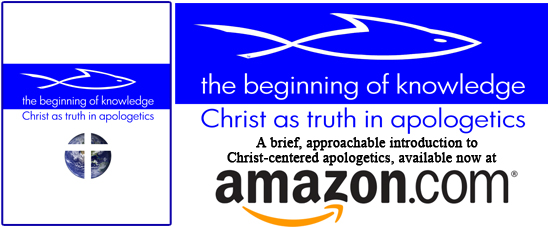 _____________________________________________________
Apathetic Christianity: The Zombie Religion of American Churchianity explores the tragic true horror story of all-American dead religion masquerading as Christianity: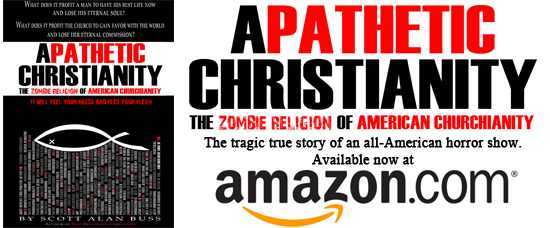 _____________________________________________________
On Education is a compilation of some of the most provocative and compelling Fire Breathing Christian articles on the subject of children's education: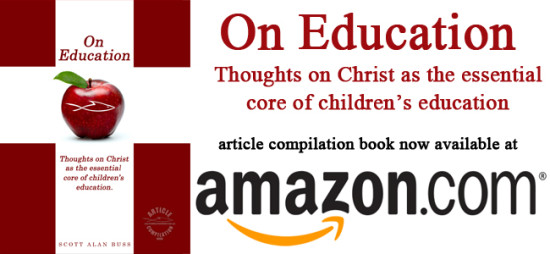 _____________________________________________________
There Is No "God-Given Right" To Worship False Gods is a compilation of some of the most provocative Fire Breathing Christian articles on the subject of America's embrace of a satanic approach to religious liberty: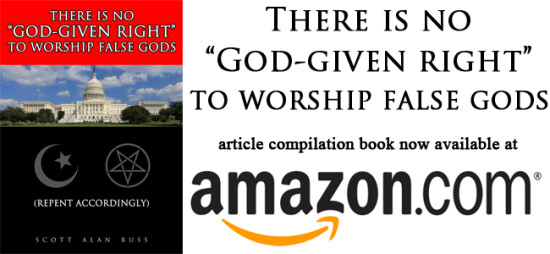 _____________________________________________________
Fire Breathing Christians – The Common Believer's Call to Reformation, Revival, and Revolution is the book that first presented the FBC mission to apply the Gospel-fueled Great Commission in every realm of God's creation: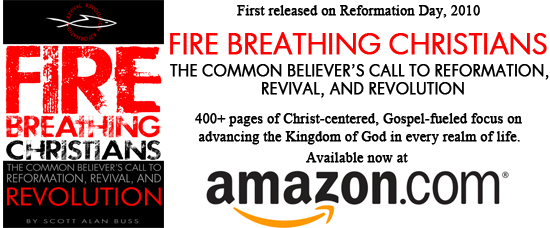 _____________________________________________________
An alternate white cover version of Fire Breathing Christians is available:

_____________________________________________________
There is also an alternate black cover version of Fire Breathing Christians:

Finally, here are a few good intro/reminder links for those of you who are new to Fire Breathing Christian and curious about exactly what's goin' on 'round here:
What are you, some kind of [insert label here] or something?!
What's with that shark-fishie graphic thing?
Intro to Fire: The Power and Purpose of the Common Believer
When the Bible gets hairy. (Or: Is it right for men to have long hair?)
And especially this one: Never forget that apart from God's grace you and I are complete morons.
Thank you for your support!