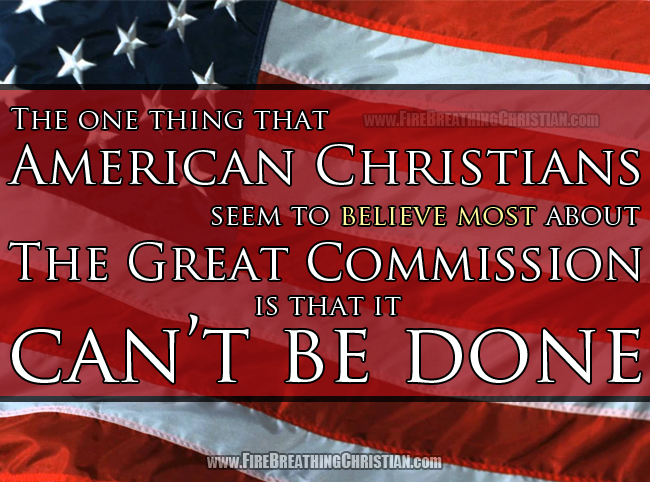 What do American Christians believe most about the Great Commission?
Before diving into any potential answers, let's take a moment to consider the most concise, clear reference point in Scripture regarding the Great Commission:
And Jesus came and said to them, "All authority in heaven and on earth has been given to me. Go therefore and make disciples of all nations, baptizing them in the name of the Father and of the Son and of the Holy Spirit, teaching them to observe all that I have commanded you. And behold, I am with you always, to the end of the age."
~ Matthew 28:18-20
So now, with that fresh in mind, back to the question: What do American Christians believe most about the Great Commission?
Do they believe that all authority in heaven has been given to Jesus?
Oh sure. No prob there.
That one's easy, what with "heaven" off yonder somewhere far away and probably not even a part of the physical universe. Yeah, allowing Jesus the position of holding all authority in some distant, far off kingdom of immaterial whateverness sure feels nice and completely nonthreatening to anything we want to do in detail here and now in "the real world".
But what about earth?
Does the typical American evangelical Christian believe that all authority on earth has been given – as in past tense, meaning it's already a done deal – to Jesus?
Oh no.
Not even close.
Jesus can be Lord and have authority over the fluffy, vague, wispy "spiritual" stuff out there in heaven or whatever, but most definitely not over the real-world details of law, government, art, education, economics and business right here and now in 'Merica.
No, no, no…He doesn't have any of that authority.
So what about making disciples who learn and actually obey all that He has commanded?
Uh, once again, no.
Are you kidding?
That can't actually be done here in the real world!
Especially not here in America, where we celebrate and proudly defend the "God-given right" to everything from porn and gay marriage to child sacrifice and the "freedom" to openly worship any false god we like.
Okay, so what is the one thing that most American Christians actually do believe about the Great Commission?
That it can't be done.
Which is exactly why American Christians are most responsible for the American culture that we're living in now.
May God grace His people with conviction, repentance, and restoration so that they might take up His Gospel-fueled Great Commission right here and now, while there is yet time, all by His grace and all for His glory.
---
If you've benefitted from the work done at Fire Breathing Christian, we ask that you
consider financially supporting the cause. You can do this in one of three ways: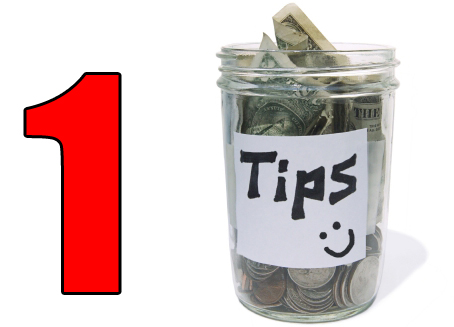 You can drop a few bucks in the tip jar by making a one-time donation through PayPal.

You can make a regular contribution by joining our monthly support team.

You can use our Amazon.com affiliate link every time you order anything at Amazon.com.
We depend on God's provision through His faithful people.
Thank you for supporting Fire Breathing Christian!
---

Please check out our video channel and our news satire site.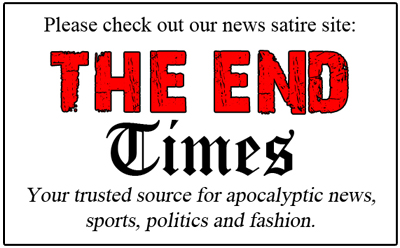 ---
You can also help support the Fire Breathing Christian mission by checking out these books:
Stupid Elephant Tricks – The Other Progressive Party's War on Christianity takes a painful but much needed look at how Christ-less "conservatism" has captivated Christians and co-opted them into helping march the culture ever deeper into darkness: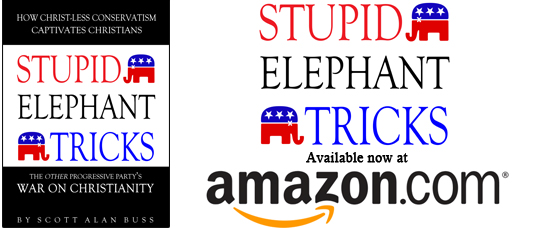 _____________________________________________________
The Beginning of Knowledge: Christ as Truth in Apologetics is an approachable, easy to read introduction to Christ-centered apologetics: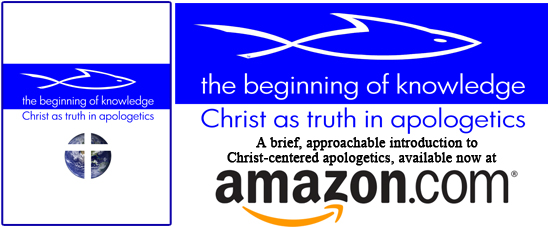 _____________________________________________________
Apathetic Christianity: The Zombie Religion of American Churchianity explores the tragic true horror story of all-American dead religion masquerading as Christianity: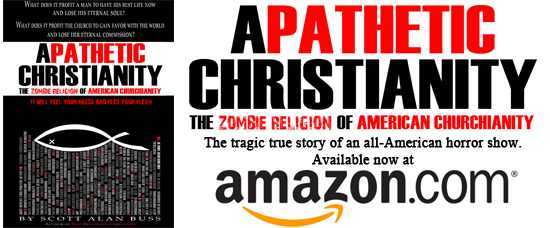 _____________________________________________________
On Education is a compilation of some of the most provocative and compelling Fire Breathing Christian articles on the subject of children's education: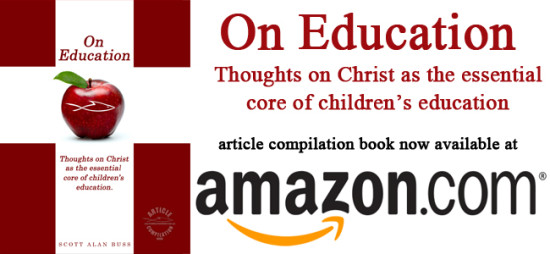 _____________________________________________________
There Is No "God-Given Right" To Worship False Gods is a compilation of some of the most provocative Fire Breathing Christian articles on the subject of America's embrace of a satanic approach to religious liberty: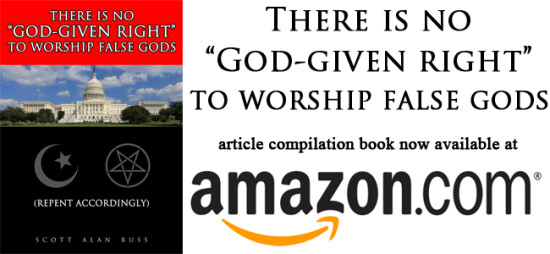 _____________________________________________________
Fire Breathing Christians – The Common Believer's Call to Reformation, Revival, and Revolution is the book that first presented the FBC mission to apply the Gospel-fueled Great Commission in every realm of God's creation: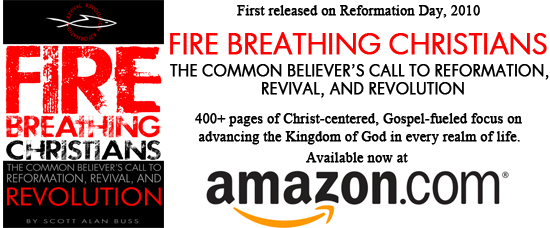 _____________________________________________________
An alternate white cover version of Fire Breathing Christians is available:

_____________________________________________________
There is also an alternate black cover version of Fire Breathing Christians:

Finally, here are a few good intro/reminder links for those of you who are new to Fire Breathing Christian and curious about exactly what's goin' on 'round here:
What are you, some kind of [insert label here] or something?!
What's with that shark-fishie graphic thing?
Intro to Fire: The Power and Purpose of the Common Believer
When the Bible gets hairy. (Or: Is it right for men to have long hair?)
And especially this one: Never forget that apart from God's grace you and I are complete morons.