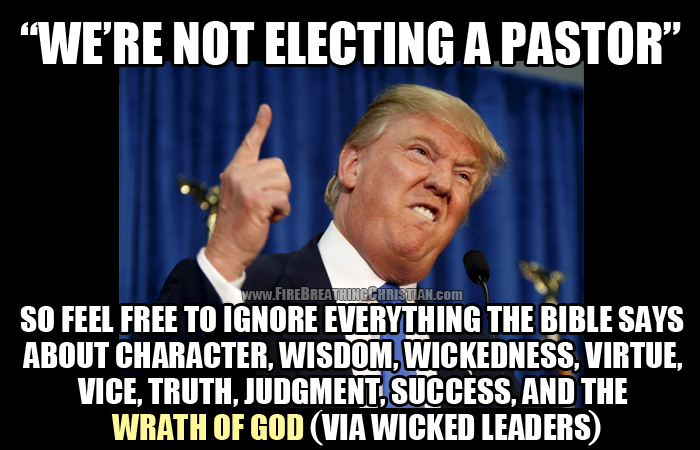 The fear of the LORD is the beginning of knowledge; fools despise wisdom and instruction.
~ Proverbs 1:7
The fear of the LORD is the beginning of wisdom, and the knowledge of the Holy One is insight.
~ Proverbs 9:10
. . . look for able men from all the people, men who fear God, who are trustworthy and hate a bribe, and place such men over the people as chiefs . . .
~ Exodus 18:21
You keep him in perfect peace whose mind is stayed on you, because he trusts in you. Trust in the LORD forever, for the LORD GOD is an everlasting rock.
~ Isaiah 26:3-4
Blessed are those whose way is blameless, who walk in the law of the LORD! Blessed are those who keep his testimonies, who seek him with their whole heart, who also do no wrong, but walk in his ways!
You have commanded your precepts to be kept diligently. Oh that my ways may be steadfast in keeping your statutes! Then I shall not be put to shame, having my eyes fixed on all your commandments.
I will praise you with an upright heart, when I learn your righteous rules.
I will keep your statutes; do not utterly forsake me!
How can a young man keep his way pure? By guarding it according to your word. With my whole heart I seek you; let me not wander from your commandments! I have stored up your word in my heart, that I might not sin against you. Blessed are you, O LORD; teach me your statutes!
With my lips I declare all the rules of your mouth. In the way of your testimonies I delight as much as in all riches. I will meditate on your precepts and fix my eyes on your ways. I will delight in your statutes; I will not forget your word.
~ Psalm 119:1-16
"Why do you call me 'Lord, Lord,' and not do what I tell you? Everyone who comes to me and hears my words and does them, I will show you what he is like: he is like a man building a house, who dug deep and laid the foundation on the rock. And when a flood arose, the stream broke against that house and could not shake it, because it had been well built. But the one who hears and does not do them is like a man who built a house on the ground without a foundation. When the stream broke against it, immediately it fell, and the ruin of that house was great."
~ Jesus, as recorded in Luke 6:46-49
And Jesus came and said to them, "All authority in heaven and on earth has been given to me. Go therefore and make disciples of all nations, baptizing them in the name of the Father and of the Son and of the Holy Spirit, teaching them to obey all that I have commanded you. And behold, I am with you always, to the end of the age."
~ Matthew 28:18-20
Whoever says "I know him" but does not keep his commandments is a liar, and the truth is not in him . . .
~ 1 John 2:4
By this we know that we love the children of God, when we love God and obey his commandments. For this is the love of God, that we keep his commandments. And his commandments are not burdensome.
~ 1 John 5:2-3
Whoever despises the word brings destruction on himself, but he who reveres the commandment will be rewarded.
~ Proverbs 13:13
For the LORD gives wisdom; from his mouth come knowledge and understanding; he stores up sound wisdom for the upright; he is a shield to those who walk in integrity, guarding the paths of justice and watching over the way of his saints. 
~ Proverbs 2:6-8
But understand this, that in the last days there will come times of difficulty. For people will be lovers of self, lovers of money, proud, arrogant, abusive, disobedient to their parents, ungrateful, unholy, heartless, unappeasable, slanderous, without self-control, brutal, not loving good, treacherous, reckless, swollen with conceit, lovers of pleasure rather than lovers of God, having the appearance of godliness, but denying its power. Avoid such people.
~ 2 Timothy 3:2-5
For the time is coming when people will not endure sound teaching, but having itching ears they will accumulate for themselves teachers to suit their own passions, and will turn away from listening to the truth and wander off into myths. . .
~ 2 Timothy 4:3-4
For you are not a God who delights in wickedness; evil may not dwell with you. The boastful shall not stand before your eyes. . . 
~ Psalm 5:4-5
For although they knew God, they did not honor him as God or give thanks to him, but they became futile in their thinking, and their foolish hearts were darkened. Claiming to be wise, they became fools . . .
And since they did not see fit to acknowledge God, God gave them up to a debased mind to do what ought not to be done. They were filled with all manner of unrighteousness, evil, covetousness, malice. They are full of envy, murder, strife, deceit, maliciousness. They are gossips, slanderers, haters of God, insolent, haughty, boastful, inventors of evil, disobedient to parents, foolish, faithless, heartless, ruthless. Though they know God's righteous decree that those who practice such things deserve to die, they not only do them but give approval to those who practice them.
~ Romans 1:12-22; 28-32
. . . it is God who executes judgment, putting down one and lifting up another. For in the hand of the LORD there is a cup with foaming wine, well mixed, and he pours out from it, and all the wicked of the earth shall drain it down to the dregs.
~ Psalm 75:7-8
. . . he removes kings and sets up kings . . .
~ Daniel 2:21
. . . the Most High rules the kingdom of men and gives it to whom he will . . .
~ Daniel 4:17
Wisdom cries aloud in the street, in the markets she raises her voice; at the head of the noisy streets she cries out; at the entrance of the city gates she speaks: "How long, O simple ones, will you love being simple? How long will scoffers delight in their scoffing and fools hate knowledge? If you turn at my reproof, behold, I will pour out my spirit to you; I will make my words known to you.
Because I have called and you refused to listen, have stretched out my hand and no one has heeded, because you have ignored all my counsel and would have none of my reproof, I also will laugh at your calamity; I will mock when terror strikes you, when terror strikes you like a storm and your calamity comes like a whirlwind, when distress and anguish come upon you. Then they will call upon me, but I will not answer; they will seek me diligently but will not find me. Because they hated knowledge and did not choose the fear of the LORD, would have none of my counsel and despised all my reproof, therefore they shall eat the fruit of their way, and have their fill of their own devices.
~ Proverbs 1:20-31
For the Scripture says to Pharaoh, "For this very purpose I have raised you up, that I might show my power in you, and that my name might be proclaimed in all the earth." So then he has mercy on whomever he wills, and he hardens whomever he wills. You will say to me then, "Why does he still find fault? For who can resist his will?" But who are you, O man, to answer back to God? Will what is molded say to its molder, "Why have you made me like this?" Has the potter no right over the clay, to make out of the same lump one vessel for honorable use and another for dishonorable use? What if God, desiring to show his wrath and to make known his power, has endured with much patience vessels of wrath prepared for destruction, in order to make known the riches of his glory for vessels of mercy, which he has prepared beforehand for glory—even us whom he has called, not from the Jews only but also from the Gentiles?
~ Romans 9:17-24
Why do the nations rage and the peoples plot in vain? The kings of the earth set themselves, and the rulers take counsel together, against the LORD and against his Anointed, saying, "Let us burst their bonds apart and cast away their cords from us."
He who sits in the heavens laughs; the Lord holds them in derision.
Then he will speak to them in his wrath, and terrify them in his fury, saying, "As for me, I have set my King on Zion, my holy hill." I will tell of the decree: The LORD said to me, "You are my Son; today I have begotten you. Ask of me, and I will make the nations your heritage, and the ends of the earth your possession. You shall break them with a rod of iron and dash them in pieces like a potter's vessel."
Now therefore, O kings, be wise; be warned, O rulers of the earth. Serve the LORD with fear, and rejoice with trembling. Kiss the Son, lest he be angry, and you perish in the way, for his wrath is quickly kindled. Blessed are all who take refuge in him.
~ Psalm 2
And we know that for those who love God all things work together for good, for those who are called according to his purpose. For those whom he foreknew he also predestined to be conformed to the image of his Son, in order that he might be the firstborn among many brothers. And those whom he predestined he also called, and those whom he called he also justified, and those whom he justified he also glorified. What then shall we say to these things? If God is for us, who can be against us?
~ Romans 8:28-31
. . . seek first the kingdom of God and his righteousness . . .
~ Matthew 6:33
The fear of the LORD is the beginning of knowledge . . .
~ Proverbs 1:7
The fear of the LORD is the beginning of wisdom . . .
~ Proverbs 9:10
. . . look for able men from all the people, men who fear God . . .
~ Exodus 18:21
---
If you know of anyone who might appreciate this post, please share it. If you'd like to see articles like this continue, please click here to help.
Please also "like" us on Facebook, "+" us on Google+, follow us on Twitter and feel free to sign up for new articles by email using the buttons in the upper right corner of the FBC home page.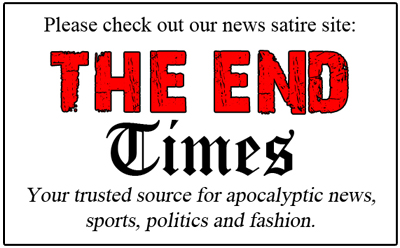 Please check out The Fire Breathing Christian Podcast too, as well as the latest designs at Fire Breathing Tees and the latest memes at the Fire Breathing Memes page.
You can also help support the Fire Breathing Christian mission by checking out these books:
Stupid Elephant Tricks – The Other Progressive Party's War on Christianity takes a painful but much needed look at how Christ-less "conservatism" has captivated Christians and co-opted them into helping march the culture ever deeper into darkness: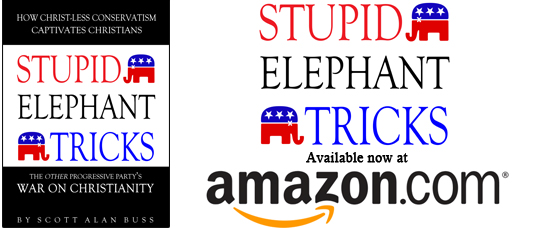 _____________________________________________________
The Beginning of Knowledge: Christ as Truth in Apologetics is an approachable, easy to read introduction to Christ-centered apologetics: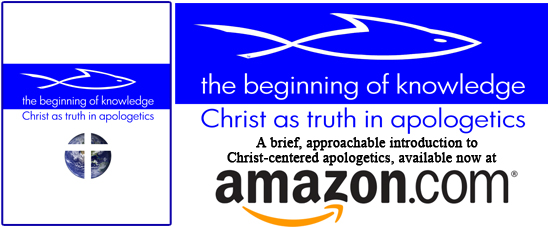 _____________________________________________________
Apathetic Christianity: The Zombie Religion of American Churchianity explores the tragic true horror story of all-American dead religion masquerading as Christianity: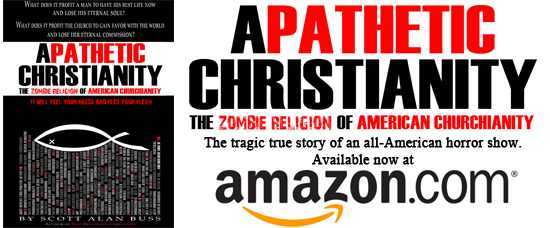 _____________________________________________________
On Education is a compilation of some of the most provocative and compelling Fire Breathing Christian articles on the subject of children's education: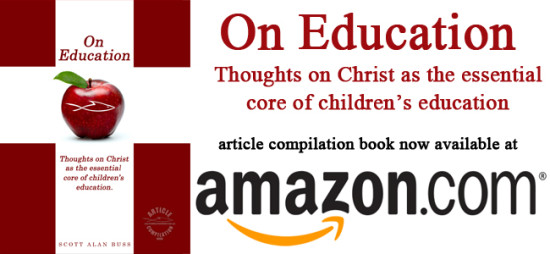 _____________________________________________________
There Is No "God-Given Right" To Worship False Gods is a compilation of some of the most provocative Fire Breathing Christian articles on the subject of America's embrace of a satanic approach to religious liberty: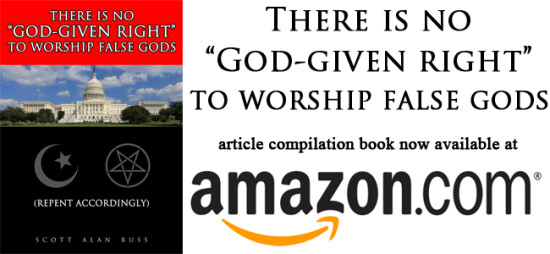 _____________________________________________________
Fire Breathing Christians – The Common Believer's Call to Reformation, Revival, and Revolution is the book that first presented the FBC mission to apply the Gospel-fueled Great Commission in every realm of God's creation: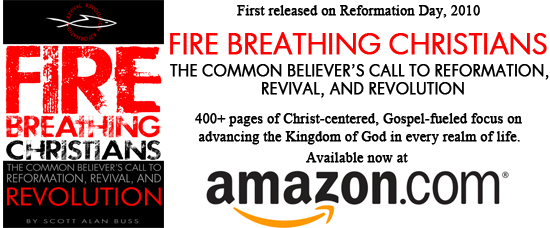 _____________________________________________________
An alternate white cover version of Fire Breathing Christians is available:

_____________________________________________________
There is also an alternate black cover version of Fire Breathing Christians:

Finally, here are a few good intro/reminder links for those of you who are new to Fire Breathing Christian and curious about exactly what's goin' on 'round here:
What are you, some kind of [insert label here] or something?!
What's with that shark-fishie graphic thing?
Intro to Fire: The Power and Purpose of the Common Believer
When the Bible gets hairy. (Or: Is it right for men to have long hair?)
And especially this one: Never forget that apart from God's grace you and I are complete morons.
Thank you for your support!