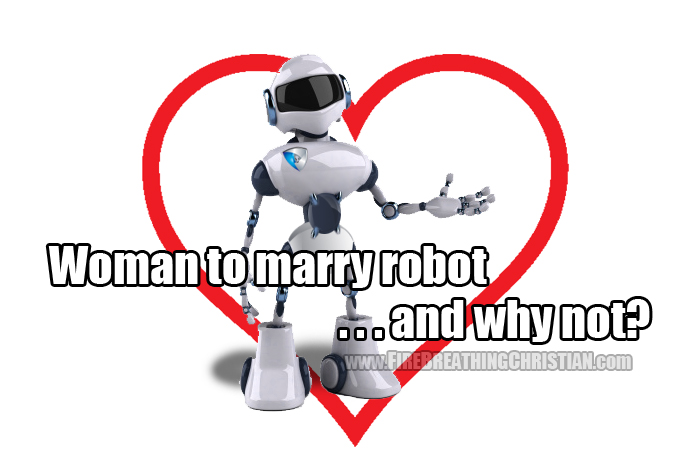 Marry a robot?
Sure.
Why not?
If "We the People" are the makers of law and we end up wanting to redefine marriage to allow for whatever we want, then such things are inevitable. It's only a matter of time.
As we touched on in an article back in August – The one (and only) way to save marriage and family in America (or anywhere else) – until and unless we repent and submit to Christ as Lord in practice and in detail as a people, we will never be able to "save marriage" in America.
The latest reminder of the West's ongoing descent into darkness comes by way of an example from across the pond, where a woman has announced her engagement to her 3D-printed robot.
As The Daily Mail recently reports:
"A French woman has revealed she is in love with a robot and determined to marry it.
Lilly's partner is a robot called InMoovator, who she 3D-printed herself and has been living with for a year.
On her Twitter page, where she goes by 'Lilly InMoovator,' she says: 'I'm a prout robosexual, we don't hurt anybody, we are just happy.'
Now, Lily is reportedly engaged to the robot and says they will marry when human-robot marriage is legalized in France."
And why not?
However serious and/or gimmicky this woman's claims may be, the bottom line reality is that, in the wake of the man-centered approach to redefining (or attempting to redefine) reality by way of redefining words, terms, and concepts, there's simply no coherent, consistent way of denying someone's "right" to "marry" a robot.
Or two robots.
Or three robots.
Or all robots.
Or all other people and all other robots.
Or all other people, all other robots, and a dozen or so cats.
Or…you get the picture.
And if you like this picture, just keep doing everything but taking a clear, explicit stand for the lordship of Christ over marriage here in America and everywhere else on God's green earth.
Avoiding that one particular stand is all that is necessary to assure that marriage as a concept (and everything attached to that concept, which is pretty much everything) will ultimately be completely destroyed.
(For more on this concept, please see: Presuppositional Law: Where we begin with law determines where we end.)
---
If you know of anyone who might appreciate this post, please share it. If you'd like to see articles like this continue, please click here to help.
Please also "like" us on Facebook, "+" us on Google+, follow us on Twitter and feel free to sign up for new articles by email using the buttons in the upper right corner of the FBC home page.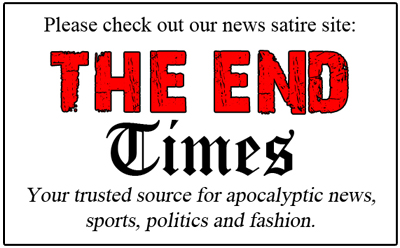 Please check out The Fire Breathing Christian Podcast too, as well as the latest designs at Fire Breathing Tees and the latest memes at the Fire Breathing Memes page.
You can also help support the Fire Breathing Christian mission by checking out these books:
Stupid Elephant Tricks – The Other Progressive Party's War on Christianity takes a painful but much needed look at how Christ-less "conservatism" has captivated Christians and co-opted them into helping march the culture ever deeper into darkness: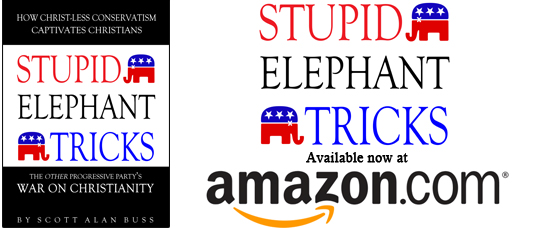 _____________________________________________________
The Beginning of Knowledge: Christ as Truth in Apologetics is an approachable, easy to read introduction to Christ-centered apologetics: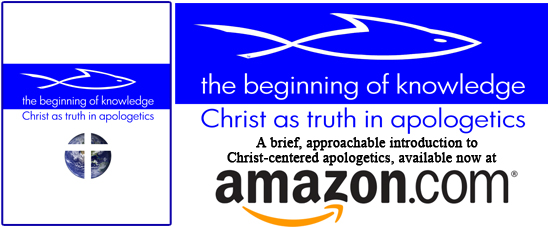 _____________________________________________________
Apathetic Christianity: The Zombie Religion of American Churchianity explores the tragic true horror story of all-American dead religion masquerading as Christianity: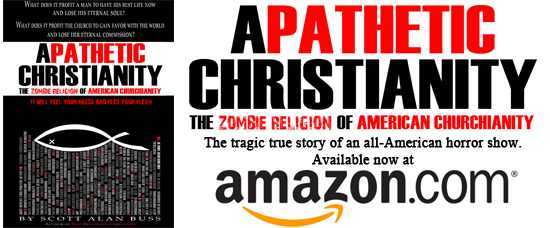 _____________________________________________________
On Education is a compilation of some of the most provocative and compelling Fire Breathing Christian articles on the subject of children's education: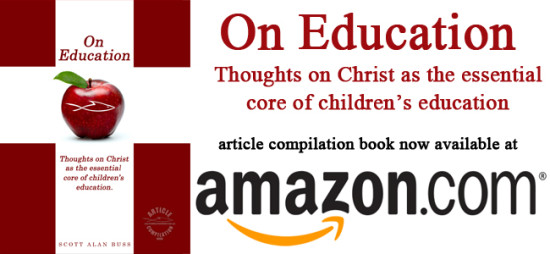 _____________________________________________________
There Is No "God-Given Right" To Worship False Gods is a compilation of some of the most provocative Fire Breathing Christian articles on the subject of America's embrace of a satanic approach to religious liberty: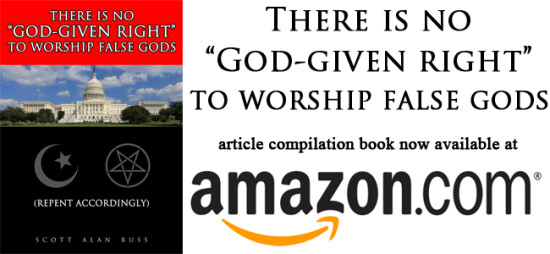 _____________________________________________________
Fire Breathing Christians – The Common Believer's Call to Reformation, Revival, and Revolution is the book that first presented the FBC mission to apply the Gospel-fueled Great Commission in every realm of God's creation: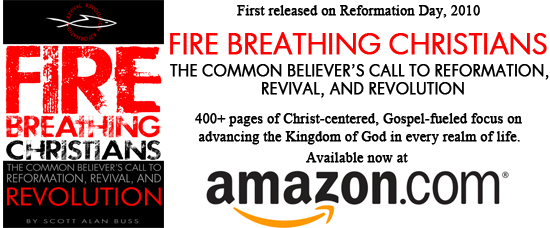 _____________________________________________________
An alternate white cover version of Fire Breathing Christians is available:

_____________________________________________________
There is also an alternate black cover version of Fire Breathing Christians:

Finally, here are a few good intro/reminder links for those of you who are new to Fire Breathing Christian and curious about exactly what's goin' on 'round here:
What are you, some kind of [insert label here] or something?!
What's with that shark-fishie graphic thing?
Intro to Fire: The Power and Purpose of the Common Believer
When the Bible gets hairy. (Or: Is it right for men to have long hair?)
And especially this one: Never forget that apart from God's grace you and I are complete morons.
Thank you for your support!