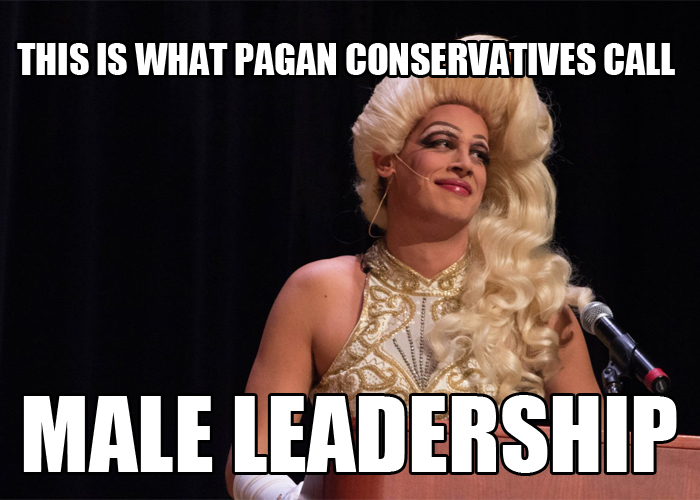 As we've chronicled again and again and again, American "conservatism" has become quite smitten with the LGBTQRSTD movement. Pagan conservatism is getting more gay by the minute. So much so that a raging, raunch-peddling, cross-dressing senior editor at Breitbart (you know, that "conservative" website) by the name of Milo Yiannopoulos has become the darling of millions of thoroughly paganized American "conservatives", many of whom, like Ann Coulter, also proudly label themselves as Christian.
We've been harping on the giant flaming neon-lit warning sign that is Milo for some time here at FBC as well as over at The End Times satire site (where you can find Milo-related articles here, here, and here). Usually they are low-interest, and therefore low-traffic, posts, but we keep 'em coming because we think that God is showing us something important through Milo and the pagan "conservatism" that has made him its favorite activist drag queen.
It was only yesterday that we posted our latest Milo-related item, and within moments of that article going live news began to break big on yet another not-so-fabulous Milo story, so here we are again…but this story is different…in a "good" way, sort of, if for no other reason than it helps to shine a very bright light on just how desperate, pathetic, lame, and destructive pagan "conservatism" has become in America.
Initially, word broke that Milo had been disinvited from speaking at the upcoming Conservative Political Action Conference (CPAC) in DC and that he was reportedly on thin ice at Breitbart, which is saying a lot since that well-known "conservative" site (which was molded into what it is today by Trump's chief White House strategist, Steve Bannon) recently published a swooning Milo-celebration piece entitled Marilyn Milo: 'Dangerous Faggot' Sings American Anthem In Full Drag To Conservative Audience, which included the following lovely little tidbits of info regarding our new American conservative hero:
Breitbart Senior Editor Milo Yiannopoulos sang the American National Anthem dressed in full drag, to cheers from a packed house of largely conservative students at Louisiana State University.
While the crowd were waiting for Milo (also known as the "Dangerous Faggot") to make his grand entrance, they erupted in a spontaneous chant of "Build That Wall" in eager anticipation of the Dangerous Faggot.
Milo was preceded by artists Rockie Gold and Mike Dece, who performed a series of pro-Trump, pro-Milo, and pro-Harambe raps. Professor Benjamin Acosta then gave Milo a short introduction, praising him and the alt-right for standing up to cultural leftism.
Milo then appeared, dressed in full drag, and walked across the stage in high heels to roaring cheers from the crowd.
A slide introduced the audience to his drag queen name: "Ivana Wall."
Ivana Wall!
Get it?!
Oh, that's just hysterical!
Clever people, these pagan conservatives.
Okay, so not really, but the point is that the above referenced article was actually posted by a "conservative" site even as Milo's star continued to rocket like a big gay All-American, Star-Spangled meteor, right up until…well…yesterday, when news broke of Mr. Yiannopoulos having had some very curious things to say about man-on-boy, predator-on-prey sexual relationships.
Even Breitbart had to hit pause on that one – at least for a sec, anyway.
And now it appears that Ivana Wall has finally been (at least temporarily) dumped by (at least some of the) the All-American TrumpWorld "conservative" power brokers that made Milo the fabulous the most celebrated conservative crossdressing homosexual activist in American history.
As Business Insider reported earlier today:
Just weeks after protests broke out at UC Berkeley, Milo Yiannopoulos is under fire for appearing to condone pedophilia. The controversial speaker and columnist announced his resignation from Breitbart in a press conference and partially blamed the media for his negative image.
YIANNOPOULOS: And that is part of, you know, part of the failing of the media in this country. They have gleefully reported things about me they know aren't true over the last 48 hours. With the result, you know, that you now all know. And you guys are responsible for that, and f—you for that. Because you, you know, you did a bad thing.
They "did a bad thing", huh Milo?
Define "bad", please.
Ideally while not dressed in drag and hurling raunchy descriptions of your debauched lifestyle in the name of "freedom of speech" and promoting "conservative values".
At least in all of this we have – if only for one fleeting moment – some real clarity as to what we've been sold (and bought) for a very long time now in America under the label of "conservatism".
God is showing us things here.
Ugly, important things.
Let's hope that by His grace we finally get the message.
---
If you know of anyone who might appreciate this post, please share it. If you'd like to see articles like this continue, please click here to help.
Please also "like" us on Facebook, "+" us on Google+, follow us on Twitter and feel free to sign up for new articles by email using the buttons in the upper right corner of the FBC home page.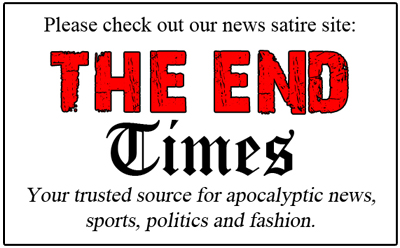 Please check out The Fire Breathing Christian Podcast too, as well as the latest designs at Fire Breathing Tees and the latest memes at the Fire Breathing Memes page.
You can also help support the Fire Breathing Christian mission by checking out these books:
Stupid Elephant Tricks – The Other Progressive Party's War on Christianity takes a painful but much needed look at how Christ-less "conservatism" has captivated Christians and co-opted them into helping march the culture ever deeper into darkness: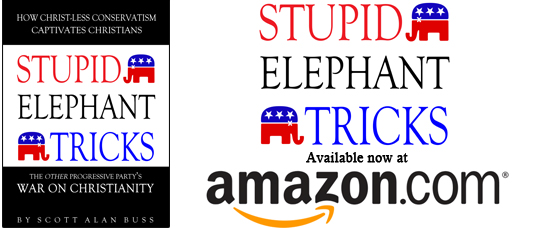 _____________________________________________________
The Beginning of Knowledge: Christ as Truth in Apologetics is an approachable, easy to read introduction to Christ-centered apologetics: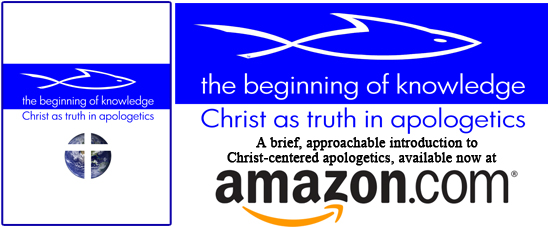 _____________________________________________________
Apathetic Christianity: The Zombie Religion of American Churchianity explores the tragic true horror story of all-American dead religion masquerading as Christianity: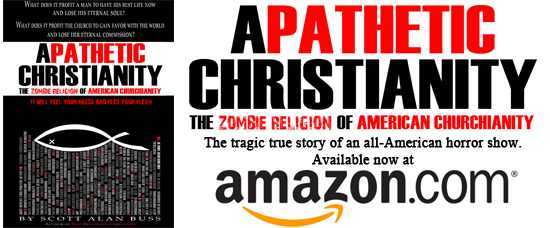 _____________________________________________________
On Education is a compilation of some of the most provocative and compelling Fire Breathing Christian articles on the subject of children's education: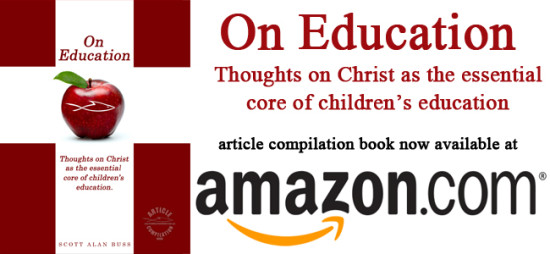 _____________________________________________________
There Is No "God-Given Right" To Worship False Gods is a compilation of some of the most provocative Fire Breathing Christian articles on the subject of America's embrace of a satanic approach to religious liberty: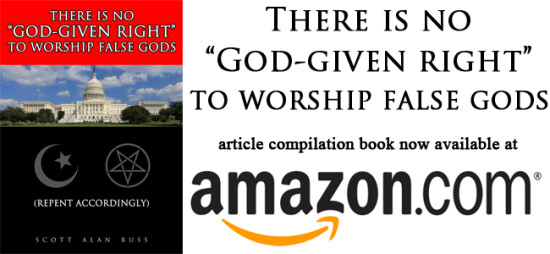 _____________________________________________________
Fire Breathing Christians – The Common Believer's Call to Reformation, Revival, and Revolution is the book that first presented the FBC mission to apply the Gospel-fueled Great Commission in every realm of God's creation: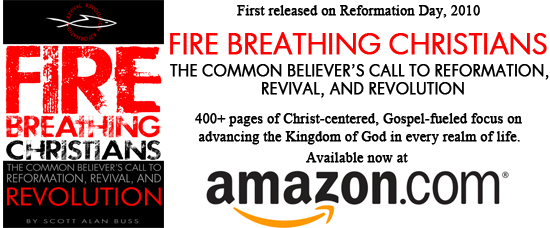 _____________________________________________________
An alternate white cover version of Fire Breathing Christians is available:

_____________________________________________________
There is also an alternate black cover version of Fire Breathing Christians:

Finally, here are a few good intro/reminder links for those of you who are new to Fire Breathing Christian and curious about exactly what's goin' on 'round here:
What are you, some kind of [insert label here] or something?!
What's with that shark-fishie graphic thing?
Intro to Fire: The Power and Purpose of the Common Believer
When the Bible gets hairy. (Or: Is it right for men to have long hair?)
And especially this one: Never forget that apart from God's grace you and I are complete morons.
Thank you for your support!