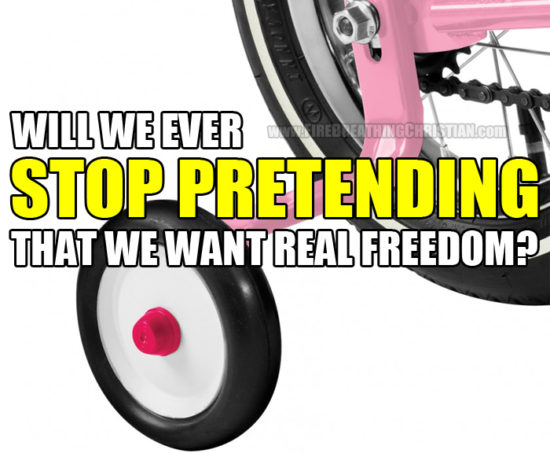 What if you saw a very large middle aged woman with her back arched proudly and her nose pointed in the air as she slowly rolled through town on a big, expensive pink bike tricked out with all the latest shiny new accessories…including adult-sized training wheels?
What if as this woman clumsily peddled her ridiculous ride down main street, barely managing to stay upright even with the help of those ginormous training wheels, she went on and on and on about her great cycling skills and the incredible health, freedom, and liberty that her commitment to bike riding had brought into her life?
Whatever your reaction to this scenario, realize one thing: Americans in general tend to look and sound a whole lot like this ridiculous woman when they talk about things like freedom and liberty….while demanding Social Security.
And using public schools.
And supporting the property taxes (property theft) used to fund those schools.
And wanting the government to manage pretty much every area of life.
By wanting civil government to "take control" like a good Mommy or Daddy so that life might be made fair and easy, we have made civil government our god in practice here in America.
And it's killing us.
Slowly but surely (and not so slowly here lately).
However much our State- and Corporate-sponsored songs and slogans may claim otherwise, we are not a nation of responsible, capable adults free to enjoy the fruits of liberty, including the many hard falls and corrections that come through learning things the hard way.
Oh no.
Instead, we're a nation of proud, undisciplined children in old bodies, happily dependent on the State for our education, our security, our health, our retirement, and pretty much everything else. All while pretending and proclaiming how awesomely free and brave we are, of course.
Now ask yourself this: Which is sillier – the woman on the bike with training wheels who talks about what a great cyclist she is, or the utterly State-dependent American who talks about how free they are? 
---
If you've benefitted from the work done at Fire Breathing Christian, we ask that you
consider financially supporting the cause. You can do this in one of three ways: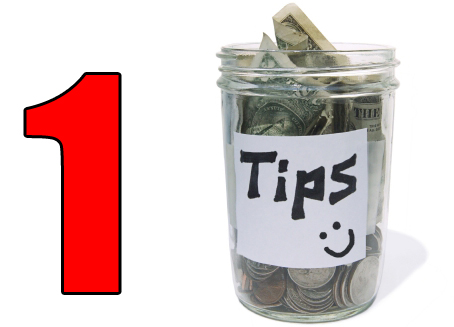 You can drop a few bucks in the tip jar by making a one-time donation through PayPal.

You can make a regular contribution by joining our monthly support team.

You can use our Amazon.com affiliate link every time you order anything at Amazon.com.
We depend on God's provision through His faithful people.
Thank you for supporting Fire Breathing Christian!
---

Please check out our video channel and our news satire site.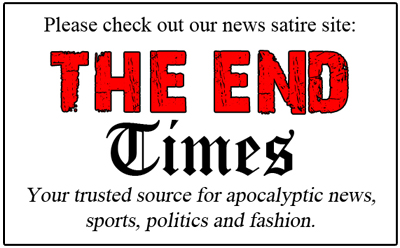 ---
You can also help support the Fire Breathing Christian mission by checking out these books:
Stupid Elephant Tricks – The Other Progressive Party's War on Christianity takes a painful but much needed look at how Christ-less "conservatism" has captivated Christians and co-opted them into helping march the culture ever deeper into darkness: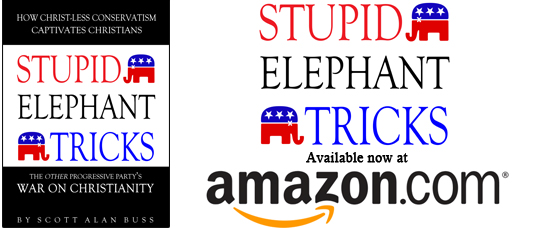 _____________________________________________________
The Beginning of Knowledge: Christ as Truth in Apologetics is an approachable, easy to read introduction to Christ-centered apologetics: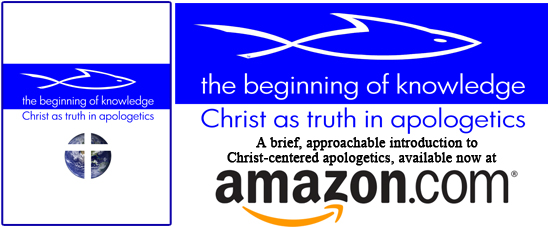 _____________________________________________________
Apathetic Christianity: The Zombie Religion of American Churchianity explores the tragic true horror story of all-American dead religion masquerading as Christianity: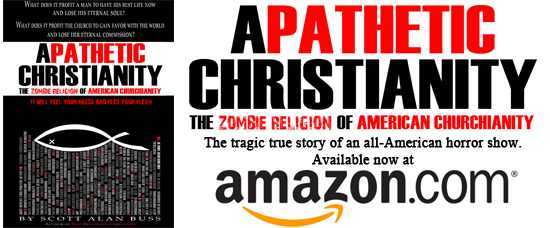 _____________________________________________________
On Education is a compilation of some of the most provocative and compelling Fire Breathing Christian articles on the subject of children's education: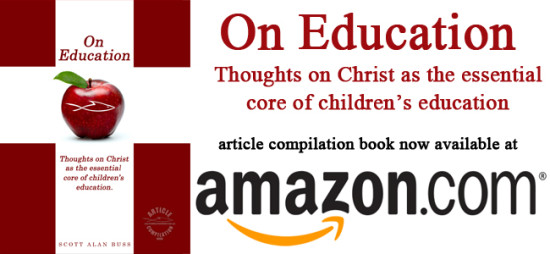 _____________________________________________________
There Is No "God-Given Right" To Worship False Gods is a compilation of some of the most provocative Fire Breathing Christian articles on the subject of America's embrace of a satanic approach to religious liberty: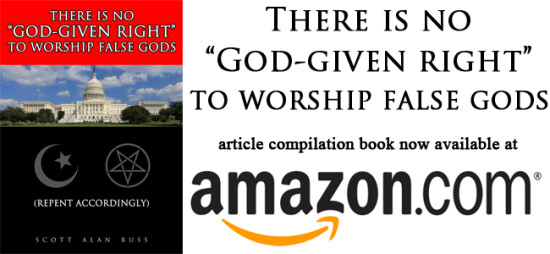 _____________________________________________________
Fire Breathing Christians – The Common Believer's Call to Reformation, Revival, and Revolution is the book that first presented the FBC mission to apply the Gospel-fueled Great Commission in every realm of God's creation: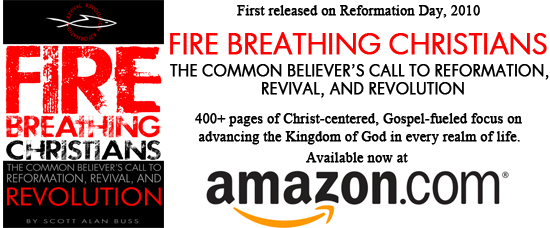 _____________________________________________________
An alternate white cover version of Fire Breathing Christians is available:

_____________________________________________________
There is also an alternate black cover version of Fire Breathing Christians:

Finally, here are a few good intro/reminder links for those of you who are new to Fire Breathing Christian and curious about exactly what's goin' on 'round here:
What are you, some kind of [insert label here] or something?!
What's with that shark-fishie graphic thing?
Intro to Fire: The Power and Purpose of the Common Believer
When the Bible gets hairy. (Or: Is it right for men to have long hair?)
And especially this one: Never forget that apart from God's grace you and I are complete morons.