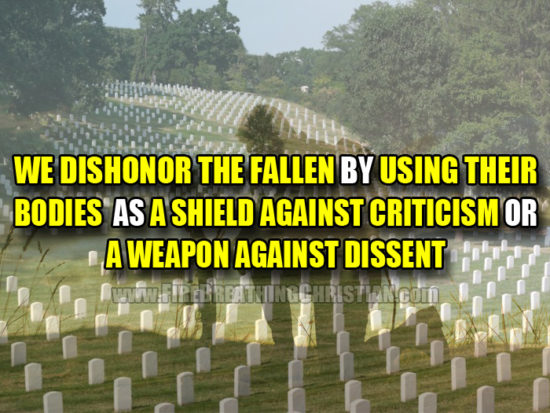 When an emotion-fueled zealot can't manage to stitch together an actual argument to accompany or justify their passion, they tend to double down on emotion and hope nobody will notice. If anyone does notice and dares to point out the problem, then the passionate snowflake in question usually defaults to crybully mode by tripling down on emotion in a desperate attempt to bludgeon, shame, and/or intimidate the threat into silence.
This happens a lot these days in "the land of the free" and the home of the NSA.
While we're used to seeing (or at least noticing) this behavior on the Left, the most recent wave of Crybully Snowflake Syndrome has come our way through so-called "conservatives" who are eagerly using the dead bodies and blood of fallen soldiers as shields by which to protect themselves from uncomfortable facts and weapons by which to pummel coherent dissent into silence and submission.
Do these "conservatives" care that The Pledge to the U.S. flag was written by a Socialist to promote Socialism?
Nope.
This easily verifiable fact is something they are more than happy to ignore…while insisting that you do the same, of course. And if you don't, guess what?
You're "disrespecting the military"!
So there! Now shut up already and get with the program!
And remember: It's so-called "conservatives" who are doing this.
It's these "conservatives" who are defending, propping up, and often outright worshipping rank Socialism in America…while pretending to oppose Socialism in America.
Let that sink in…
Do these "conservatives" even want to hear, much less consider, simple, clear questions like: Would the Founding Fathers take the Pledge of Allegiance?
No way!
And if you persist on asking such glaringly relevant questions, guess what?
You're "disrespecting the military"!
So there! Now shut up and stop asking these uncomfortable like a good little America-worshipping drone!
Despite (and in direct contradiction to) their claims of being logical, truth-based, honesty valuing, virtue-defending champions of freedom and liberty, these "conservatives" aren't big on facts, history, critical thought, or the vigorous pursuit of objective truth anytime it conflicts with their preferred (and remarkably pro-Socialism) narrative.
They have no desire to acknowledge, much less address, the simple fact that The Pledge is an explicitly Socialist tool written by a committed Socialist to promote Socialist thought in the minds of America's young, thereby shaping the American culture into…well…what we have today and the much worse that's right around the corner.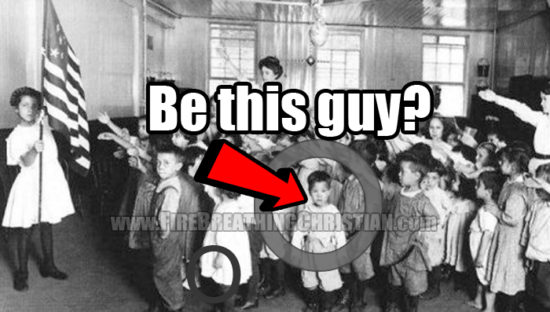 They have no desire to actually think or promote critical thought when it comes to simple, clear, and incredibly relevant questions like: Would the Founding Fathers approve or reject of The Pledge?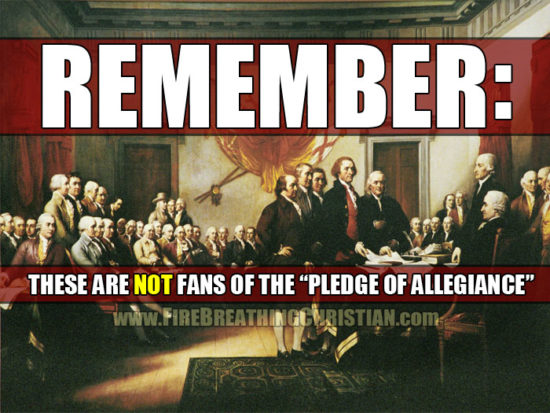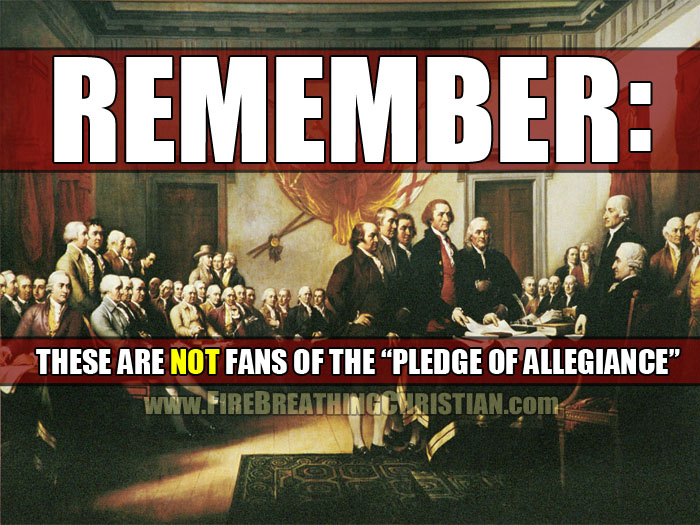 And they don't want you to think about these things either.
At all.
Ever.
In this, they are tools and willing accomplices of the Socialism and Leftism that they claim to despise. In their avoidance and suppression of hard truths that undermine their cherished narratives, they've become the very things they claim to oppose.
This is the price of idolatry, and we're watching it roll across our land like a tidal wave of judgment right now.
Rather than acknowledging the overtly Socialist nature of cherished idols like The Pledge, millions of crybully snowflake "conservatives" are instead attempting to fashion shields and swords out of the blood of fallen heroes in order to protect the Socialist beast that's devouring our culture.
If we honor the fallen, we cannot let this disgusting display go unchallenged.
If we value liberty, we cannot allow these champions of Socialism posing as "conservatives" to succeed in propping up lies and manipulating masses through rank emotional appeals aimed at avoiding the hard realities that we must face head-on if we're to ever secure true freedom and liberty in the land.
If we love the Lord truthfully we will love America rightly, which requires loving confrontation, correction, and a call to repentance so that His judgment on America might end and true life, liberty, and freedom in America might be renewed.
---
If you've benefitted from the work done at Fire Breathing Christian, we ask that you
consider financially supporting the cause. You can do this in one of three ways: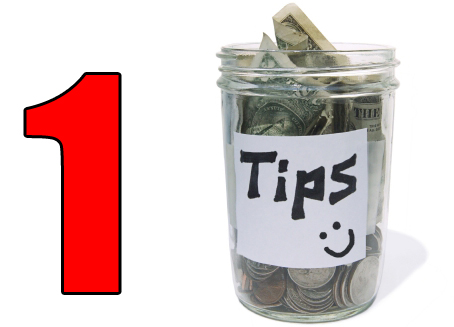 You can drop a few bucks in the tip jar by making a one-time donation through PayPal.

You can make a regular contribution by joining our monthly support team.

You can use our Amazon.com affiliate link every time you order anything at Amazon.com.
We depend on God's provision through His faithful people.
Thank you for supporting Fire Breathing Christian!
---

Please check out our video channel and our news satire site.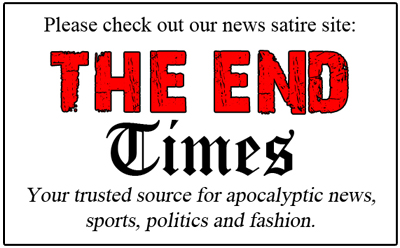 ---
You can also help support the Fire Breathing Christian mission by checking out these books:
Stupid Elephant Tricks – The Other Progressive Party's War on Christianity takes a painful but much needed look at how Christ-less "conservatism" has captivated Christians and co-opted them into helping march the culture ever deeper into darkness: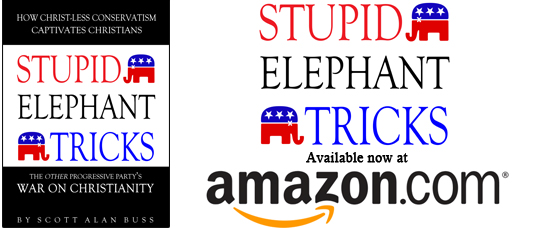 _____________________________________________________
The Beginning of Knowledge: Christ as Truth in Apologetics is an approachable, easy to read introduction to Christ-centered apologetics: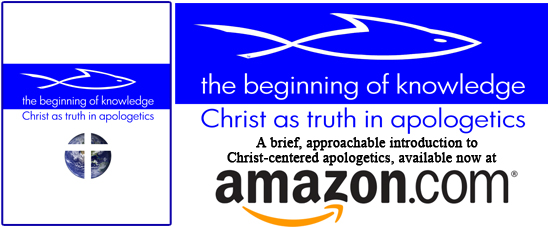 _____________________________________________________
Apathetic Christianity: The Zombie Religion of American Churchianity explores the tragic true horror story of all-American dead religion masquerading as Christianity: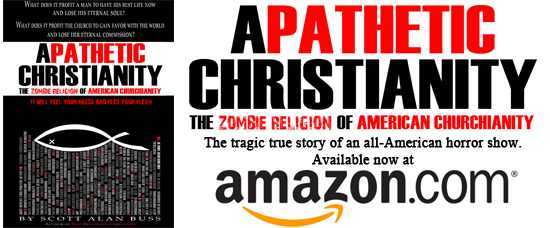 _____________________________________________________
On Education is a compilation of some of the most provocative and compelling Fire Breathing Christian articles on the subject of children's education: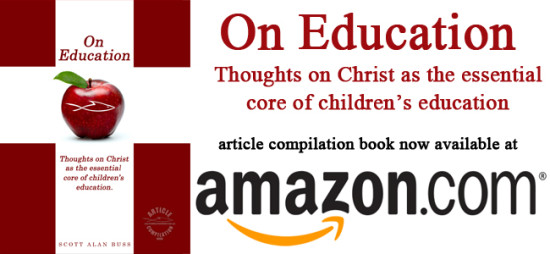 _____________________________________________________
There Is No "God-Given Right" To Worship False Gods is a compilation of some of the most provocative Fire Breathing Christian articles on the subject of America's embrace of a satanic approach to religious liberty: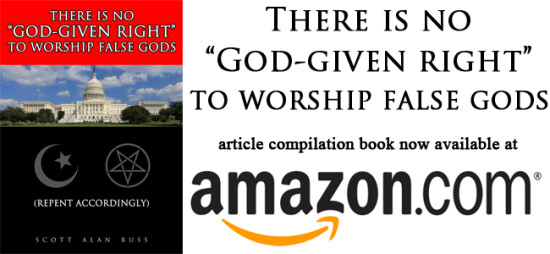 _____________________________________________________
Fire Breathing Christians – The Common Believer's Call to Reformation, Revival, and Revolution is the book that first presented the FBC mission to apply the Gospel-fueled Great Commission in every realm of God's creation: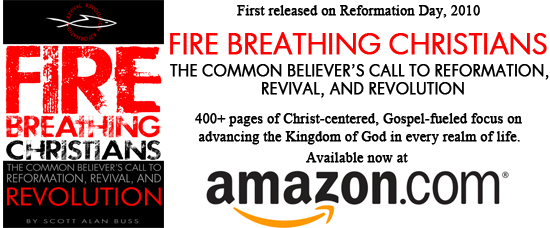 _____________________________________________________
An alternate white cover version of Fire Breathing Christians is available:

_____________________________________________________
There is also an alternate black cover version of Fire Breathing Christians:

Finally, here are a few good intro/reminder links for those of you who are new to Fire Breathing Christian and curious about exactly what's goin' on 'round here:
What are you, some kind of [insert label here] or something?!
What's with that shark-fishie graphic thing?
Intro to Fire: The Power and Purpose of the Common Believer
When the Bible gets hairy. (Or: Is it right for men to have long hair?)
And especially this one: Never forget that apart from God's grace you and I are complete morons.