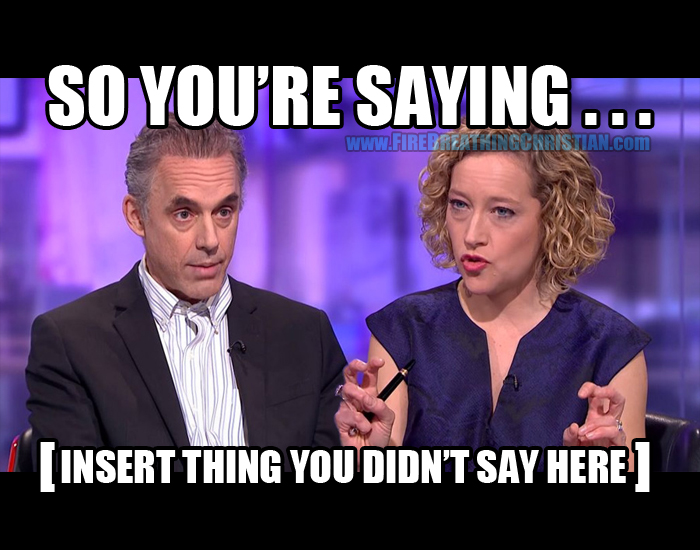 For those who don't know of or follow Jordan B. Peterson, you should probably start paying attention.
Not because Dr. Peterson has a Christian worldview. He doesn't. (So please pray for him on that count.)
We should be paying attention to him because he's moving – or at least forcefully nudging – culture in a very positive direction in a few specific and important areas. He's derailing long-running fictions and redirecting the narrative of the day in ways that seemed near impossible (at least in the short term) just a short while back.
In this (as is the case for all people in all places at all times), Dr. Peterson has been God's tool. While there's much for us to be thankful for in God's provision and use of Peterson in this way, we have to be on guard for the many errors and problems that come hand-in-glove with his fundamentally non-Christian (which is another way of saying anti-Christian) worldview.
Though Dr. Peterson was already "a thing" long before last month's fateful and now legendary interview with Cathy Newman of British television's Channel 4 News, that interview served to propel his already stratospheric popularity to a whole 'nother level. The interview – I mean The Interview – was almost instantly recognized as an event or moment of great significance and has inspired boatloads of intriguing articles, interviews, and observations in its aftermath.
One of my favorites is Gary North's Bambi vs. Godzilla: Cathy Newman vs. Jordan Peterson, which provided the following enjoyably edgy take:
"In order to understand the title of this article, you need to watch a video. I regard this video as the finest low-budget cartoon ever produced. It is titled "Bambi Meets Godzilla." It was made in 1969. This will take you only 90 seconds.
On very rare occasions, a public event takes place that represents a turning point. It is not that the public event causes the great turn; rather, it illustrates it or represents it. Such an event took place in December 1998, when Matt Drudge published his brief article on the decision of Newsweek to suppress the story of Bill Clinton and an unnamed intern. That was a visible turning point of the shift of influence away from physically published journalism to digitally published journalism. It was also symbolic of the beginning of the end of the gatekeepers' control over the flow of information.
Today, the number of newsprint employees is down by over 55% since December 1998. The number of print magazine employees is down by 40%. Matt Drudge is worth about $90 million.
Such an event may have taken place last month. Anyway, I hope so.
BAMBI GOES ON THE ATTACK
On January 16, Cathy Newman conducted an interview with clinical psychologist Jordan Peterson. Ms. Newman played the role of Bambi. Ms. Newman is a British TV personality on the Channel 4 News.
Either she or her producer decided to interview Dr. Peterson. He was in Great Britain to promote his new book. Dr. Peterson is a professor of clinical psychology at the University of Toronto. He has an enormous following on YouTube. Every time he posts one of his lectures, it gets at least 200,000 hits. He raises so much money through voluntary donations to support his video productions that he has a team of videographers who record all of his lectures. I have never heard of anything like this in educational history.
She is a graduate of Oxford University. She is intelligent. But, like most liberal feminists in the media, she has had a free pass throughout her career. She has conducted lots of interviews. She has learned how to be aggressive. But, intellectually speaking, and especially conceptually speaking, she is Bambi in the woods. She or her producer made the mistake of inviting Godzilla for an interview."
For those who've not yet seen the Bambi v. Godzilla interview, here it is (and yeah, you really should watch all of it):
There's so much to learn here.
And yeah, the nuggets of wisdom that are to be gleaned – and there are many – have been planted in the mind of an unbeliever…an unbeliever that God has chosen to use in this way.
So enjoy it.
Learn from it.
Bask in the glow of it.
And please, please, please, if you are a Christian and a fan of Dr. Peterson, remember to do two things regularly:
1. Test everything that he says in light of Scripture.
and
2. Pray for his salvation.
---
If you've benefitted from the work done at Fire Breathing Christian, we ask that you
consider financially supporting the cause. You can do this in one of three ways: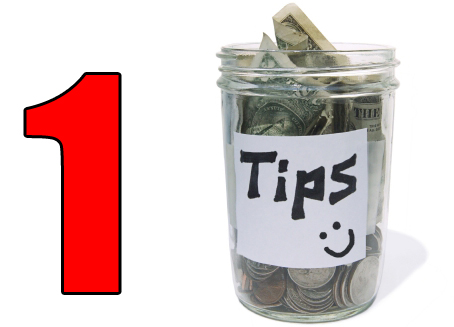 You can drop a few bucks in the tip jar by making a one-time donation through PayPal.
---

You can also donate using cryptocurrencies at the following locations:
Bitcoin (BTC) at 1Mu4a75yjroSLrMZiQFLoD66JhumVvH6E1
Ethereum (ETH) at 0x7Be44b19C1ADDC2322AFD18cad206D9DcD37dB27
Litecoin (LTC) at LN9AMhvasWRHhw25DCxvR9XtuySceKrs87
To sign up for your own cryptocurrency wallet (and receive $10 free bitcoin with your first $100 purchase), please click here.
---

You can make a regular contribution by joining our monthly support team.
---

You can use our Amazon.com affiliate link every time you order anything at Amazon.com.
---
We depend on God's provision through His faithful people.
Thank you for supporting Fire Breathing Christian!
---

Please check out our video channel and our news satire site.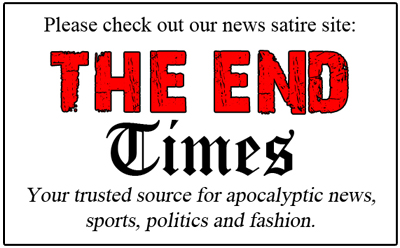 ---
You can also help support the Fire Breathing Christian mission by checking out these books:
Stupid Elephant Tricks – The Other Progressive Party's War on Christianity takes a painful but much needed look at how Christ-less "conservatism" has captivated Christians and co-opted them into helping march the culture ever deeper into darkness: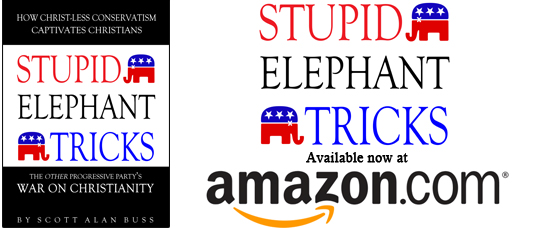 _____________________________________________________
The Beginning of Knowledge: Christ as Truth in Apologetics is an approachable, easy to read introduction to Christ-centered apologetics: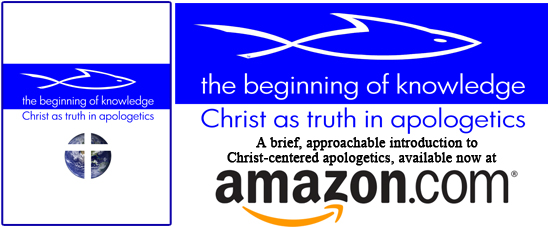 _____________________________________________________
Apathetic Christianity: The Zombie Religion of American Churchianity explores the tragic true horror story of all-American dead religion masquerading as Christianity: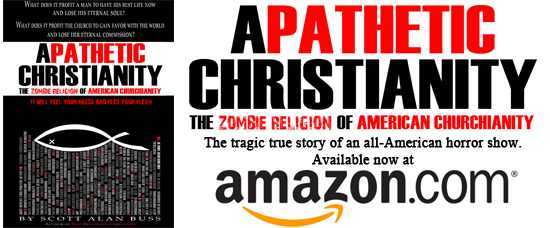 _____________________________________________________
On Education is a compilation of some of the most provocative and compelling Fire Breathing Christian articles on the subject of children's education: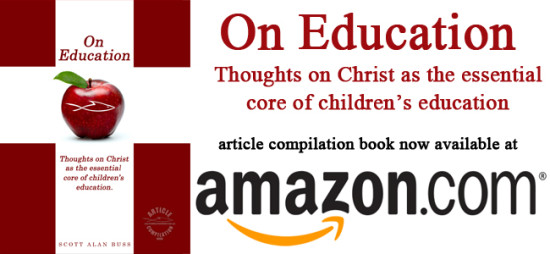 _____________________________________________________
There Is No "God-Given Right" To Worship False Gods is a compilation of some of the most provocative Fire Breathing Christian articles on the subject of America's embrace of a satanic approach to religious liberty: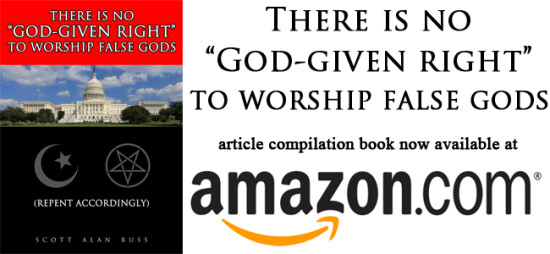 _____________________________________________________
Fire Breathing Christians – The Common Believer's Call to Reformation, Revival, and Revolution is the book that first presented the FBC mission to apply the Gospel-fueled Great Commission in every realm of God's creation: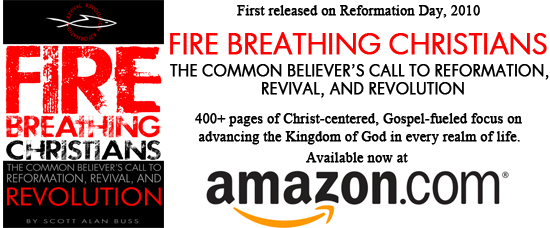 _____________________________________________________
An alternate white cover version of Fire Breathing Christians is available:

_____________________________________________________
There is also an alternate black cover version of Fire Breathing Christians:

Finally, here are a few good intro/reminder links for those of you who are new to Fire Breathing Christian and curious about exactly what's goin' on 'round here:
What are you, some kind of [insert label here] or something?!
What's with that shark-fishie graphic thing?
Intro to Fire: The Power and Purpose of the Common Believer
When the Bible gets hairy. (Or: Is it right for men to have long hair?)
And especially this one: Never forget that apart from God's grace you and I are complete morons.