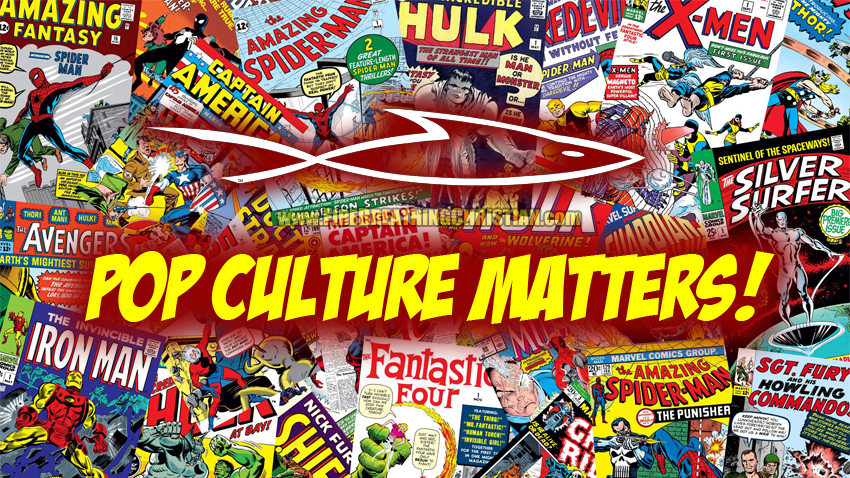 Pop culture matters.
A lot.
For many reasons, including the fact that pop culture plays a significant role upstream of things like politics, economics, education, and art, all of which are very important to King Jesus and, as a result, should be very important to those who claim to love and serve King Jesus.
Things like movies, comic books, games, comedy, satire, and the like all belong to Jesus. They are ultimately His creations, His property, and He has both commanded and equipped His people to master and properly enjoy each and every one of them, all by His grace, all for His glory, and all in accordance with His Gospel-fueled Great Commission (see: Colossians 1:15-20 and Matthew 28:18-20 as example reference points on this majestic, supernatural, everything-touching mission).
This is the perspective that inspired me almost four weeks ago as I incorporated a new theme at the Fire Breathing Christian YouTube channel. During that almost month long stretch, I've been, on average, producing and posting two videos each weekday dealing with pop culture items. So far, the focus has been primarily on comic books, comic book based films, and gaming. The idea is to dive into pop culture subjects that interest me, thereby demonstrating a personal appreciation for these things.
It's one thing to say "I like comic books", "I like gaming" or "I like mixed martial arts". It's quite another to demonstrate a personal appreciation for such things by contemplating, celebrating, and critiquing them in detail. The former is easy. The latter is hard and takes work. And yes, people definitely notice the difference.
The key word that pops into my mind at this point is "relationship".
It's one thing to have an opinion.
It's another to have a valuable or informed opinion.
Informed opinions are often identified by the depth of the relationship between a speaker and the subject upon which they speak.
While I'd like to elaborate on this idea more, I'll save that for a future post. Suffice it to say that this idea of demonstrating a personal relationship with (and serious interest in) particular subjects and areas of culture is what has inspired me to embark upon a long term demonstration of interest and care for certain things like comics, movies, sports, and games.
To that end, I've aimed to squeeze in (early in the morning, late in the evening, or during lunchtime) the quick (as quick as possible, anyway) production of videos on a daily basis. Nearly a month into this I have 37 videos posted. The production quality of these clips is bare bones and the thoughts expressed are not scripted or polished (to say the least), so they're very rough…but hopefully very real.
My hope is to share, learn, and provoke thought in a way that shows that these things really do matter to me, and that they matter to me first and foremost because they matter to King Jesus.
That's the idea.
As the video catalogue builds and at least some credibility on the covered subjects is established, I anticipate and hope to seize upon the many opportunities that should follow.
I also hope to incorporate a second theme/category of videos to the channel as we roll into autumn. I will share updates on that ASAP.
In the meantime, for those who are curious, below are embedded video players for each of the videos posted so far as a part of this new pop culture themed approach (in order of posting, beginning with the most recent). If you want to help with this mission, please "like" the videos, share the videos, and subscribe to the video channel.
(If you can't access the embedded video players below, you can visit our YouTube channel page directly by clicking here.)
2
4
6
8
1
3
5
7
9
1
1
1
1
1
1
1
1
11
1
1
1
1
1
1
1
1
1
1
1
1
1
1
1
1
1
1
Again: If you want to help with this mission, please "like" the videos, share the videos, and subscribe to the video channel.
#PopCulture #GreatCommission #KingJesus
---
If you've benefitted from the work done at Fire Breathing Christian, we ask that you
consider financially supporting the cause. You can do this in one of three ways: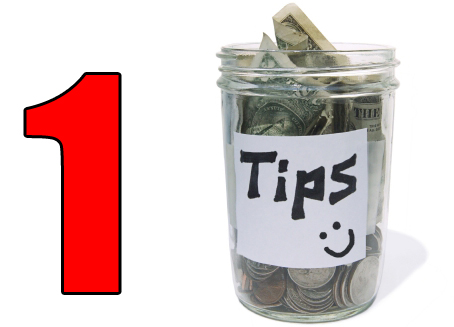 You can drop a few bucks in the tip jar by making a one-time donation through PayPal.

You can also donate using cryptocurrencies at the following locations:
Bitcoin (BTC) at 1Mu4a75yjroSLrMZiQFLoD66JhumVvH6E1
Ethereum (ETH) at 0x7Be44b19C1ADDC2322AFD18cad206D9DcD37dB27
Litecoin (LTC) at LN9AMhvasWRHhw25DCxvR9XtuySceKrs87
To sign up for your own cryptocurrency wallet (and receive $10 free bitcoin with your first $100 purchase), please click here.

You can make a regular contribution by joining our monthly support team.

You can use our Amazon.com affiliate link every time you order anything at Amazon.com.
We depend on God's provision through His faithful people.
Thank you for supporting Fire Breathing Christian!
---

Please check out our video channel and our news satire site.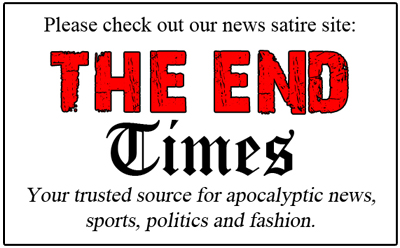 ---
You can also help support the Fire Breathing Christian mission by checking out these books:
Stupid Elephant Tricks – The Other Progressive Party's War on Christianity takes a painful but much needed look at how Christ-less "conservatism" has captivated Christians and co-opted them into helping march the culture ever deeper into darkness: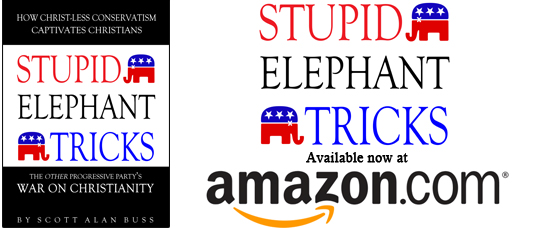 _____________________________________________________
The Beginning of Knowledge: Christ as Truth in Apologetics is an approachable, easy to read introduction to Christ-centered apologetics: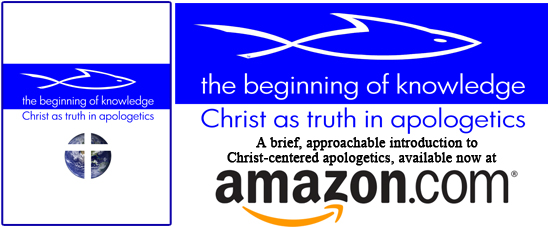 _____________________________________________________
Apathetic Christianity: The Zombie Religion of American Churchianity explores the tragic true horror story of all-American dead religion masquerading as Christianity: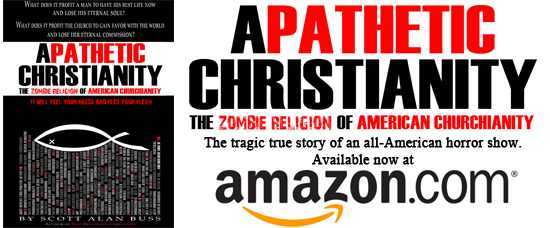 _____________________________________________________
On Education is a compilation of some of the most provocative and compelling Fire Breathing Christian articles on the subject of children's education: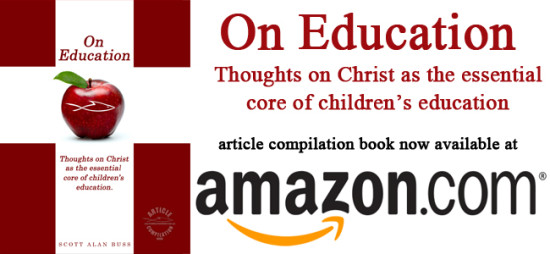 _____________________________________________________
There Is No "God-Given Right" To Worship False Gods is a compilation of some of the most provocative Fire Breathing Christian articles on the subject of America's embrace of a satanic approach to religious liberty: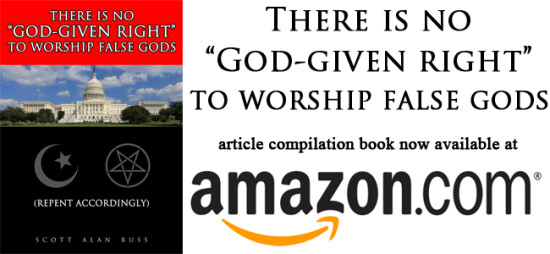 _____________________________________________________
Fire Breathing Christians – The Common Believer's Call to Reformation, Revival, and Revolution is the book that first presented the FBC mission to apply the Gospel-fueled Great Commission in every realm of God's creation: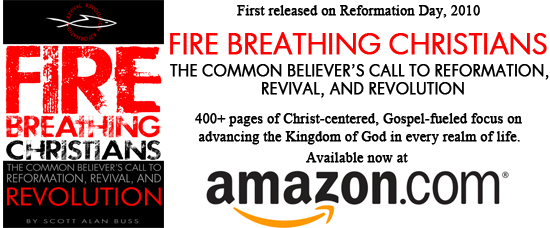 _____________________________________________________
An alternate white cover version of Fire Breathing Christians is available:

_____________________________________________________
There is also an alternate black cover version of Fire Breathing Christians:

Finally, here are a few good intro/reminder links for those of you who are new to Fire Breathing Christian and curious about exactly what's goin' on 'round here:
What are you, some kind of [insert label here] or something?!
What's with that shark-fishie graphic thing?
Intro to Fire: The Power and Purpose of the Common Believer
When the Bible gets hairy. (Or: Is it right for men to have long hair?)
And especially this one: Never forget that apart from God's grace you and I are complete morons.