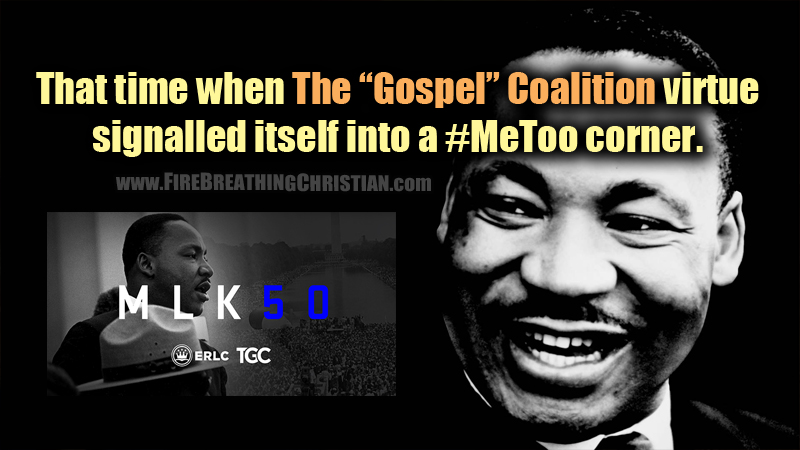 What a difference a year makes.
With each passing month God seems to be highlighting his sense of humor (see: Psalm 2) as he exposes and humiliates enemies who are, in their laughably delusional state, convinced that their ultimate victory is inevitable and just a few short steps away from being realized. The latest installment in this dark comedic stretch of history comes by way of The Gospel Coalition (TGC) and God's providential hand in making their increasingly pathetic/dangerous character clear for all to see.
It was only last April that TGC treated the world to an event featuring wave after wave of brazen virtue-signaling and the selective sterilization of both Scripture and history in an effort to exalt (or cement) a rank heretic into icon status, all in the name of peace, love, tolerance, and understanding (as the world defines peace, love, tolerance, and understanding). The heretic in question was Martin Luther King, Jr., the icon at the center of MLK50, an event promoted by TGC and similarly virtue-signaling/Scripture-minimalizing minds at The Ethics & Religious Liberty Commission (the public policy arm of the Southern Baptist Convention).
Just to be clear, my use of "heretic" here is intended in the simple, definitive sense, as in: "a professed believer who maintains religious opinions contrary to those accepted by his or her church or rejects doctrines prescribed by that church," with heresy understood (at least as intended in this article) as "opinion or doctrine at variance with the orthodox or accepted doctrine, especially of a church or religious system".
As an orthodox, Bible-believing Christian, I'm biblically convinced of MLK's status as a heretic due to his numerous clearly enunciated rejections of core Christian doctrine. Even so, I'm thankful to God for the many ways in which He has used (and continues to use) MLK for the ultimate good of His people (Romans 8:28). I still get chills when I hear certain portions of certain speeches delivered by King and I'm eternally thankful for him understanding by God's grace, at some level, the significance of measuring a person by the content of their character rather than by the color of their skin.
The primacy of character over color is a biblically sound concept, to be sure.
Character is the thing we should look to first when we measure any man or movement of men, all while understanding that each of us who have been truly and supernaturally saved by the grace of God are works in progress. We should think, critique, and reform accordingly, understanding that any true bit of knowledge that we possess is, first and foremost, a gift from God. The more we can cling to this humbling truth, the less prone to prideful, hypocritical, and self-righteous judgment we will become, which will then make our properly offered criticisms infinitely more productive. It's in this context that I share these hard thoughts on MLK and TGC here today. (For more on the importance of understanding that every bit of knowledge is a gift from God, please read Never forget that apart from God's grace you and I are complete morons.)
With those important qualifiers noted, let's fast forward to last week, when we got a glimpse of the aforementioned enemy-levelling Psalm 2 humor in the form of a detailed report from a respected academic and biographer who's inconveniently made plain (or more plain) the character of MLK. Here's how The Independent explained part of the story, beginning here with a reference to recordings made by the FBI:
" . . . a tape which, according to an FBI summary, recorded King laughing and offering "advice" as a fellow Baptist minister "forcibly raped" a woman just a few minutes walk from The White House in Washington DC.
But despite their attempts to spread the story of King's "sex orgies" and 40-plus extramarital affairs, the story never appeared in the media.
"They tried, but the press would not touch it," said David Garrow, a Pulitzer Prize-winning historian . . .
. . . Michael Mosbacher, the acting editor of Standpoint magazine, which is publishing Mr Garrow's article about the files, said the files reveal MLK as "the Harvey Weinstein of the civil rights movement"."
This is not the #MeToo moment that The [Social] Gospel Coalition was looking for.
But here it is anyway, exposing MLK, exposing TGC, and equipping us all to see them for what they are.
Interestingly (and not surprisingly), TGC didn't really get into this sort of stuff a few years back when whey posted 9 Things You Should Know About Martin Luther King, Jr. as part of the long march to heretic-worship at MLK50, even though the profound character flaws and explicitly heretical views of the man have been well known (and documented) for a very long time. While item #6 did at least acknowledge that MLK "held unorthodox views on theology", even that was minimized in favor of the secularized spin for which TGC has become known. Today, in light of what's being made plain (or more plain) about MLK, we are well served to note and examine how The [Social] Gospel Coalition has spun, sterilized and propped up a heretic as an icon of goodness in the land.
Thanks to recently publicized revelations concerning TGC's chosen icon we should see more clearly than ever the real, biblical virtue of character. In light of a biblical understanding of character, we should be asking (and answering) questions like:
What was the true character of MLK?
What is the true character of TGC?
As of now, there seems to be a troubling amount of overlap in the answers to these two questions.
---
If you've benefitted from the work done at Fire Breathing Christian, we ask that you
consider financially supporting the cause. You can do this in one of three ways: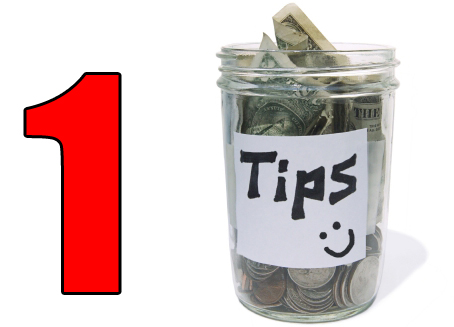 You can drop a few bucks in the tip jar by making a one-time donation through PayPal.
---

You can also donate using cryptocurrencies at the following locations:
Bitcoin (BTC) at 1Mu4a75yjroSLrMZiQFLoD66JhumVvH6E1
Ethereum (ETH) at 0x7Be44b19C1ADDC2322AFD18cad206D9DcD37dB27
Litecoin (LTC) at LN9AMhvasWRHhw25DCxvR9XtuySceKrs87
To sign up for your own cryptocurrency wallet (and receive $10 free bitcoin with your first $100 purchase), please click here.
---

You can make a regular contribution by joining our monthly support team.
---

You can use our Amazon.com affiliate link every time you order anything at Amazon.com.
---
We depend on God's provision through His faithful people.
Thank you for supporting Fire Breathing Christian!
---

Please check out our video channel and our news satire site.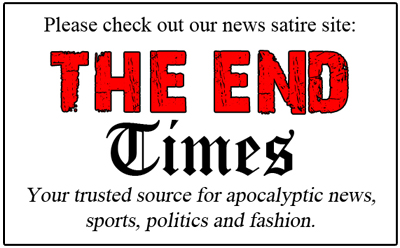 ---
You can also help support the Fire Breathing Christian mission by checking out these books:
Stupid Elephant Tricks – The Other Progressive Party's War on Christianity takes a painful but much needed look at how Christ-less "conservatism" has captivated Christians and co-opted them into helping march the culture ever deeper into darkness: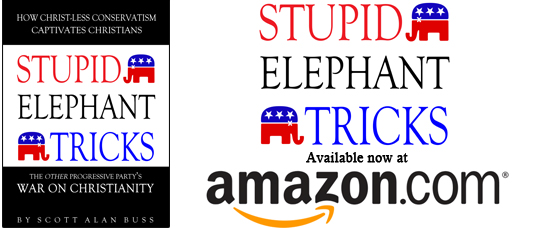 _____________________________________________________
The Beginning of Knowledge: Christ as Truth in Apologetics is an approachable, easy to read introduction to Christ-centered apologetics: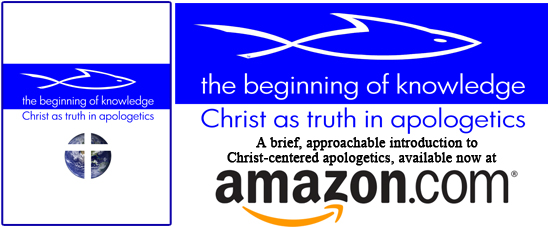 _____________________________________________________
Apathetic Christianity: The Zombie Religion of American Churchianity explores the tragic true horror story of all-American dead religion masquerading as Christianity: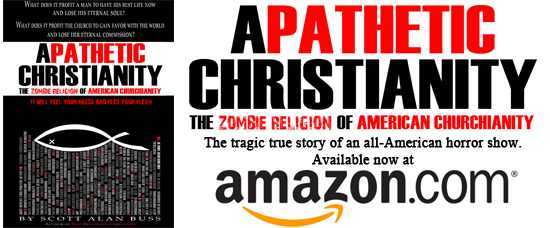 _____________________________________________________
On Education is a compilation of some of the most provocative and compelling Fire Breathing Christian articles on the subject of children's education: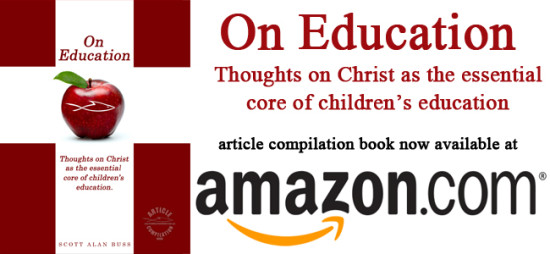 _____________________________________________________
There Is No "God-Given Right" To Worship False Gods is a compilation of some of the most provocative Fire Breathing Christian articles on the subject of America's embrace of a satanic approach to religious liberty: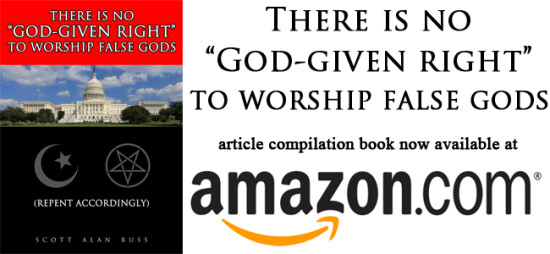 _____________________________________________________
Fire Breathing Christians – The Common Believer's Call to Reformation, Revival, and Revolution is the book that first presented the FBC mission to apply the Gospel-fueled Great Commission in every realm of God's creation: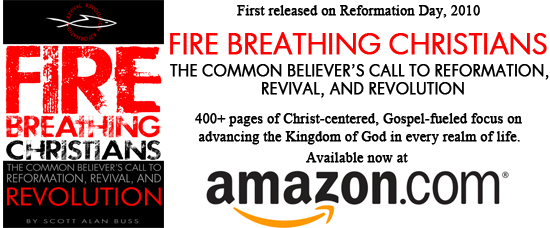 _____________________________________________________
An alternate white cover version of Fire Breathing Christians is available:

_____________________________________________________
There is also an alternate black cover version of Fire Breathing Christians:

Finally, here are a few good intro/reminder links for those of you who are new to Fire Breathing Christian and curious about exactly what's goin' on 'round here:
What are you, some kind of [insert label here] or something?!
What's with that shark-fishie graphic thing?
Intro to Fire: The Power and Purpose of the Common Believer
When the Bible gets hairy. (Or: Is it right for men to have long hair?)
And especially this one: Never forget that apart from God's grace you and I are complete morons.