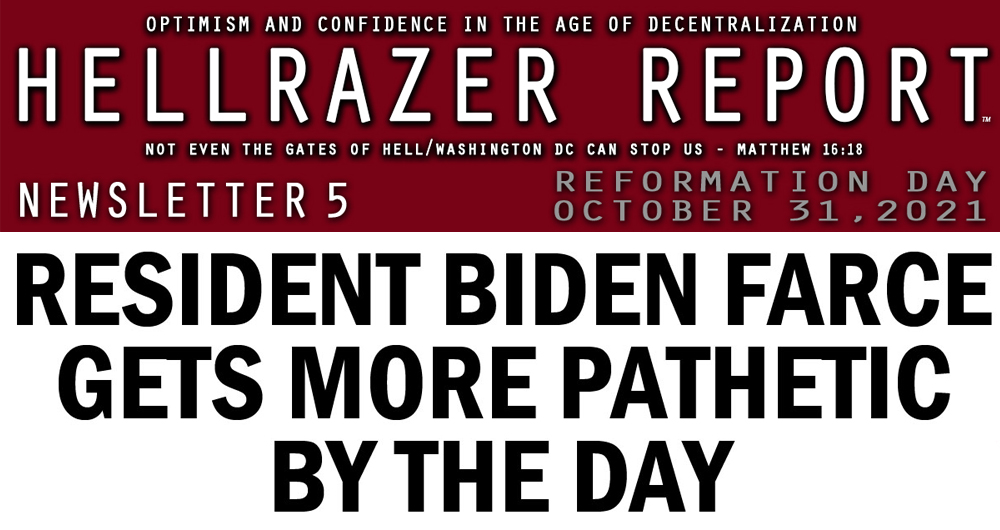 [The following post is from the opening "Battlefield Report" portion of today's Hellrazer Report Newsletter.]
First things first: Happy Reformation Day!

As October gives way to the last two months of an incredibly intense and convulsive 2021, we are well served to remember that however dark things may seem at the moment, we are here to win. The Great Commission is ours to fulfill and the gates of hell itself cannot keep us from fulfilling that mission, all by God's grace and all for His glory. In that context we should feel indescribably honored and downright thrilled to have been placed by God at this particularly dramatic point in His creation of history.

When we set aside distractions and endless spin aimed at discouraging us and take a clear-headed look at what's actually going on right now, we'll see that even now good guys are winning and positive trends are developing as the bad guys desperately try to maintain control of their crumbling narratives and centralized power structures.

​THE CURRENT PUSH TOWARD FIAT REALITY

What we are living through now is nothing less than an epic, world-changing paradigm shift in which counterfeit versions of good things are being used to warp lives, families, and culture in increasingly profound ways because these counterfeit components have been allowed to build, one upon another, for generations. I tend to describe these things as "fiat" versions because they are presented as if they are real and legit imate based on nothing more than the decree that they are so. Here are some examples:

Fiat Currency (or Fiat Money) – This is the most familiar "fiat" item to most of us. It is the idea that "money" can, and should be created effortlessly out of thin air by a government simply declaring that it has said value, rather than basing the value on anything objectively rooted in reality. The U.S.S.A. has embraced a purely fiat currency-based economic system since 1971 when it severed the last remaining ties between real money (gold) and fiat currency (the dollar). This final evolution toward unlimited economic power on the part of the government and the Banksters who control the government allows them to literally create infinite amounts of counterfeit wealth out of thin air and then use that counterfeit wealth to buy real assets and build otherwise unsustainable government welfare/warfare programs and systems. It is the "fiat item" that has enabled all of the others on this list.

Fiat Gender – The idea of "gender fluidity" or gender as a social construct is a significant step down a particular path that has been charted by many of the same powers that effectively took control of the globe through the fiat currency concept. By undermining the beauty and power of God-given gender roles, responsibilities, and natures, the human resource cattle already dominated to a great extent through the fiat economic system become even more easily manipulated and controlled, which is how cattle masters tend to like their cattle. This is all sold, of course, as freedom and liberation from the evil limitations of King Jesus and the biblical patriarchal constructs necessary to the production and preservation of a truly free, vibra nt, and prosperous culture.

Fiat Reality (or Virtual Reality) – With people primed and encouraged to pursue being "whatever they want to be" in the literal sense, virtual "realities" in which they are allowed to do so become the next logical progression in luring human resource cattle deeper into bondage and complete dependence on the masters who own and program the "virtual reality" (or Matrix) in which they prefer to live. While VR and other tech-enabled virtual systems can and do have great value when used properly, the specific ways in which they are being promoted by the Elite Abuser Class are all aimed at further destabilization of families and individuals so that human resource cattle are made even more easily manipulated and controlled by their masters. While VR and things like Facebook's "Met a" systems will be pitches as liberating and empowering mediums for "infinite diversity" of expression and enjoyment, the fact that the parameters of those Matrix-like worlds will be set by those programming the Matrix makes it plain that these worlds are ultimately not about freedom for the masses. These worlds are about complete and total control of the masses.
Fiat Identity (as related to Transhumanism) – The idea that through technology we will literally be able to "be anything that we want to be" and/or live forever has been gaining momentum for generations and is now openly celebrated and pursued by many in the highest echelons of culture. Like VR, there are many wonderful, God-honoring aspects to key aspects of the Transhumanism movement, like the improvement of medical technologies that allow people to live longer and better lives. But the ultimate goal of literally being whatever you want while living forever is also the ultimate carrot that can and will be used to lure many deeper and deeper into Fiat Reality as a means by which they can pursue immortality and infinite joy (as they imagine it) apart from God. In this conte xt the Fiat Reality/Fiat Identity combination represents the culmination of mankind's rebellion against (and unrepentant rejection of) God.

I've oversimplified some of these points, but you get the general picture. We are smack dab in the middle of a war for reality. This is where and when God has placed us. What an honor!

THE INEVITABLE FAILURE OF FIAT REALITY…AND OUR GOLDEN REAL WORLD OPPORTUNITIES

Understanding this war and the intricacies of its numerous battlefields so that we might be better prepared to fight and win is a primary goal of the Hellrazer Report.

Over the course of the first five installments of the Hellrazer Report Newsletter , I've been tweaking, modifying, and polishing my approach in different ways. This process of perpetual reformation will never end, but at this early stage is likely to result in more dramatic detours and shifts. I appreciate your patience with this and welcome any feedback or suggestions that you have to offer. Please feel free to email me with those thoughts.

One thing that I plan to always make a key feature of the Hellrazer Report Newsletter is the gathering up of recent relevant articles with some added commentary so that readers can stay up to speed on key developments over the past week or so. It's hard to keep up with all of the nuttiness and there's no way to cover it all in each Newsletter, but I will do my best as time permits.

As I consolidate and chronicle news items th e plan is always to feature positive developments first in the "Signs of Hope and Victory in the News" section. These are the silver linings and positive developments that we need most, lest pessimism and apathy take root and allow the enemy to hold any bit of territory any longer than is necessary. Once we see things as they are and notice God's positive moves for what they are, we will be encouraged and emboldened to take His Gospel-fueled Great Commission more seriously. Once that happens, we begin a very positive and supernaturally inspiring feedback cycle that has us perpetually increasing in two key things:

Awe at what God is doing both for and through His people, and…

Desire to improve ourselves personally so that we might more effectively contribute to His cause.

All by His grace and all for His glory.

Always remember that part. This is not primarily about us or what we can do to save the day, the culture, the country, or anything else, including ourselves. This is about Him using His Spirit-filled people to accomplish His Gospel-fueled Great Commission in every physical corner and immaterial aspect of life in His creation. Put another way: It's all about King Jesus' people modeling and pressing His crown rights in every area of life.

That's the Spirit I hope to feed here with the Hellrazer Report.

So scroll down and check it out. Let me know what you think. Let me know how I can make it better.

​Subscribe if you haven't already, share it with others who you think would appreciate it.

Soli Deo gloria…and let's roll!


​Scott
CLICK HERE to continue on to the full Hellrazer Report Newsletter for October 31, 2021
______________________________

If you appreciate Fire Breathing Christian, consider making a donation through PayPal.
You can also donate using cryptocurrencies at the following locations:
Bitcoin (BTC) at 1Mu4a75yjroSLrMZiQFLoD66JhumVvH6E1
Ethereum (ETH) at 0x7Be44b19C1ADDC2322AFD18cad206D9DcD37dB27
Litecoin (LTC) at LN9AMhvasWRHhw25DCxvR9XtuySceKrs87
Sign up for my weekly Newsletter here.
You can check out my books here and a Recommended Reading List here.
The Hellrazer Report, my new media site featuring regular videos covering events of the day from an informed, optimistic Christian worldview perspective, can be found here or through the linked logo below.


You can also check out The End Times, my satire site and the world's most trusted source for apocalyptic news, politics, sports, and fashion, by clicking here.

It's more important than ever for us to stay connected, and diversifying those connection points is a great way to be sure that we can stay connected when one or more platforms goes down or disallows our perspective. Here are some places that you can connect with me now: Gab, GabTV, Bitchute, Rumble, MeWe, Facebook, Twitter, Brighteon, Telegram, Instagram, and YouTube.
Of course, the best way to stay connected is through the Newsletter, which goes directly to your email, so be sure to sign up if you haven't already.
Finally, here are a few good intro/reminder links for those of you who are new to Fire Breathing Christian and might be curious about exactly what's goin' on around here, worldview wise:
What are you, some kind of [insert label here] or something?!
What's with that shark-fishie graphic thing?
Intro to Fire: The Power and Purpose of the Common Believer
When the Bible gets hairy. (Or: Is it right for men to have long hair?)
And especially this one: Never forget that apart from God's grace you and I are complete morons.