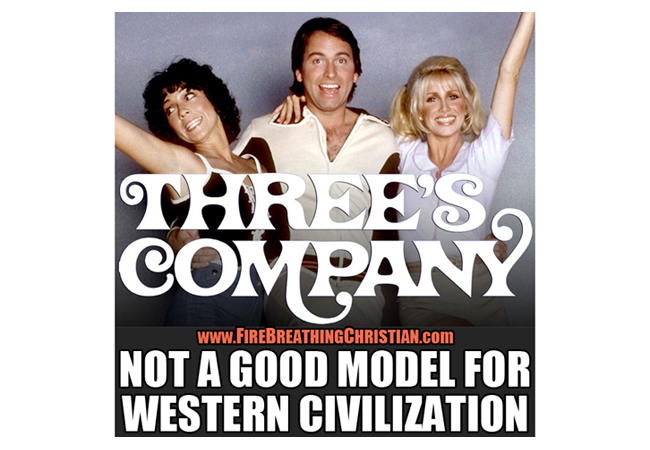 Just when our proud plunge into cultural oblivion didn't seem able to get any more pathetic, it has. And even though we had to see this particular turn for the ridiculous coming from many miles away, it still stings now that it's finally arrived, kind of like last week's Supreme Court decision. (See: "Supreme Court" Votes for Wrath of God Upon America.) It also makes one wonder how much longer this slow motion train wreck known as America will be allowed to go on.
At any rate, in what may to qualify as the least surprising bit of still-terrible news this week for the disintegrating culture of 'Merica, a polygamous trio from Montana has quite credibly applied for a marriage license:
A Montana man said Wednesday that he was inspired by last week's U.S. Supreme Court decision legalizing gay marriage to apply for a marriage license so that he can legally wed his second wife.

Nathan Collier and his wives Victoria and Christine applied at the Yellowstone County Courthouse in Billings on Tuesday in an attempt to legitimize their polygamous marriage. Montana, like all 50 states, outlaws bigamy — holding multiple marriage licenses — but Collier said he plans to sue if the application is denied.

"It's about marriage equality," Collier told The Associated Press Wednesday. "You can't have this without polygamy."
And you know what?
He's absolutely right.
There is apparently no consistent basis upon which Nathan, Victoria and Christine can be denied a marriage license.
They're "in love" or something, right?
That settles it.
And if they want to add another partner or two or ten or twenty later on down the road, more power to 'em, right?
I mean, this is the "land of the free", isn't it?
It sure is.
We now live in a land where everything from freedom, liberty, law and economics to family, marriage and even gender are all open to constant revision and redefinition.
And why?
Because the unchanging standard upon which all true understanding of these things is based – the Nature of God as revealed in His Word – has been cast aside.
In a land that views the freedom to openly worship false gods as a "god-given right", we can expect everything – and I mean everything – to become up for grabs and eventually disintegrate into perpetual redefinition-fueled nothingness. When we cast aside the Nature of God as the exclusive, necessary basis upon which we are to understand and pursue all things in His creation, we consigned those things – all of them – to the death-by-chaos that we are watching roll over the land at this very moment. (See: Note to 'Merica: There is no "God-given right" to worship false gods. Repent accordingly.)
article continues below
If we will not be ruled by God's loving, perfect, sufficient Word, then we will be ruled by the selfish, emotion-driven whims of man.
If we will not have Christ as King to rule over us, then we will live under the tyranny of men.
If we will not defend family, marriage, law, and economics unapologetically and unflinchingly as defined by the Nature of God as revealed in His Word, then we will be overcome and enslaved through the inevitable chaos that must come through any law, economics, and sexuality that is severed from explicit connection to and dependence upon Christ.
That's where we are, America.
The question begging to be answered now is: Will we repent or will we be destroyed?
~
If you know of anyone who might appreciate this post, please share it. If you'd like to see articles like this continue, please click here to help.
Please also "like" us on Facebook, "+" us on Google+, follow us on Twitter and feel free to sign up for new articles by email using the buttons in the upper right corner of the FBC home page.
Also feel free to check out the latest designs at Fire Breathing Tees and the latest memes at Fire Breathing Memes. Thank you for your support!
© 2015 Scott Alan Buss – All Rights Reserved.