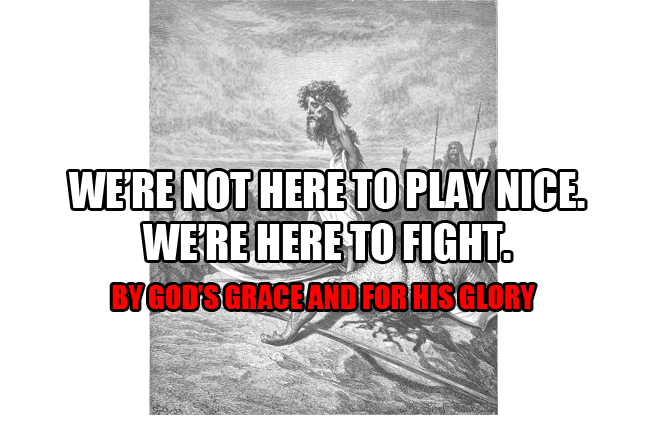 Contrary to popular American "Christian" mythology, true believers are not placed here to be polite, culturally compliant observers passively watching the world go to hell while nurturing a nice, neat little "gospel" that is kept safely sequestered and tucked away in "its proper place" (at church, in Bible studies, in "our hearts", etc.). (See also: Beware the "Gospel in a Bottle".)
Christians are not here to politely escort the enemies of Christ from victory to victory.
Christians are here to confront those enemies.
Christians are here to actively oppose the enemies of Christ by faithfully proclaiming and applying His Word in every realm of His creation.
. . . We destroy arguments and every lofty opinion raised against the knowledge of God, and take every thought captive to obey Christ. . . ~ 2 Corinthians 10:5 (emphasis added)
Christians are here to achieve victory after victory for Christ over His enemies on His terms as He has commanded and equipped them to do, all by His grace and for His glory.
We're not here to make buddies.
We're not here to make pals.
We're here to make obedient disciples:
"All authority in heaven and on earth has been given to me. Go therefore and make disciples of all nations, baptizing them in the name of the Father and of the Son and of the Holy Spirit, teaching them to observe all that I have commanded you. And behold, I am with you always, to the end of the age." ~ Jesus (the real One) in Matthew 28:18-20 (emphasis added)
The loss of this fundamental truth is the single greatest defining difference between the worldviews of the explicitly Calvinistic and victorious eschatology-driven Pilgrims and Puritans who settled the lands that we now call the United States, and the fiercely anti-Calvinist, Left Behind-style dispensational perspectives that dominate the "Christian scene" here today.
How far we have fallen.
This profound multigenerational swing from acutely God-centered theology and a biblically optimistic eschatology of victory towards man-centered theology and preemptive cultural surrender has been predictably devastating.
Where once Americans actually believed in – and committed everything that they had toward – the victory of Christ through His obedient people's faithful  application of the Gospel-fueled Great Commission, now the vast majority of Americans are convinced that "all is lost here on earth", that "victory by the enemy is inevitable here and now", and that they are best served to just keep their heads down, play nice, and do what they can to enjoy life as much as possible while "riding things out" until Jesus comes down to take care of all of these things that they're not about to seriously tackle themselves (no matter what He has told them along those lines). (See: Encouragement from Satan.)
See the problem with this?
Do we see how this "new American approach to Christianity" that came to dominate our culture over the past 150+ years is actually (and ironically) at the root of all of the things that modern American Christians like to complain about most? (See: Judgment begins with the Church…not the Democrats.)
God's people have not been supernaturally saved by Him so that they can sit and watch history unfold. They have not been raised from death to life and had His Spirit imparted into them so that they can just lay down and "ride it out" here while waiting for Him to sweep down and do precisely what He has personally commanded and equipped them to do here and now.
We are not here to "play nice" as the world would have us define such things.
We are not here to pitch peaceful, world-soothing unity at the expense of Truth personified:
"Do not think that I have come to bring peace to the earth. I have not come to bring peace, but a sword. For I have come to set a man against his father, and a daughter against her mother, and a daughter-in-law against her mother-in-law. And a person's enemies will be those of his own household. Whoever loves father or mother more than me is not worthy of me, and whoever loves son or daughter more than me is not worthy of me. And whoever does not take his cross and follow me is not worthy of me. Whoever finds his life will lose it, and whoever loses his life for my sake will find it." ~ Jesus (the real One) in Matthew 10:34-39 (emphasis added)
We are here to fight.
We are here to confront and correct in accordance with the Gospel-fueled Great Commission.
That's what true love looks like in action.
It's not apathetic.
It's not lazy.
It's not self-serving.
It's not disengaged.
It's active, zealous, selfless, passionate, powerful, beautiful and…it is assured of victory.
Not because of us.
But because of Him.
article continues below
Want to see the likes of Planned Parenthood and The Big Gay Wave not only stopped in their tracks, but driven from the field of battle in a route? (See: Presuppositional Law: Where we begin with law determines where we end.)
Want to see true law saved from the America Idol and applied throughout the land so that true life, true liberty, and true happiness might be experienced by our children and grandchildren? (See: Note to 'Merica: There is no "God-given right" to worship false gods. Repent accordingly.)
Then stand and fight.
On His terms.
As in His Word.
By His grace.
And for His glory.
Man up, buttercup. Rome wasn't conquered in a day.
~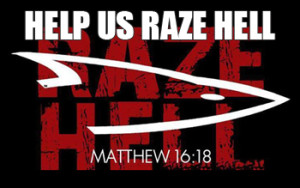 If you know of anyone who might appreciate this post, please share it. If you'd like to see articles like this continue, please click here to help.
Please also "like" us on Facebook, "+" us on Google+, follow us on Twitter and feel free to sign up for new articles by email using the buttons in the upper right corner of the FBC home page.
Also feel free to check out the latest designs at Fire Breathing Tees and the latest memes at Fire Breathing Memes. Thank you for your support!
© 2015 Scott Alan Buss – All Rights Reserved.