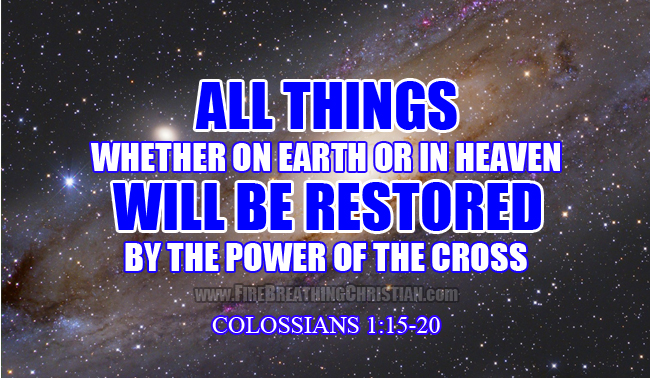 Right here and right now in the little sliver of time on the little sliver of land on the little planet we call earth, Jesus Christ is working perfectly by His grace through His Spirit-filled people in accordance with His Gospel-fueled Great Commission so that all things might be restored by the power of His cross. (See also: Jesus Conquers Everything.)
And "all things" here means all things, whether on earth or in heaven, just as He has promised in His perfect, unbreakable Word:
He is the image of the invisible God, the firstborn of all creation. For by him all things were created, in heaven and on earth, visible and invisible, whether thrones or dominions or rulers or authorities—all things were created through him and for him. And he is before all things, and in him all things hold together. And he is the head of the body, the church. He is the beginning, the firstborn from the dead, that in everything he might be preeminent. For in him all the fullness of God was pleased to dwell, and through him to reconcile to himself all things, whether on earth or in heaven, making peace by the blood of his cross.
~ Colossians 1:15-20 (emphasis added)
The language couldn't be more clear. Jesus is conquering and restoring everything that has been corrupted in His creation, all by the power of His redemptive work on the cross.
This goes way beyond our salvation as people. As beautiful and precious as our personal salvation is, the true and complete supernatural Gospel of Jesus Christ is so much bigger than that. (See: Beware the "Gospel in a Bottle".)
It covers all of His creation. It's that amazingly and awe-inspiringly comprehensive.
All sin will be purged. All rebellion will be snuffed out. All impurity will be removed.
All of creation will really, truly be restored, or, perhaps better put: Resurrected.
Art, law, language, logic, math, science, technology…everything, visible and invisible, that He has made by and for Himself, will be restored by the power of His cross.
True liberty, true freedom, true adventure, true love, and true life for His people will be realized without limit or end, undiluted and undefiled by sin.
All things tainted, twisted and perverted by sin and rebellion will be reconciled. Unrepentant rebels will be swept away unto eternal judgment and set apart from the reconciled creation forever. (See: 2 Thessalonians 1:9 and Revelation 14:11.)
That's where all of this is heading.
Without a doubt.
That's where the path that you and I tread at this very moment ultimately leads.
Oh sure, sometimes that's a hard truth to bring into focus, much less hold close, when things like Ebola, Planned Parenthood, "Gay Marriage" and Donald Trump keep popping up.
But it is so nonetheless.
Christ is conquering and restoring everything in His creation.
article continues below
And He has chosen to use us – His People – all by His grace, for His glory, and through His Gospel-fueled Great Commission, to advance His Kingdom toward that assured ultimate victory.
How cool is that?!
So buck up, li'l camper!
Praise God!
Maybe smile, even.
Yeah, things can look very dark at times (often because they are), but the darkness, even when it's real, is fleeting. It's fleeting because the light of Christ is driving it away, sometimes slowly, but always surely.
We're here for a purpose. We're here to act. We're here to stand. And at the end of the day – at the end of this Great Commission – we win.
We win everything.
Whether on earth or in heaven, we win it all…all by His grace, all for His glory, and all to our eternal benefit.
So man up, buttercup. Rome wasn't conquered in a day.
~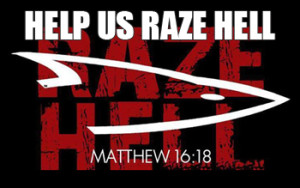 If you know of anyone who might appreciate this post, please share it. If you'd like to see articles like this continue, please click here to help.
Please also "like" us on Facebook, "+" us on Google+, follow us on Twitter and feel free to sign up for new articles by email using the buttons in the upper right corner of the FBC home page.
Check out The Fire Breathing Christian Podcast too, and see the latest designs at Fire Breathing Tees and the latest memes at Fire Breathing Memes. Thank you for your support!
© 2015 Scott Alan Buss – All Rights Reserved.