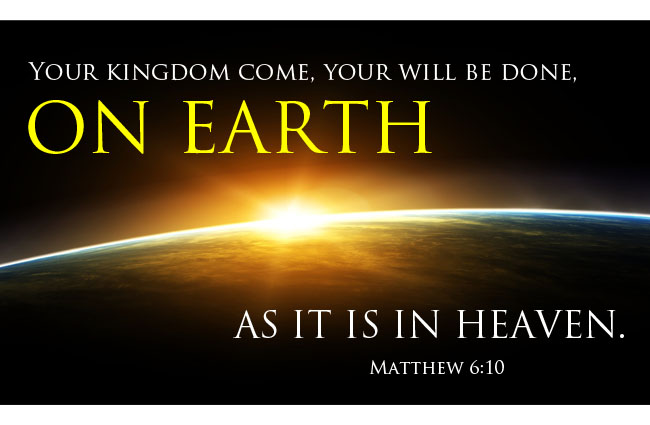 Preemptive surrender has never really been what you'd call a winning strategy. [Insert French army joke here.]
Yet that's exactly what Christians in America have been conditioned to do for a very long time now. For many generations we've become increasingly sold on the notion that everything here on earth is destined for darkness. It's all doomed. It's all lost. So why bother polishing brass or rearranging deck chairs on the Titanic? (See: Encouragement from Satan.)
For all of my life, American "Christianity" has been largely defined through an "it's all going to hell anyway" understanding of things. From wildly popular Hal Lindsey books and Omen movies in the '70s to Left Behind film reboots of just last year, American Christianity has been captured and fundamentally compromised by the enemy through prophetic/"end times" views that were utterly foreign to the Pilgrims and Puritans who risked everything to plant the seeds of America because they actually believed in the life- and culture-resurrecting power of the Gospel-fueled Great Commission.
Where modern American "Christianity" concedes art, law, civil government, economics, and pretty much everything else to the uncontested rule and inherent corruption of unbelievers, the worldview and work of the Pilgrims and Puritans made no such concession. (See: The True Gospel Conquers Everything; The Modern American "Gospel"…Not So Much.)
It's as though those Pilgrims and Puritans, flawed though they certainly were, still were inspired by the grace of God to actually believe in the Great Commission. It's as though they actually believed what they were told by their Lord to pray:
"And when you pray, do not heap up empty phrases as the Gentiles do, for they think that they will be heard for their many words. Do not be like them, for your Father knows what you need before you ask him. Pray then like this:
"Our Father in heaven,
hallowed be your name.
Your kingdom come,
your will be done,
on earth as it is in heaven. . . "
~ Matthew 6:7-10 (emphasis added)
May God grace His people here and now with the faith to not only pray these words, but to believe them…and act accordingly…all by His grace, all for His glory, and all to our eternal benefit.
---
If you know of anyone who might appreciate this post, please share it. If you'd like to see articles like this continue, please click here to help.
Please also "like" us on Facebook, "+" us on Google+, follow us on Twitter and feel free to sign up for new articles by email using the buttons in the upper right corner of the FBC home page.
Check out The Fire Breathing Christian Podcast too, and see the latest books at R3VOLUTION PRESS, the latest designs at Fire Breathing Tees and the latest memes at the Fire Breathing Memes page.
Finally, here are a few good intro/reminder links for those of you who are new to Fire Breathing Christian and curious about exactly what's goin' on 'round here:
What are you, some kind of [insert label here] or something?!
What's with that shark-fishie graphic thing?
Intro to Fire: The Power and Purpose of the Common Believer
When the Bible gets hairy. (Or: Is it right for men to have long hair?)
And especially this one: Never forget that apart from God's grace you and I are complete morons.
Thank you for your support!