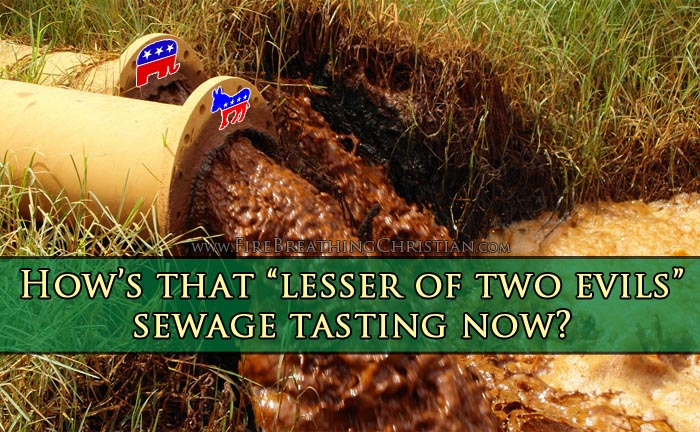 While we may be tempted to feel all dirty, discouraged and downright icky at the prospect of America (led by American evangelicals) choosing Donald Trump and Hillary Clinton as this cycle's left and right halves of the two-headed dragon that's dragging what's left of the culture to hell, it's important to remember that there is much good that will – and already has begun to – come of this pathetic spectacle.
Though good and proper conviction is a good thing (essential even, since it leads to repentance and restoration), the last thing Christians oughta be known for is fear or depression, since both are the antithesis of faith.
So what good could be coming of Trump v Hillary?
What positives do we have to thankfully embrace through this epically awful clash between The Donald and The Hillary?
Truth be told, there are way too many to list here. But just to help you (and remind myself) not to let the "lesser evil" sewage running on the streets give the impression that "all is lost" or there is no great opportunity to be had, I'd like to share just three:
First off, as Christians,

our hope is not in America

. This is a theme we try to keep stoked here at Fire Breathing Christian, and it's certainly worth repeating here.


.


Few things are more important for us to remember if we are to resist the now-common (especially in evangelical circles) idolatry of the American State. (For more on this idea, please check out Roaring into Post-America Christianity and The Kingdom of God vs. The (Collapsing) Empire of America.)


.

As the "lesser evil" sewage flows thicker and deeper in America, many people may well be compelled by God's grace to finally acknowledge long-ignored (and very ugly) realities. Throughout Scripture and history, God has often brought His people under His wing through harsh disciplines, including His purposeful use of war, economic distress, and wicked leadership. The more deeply our culture sinks into the muck and mire of its own making, the more opportunity we will have as Christians to stand and faithfully proclaim the true, everything-touching Gospel.


..

As the everything-touching Gospel is faithfully proclaimed and applied (application is key here), the everything-restoring Great Commission will advance, all by God's grace and all for His glory. If we seize the many amazing opportunities to come through things like Trump/Clinton and faithfully proclaim the whole Gospel, there is no limit to the great things that God can accomplish by His grace through His people in accordance with His Great Commission.


.


Remember: The darker the faithless culture becomes under the weight of its pride and rebellion against Christ as King in practice, the greater the contrast and more easily visible the beauty of His Nature as revealed in His Word. And yeah, that's a good thing.


.
When "We the People" dive deep into the perversion of law, economics, and art through our proud insistence upon the "right" to openly worship false gods, the "right" to openly produce/promote/procure porn, the "right" to divorce on demand, and the "right" to sacrifice our children for convenience, we set ourselves up for many things, nearly all of them terrible, but one of them good: The deeper we dive into the darkness, the more our sin contrasts with the Light, which always brings God glory and often brings us clarity, brokenness, repentance and restoration…all by His grace.
So is there a plus side to Trump vs. Hillary in 2016?
Oh yeah!
Contrast.
We are being given the blessing of stark contrast, and I don't mean between the evils of Hillary and Donald.
I mean between the life and death differences between God's Word and man's word on the subject of leadership…and all that flows from it.
---
If you know of anyone who might appreciate this post, please share it. If you'd like to see articles like this continue, please click here to help.
Please also "like" us on Facebook, "+" us on Google+, follow us on Twitter and feel free to sign up for new articles by email using the buttons in the upper right corner of the FBC home page.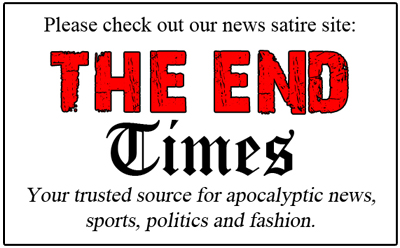 Please check out The Fire Breathing Christian Podcast too, as well as the latest designs at Fire Breathing Tees and the latest memes at the Fire Breathing Memes page.
You can also help support the Fire Breathing Christian mission by checking out these books:
Stupid Elephant Tricks – The Other Progressive Party's War on Christianity takes a painful but much needed look at how Christ-less "conservatism" has captivated Christians and co-opted them into helping march the culture ever deeper into darkness: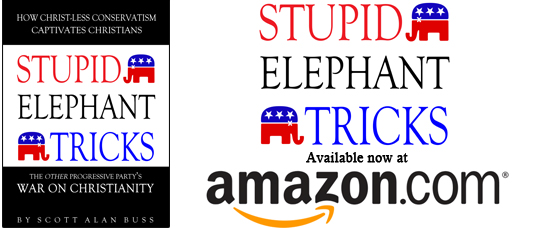 _____________________________________________________
The Beginning of Knowledge: Christ as Truth in Apologetics is an approachable, easy to read introduction to Christ-centered apologetics: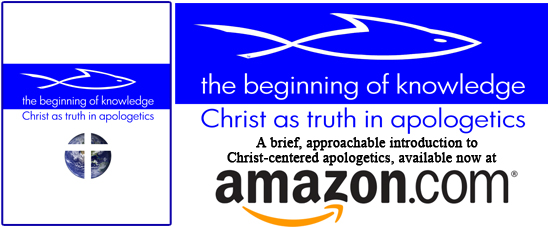 _____________________________________________________
Apathetic Christianity: The Zombie Religion of American Churchianity explores the tragic true horror story of all-American dead religion masquerading as Christianity: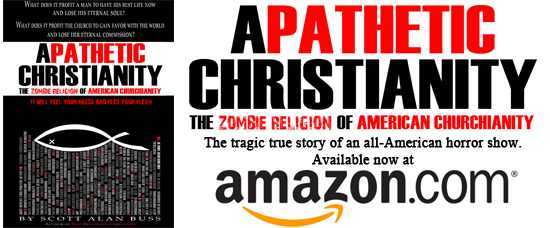 _____________________________________________________
On Education is a compilation of some of the most provocative and compelling Fire Breathing Christian articles on the subject of children's education: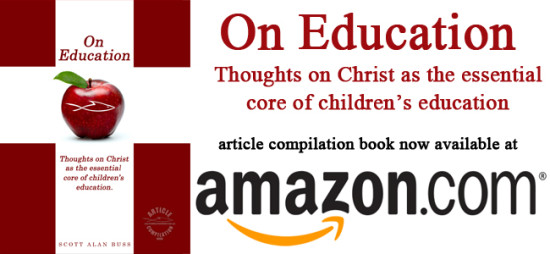 _____________________________________________________
There Is No "God-Given Right" To Worship False Gods is a compilation of some of the most provocative Fire Breathing Christian articles on the subject of America's embrace of a satanic approach to religious liberty: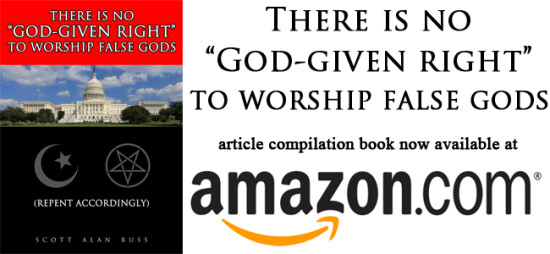 _____________________________________________________
Fire Breathing Christians – The Common Believer's Call to Reformation, Revival, and Revolution is the book that first presented the FBC mission to apply the Gospel-fueled Great Commission in every realm of God's creation: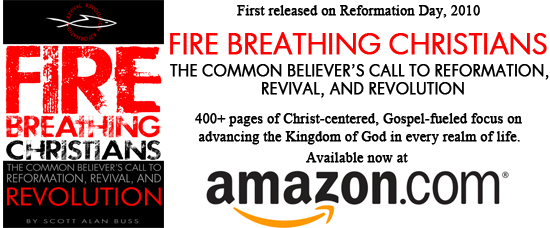 _____________________________________________________
An alternate white cover version of Fire Breathing Christians is available:

_____________________________________________________
There is also an alternate black cover version of Fire Breathing Christians:

Finally, here are a few good intro/reminder links for those of you who are new to Fire Breathing Christian and curious about exactly what's goin' on 'round here:
What are you, some kind of [insert label here] or something?!
What's with that shark-fishie graphic thing?
Intro to Fire: The Power and Purpose of the Common Believer
When the Bible gets hairy. (Or: Is it right for men to have long hair?)
And especially this one: Never forget that apart from God's grace you and I are complete morons.
Thank you for your support!