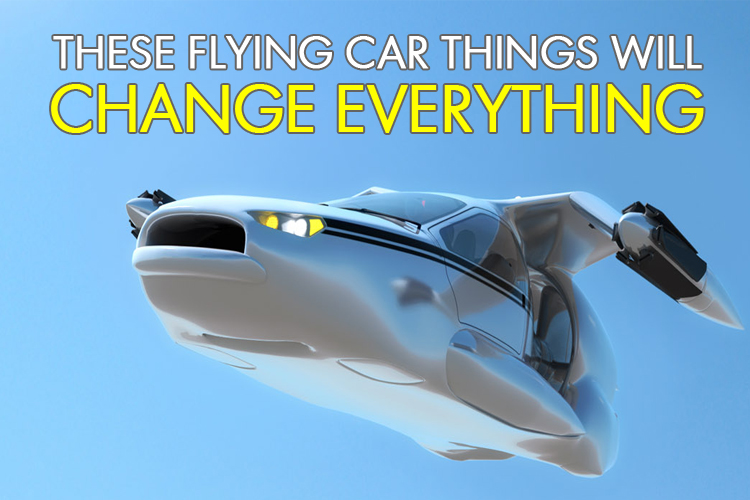 Trump/Clinton notwithstanding, things are getting better.
Much better.
And fast.
God is not only preserving His people, but He's raising up life-, liberty-, and prosperity-enhancing technology all around them.
Decentralization is coming, phony empires are crumbling, and the Kingdom of God is advancing.
Back in June, we posted How One Inevitable (And Fast-Approaching) Tech Will Radically Change Our World, where we kicked around the coming-soon reality of flying cars and all of the coolness that will come along with 'em.
Here's a snippet that's relevant to what we're covering here today:
We are so ridiculously blessed with technology!
This has been a theme of recent podcasts both at the newly re-launched Fire Breathing Christian Podcast and The Hell Razer Report, as well as in numerous articles that we try to crank out to keep y'all properly jazzed and thankful to God for the incredible blessing of technology and what we can do with it. (See also: How God's Gift Of Technology Is Forcing Us To Think And Grow Biblically for more on this subject.)
Along those lines, it seems like the perfect time to have a gander at one of the major soon-to-come, culture-shaking (in a good way) techs that we haven't written about here before.
I'm talkin' 'bout flying cars.
They're inevitable, you know.
They'll be here before you know it and when they arrive they will bring massive changes to the way we live. And, like other techs we've regularly hammered on and thanked God for here (PCs, Internet, 3D printing, robotics, etc.), the emerging technology of the flying car will be a powerful force for the promotion of decentralization. Which is another way of saying that it will be an incredible tool for spreading liberty and economic empowerment.
Now, with the significance and general awesomeness of what God is giving us via technology in mind, let's consider the latest steps being taken to realize the dream of flying people (in cars for now; I'm sure something like jetpacks or something even cooler will come eventually).
In a very cool article posted recently by MSN, we're treated to news that Uber is planning "self-flying drone taxis to beat city traffic".
If you summon an Uber in 10 years' time, you will probably get a car that drives itself. But then again, you may not be travelling in a car at all.
The taxi-hailing app is working on technology that would allow airborne passenger drones to fly its users short distances around cities, it has emerged, raising the prospect of a future in which skylines are dotted with Uber aircraft shuttling commuters back and forth.
Jeff Holden, Uber's head of product, told technology website Recode that the company is researching "vertical take off and landing" (VTOL) technology. Instead of the helicopter-style rotor blade drones, VTOL aircraft have fixed wings like planes, enabling them to fly silently, while taking off and landing vertically.
Amazon's delivery drones, currently being tested in Cambridgeshire, use a similar technology to cut down on noise and extend their range.
Holden said Uber wanted to "offer our customers as many options as possible to move around" and that the technology could be available within a decade.
"It could change cities and how we work and live," Holden said, pointing out that moving traffic from the road to the air could dramatically cut down on congestion and the time it takes to cross cities. He said he envisages aircraft taking off from and landing on the roofs of buildings.
While the idea may seem far-fetched, Uber is not the only one researching passenger drones. Earlier this year Ehang, a Chinese company, unveiled the 184, an autonomous quadcopter drone designed to carry a single passenger, with a battery life of 23 minutes. The 184, which has been slated for release as early as this year, is expected to cost up to $300,000 (£232,000).
Google founder Larry Page is one of the major believers in flying cars, putting $100m of his own money into startups developing the technology.
However, filling our skies with passenger drones within 10 years is an ambitious undertaking, and would require hundreds of pages of new regulations, not to mention consumers who would be willing to put their life in the hands of a small self-flying aircraft. It would also, presumably, be incredibly costly to develop.
But Uber is already at the forefront of developing self-driving technology. Earlier this month it began testing a driverless car service in Pittsburgh.
Howsabout that?!
Pretty cool, huh?
And all of this is happening in a still thoroughly corrupt world often under the direction and as a result of the inspiration of anti-Christians with utterly Pagan worldviews.
Even so, these Pagans are God's property and He is using them perfectly to help pave the way for true liberty and true prosperity to abound on His earth (and throughout His cosmos). He is at this very moment using even unbelieving vessels to make a way for His people to advance His Kingdom on His schedule by His grace through His gift of technology.
That's just how He rolls:
"Hear, O Israel: The LORD our God, the LORD is one. You shall love the LORD your God with all your heart and with all your soul and with all your might. And these words that I command you today shall be on your heart. You shall teach them diligently to your children, and shall talk of them when you sit in your house, and when you walk by the way, and when you lie down, and when you rise. You shall bind them as a sign on your hand, and they shall be as frontlets between your eyes. You shall write them on the doorposts of your house and on your gates.
"And when the LORD your God brings you into the land that he swore to your fathers, to Abraham, to Isaac, and to Jacob, to give you—with great and good cities that you did not build, and houses full of all good things that you did not fill, and cisterns that you did not dig, and vineyards and olive trees that you did not plant—and when you eat and are full, then take care lest you forget the LORD, who brought you out of the land of Egypt, out of the house of slavery."
~ Deuteronomy 6:4-12 (bold emphasis added)
---
If you know of anyone who might appreciate this post, please share it. If you'd like to see articles like this continue, please click here to help.
Please also "like" us on Facebook, "+" us on Google+, follow us on Twitter and feel free to sign up for new articles by email using the buttons in the upper right corner of the FBC home page.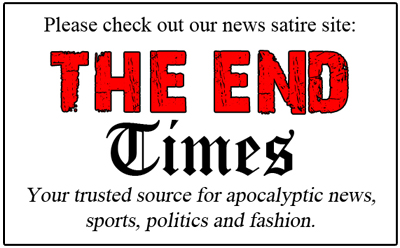 Please check out The Fire Breathing Christian Podcast too, as well as the latest designs at Fire Breathing Tees and the latest memes at the Fire Breathing Memes page.
You can also help support the Fire Breathing Christian mission by checking out these books:
Stupid Elephant Tricks – The Other Progressive Party's War on Christianity takes a painful but much needed look at how Christ-less "conservatism" has captivated Christians and co-opted them into helping march the culture ever deeper into darkness: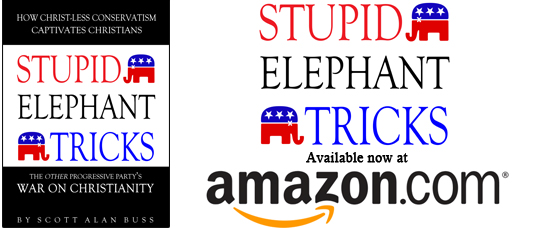 _____________________________________________________
The Beginning of Knowledge: Christ as Truth in Apologetics is an approachable, easy to read introduction to Christ-centered apologetics: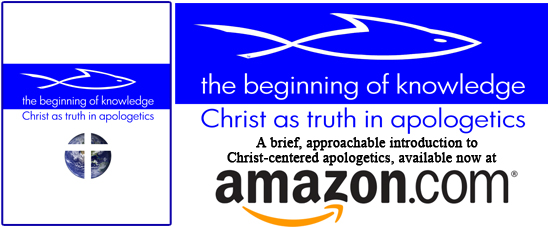 _____________________________________________________
Apathetic Christianity: The Zombie Religion of American Churchianity explores the tragic true horror story of all-American dead religion masquerading as Christianity: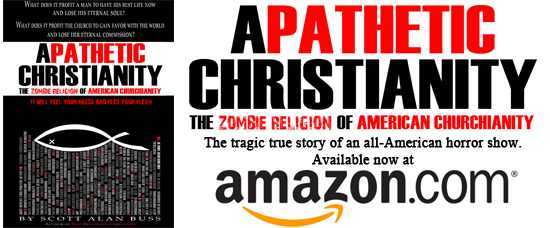 _____________________________________________________
On Education is a compilation of some of the most provocative and compelling Fire Breathing Christian articles on the subject of children's education: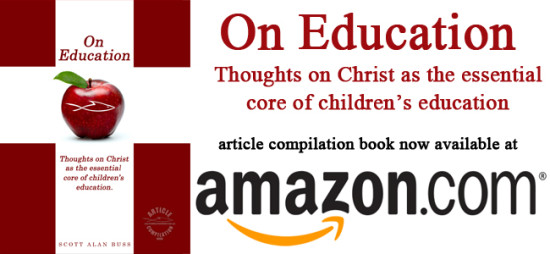 _____________________________________________________
There Is No "God-Given Right" To Worship False Gods is a compilation of some of the most provocative Fire Breathing Christian articles on the subject of America's embrace of a satanic approach to religious liberty: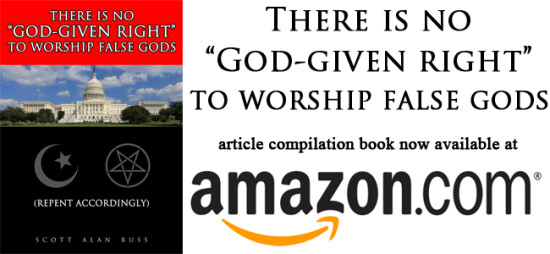 _____________________________________________________
Fire Breathing Christians – The Common Believer's Call to Reformation, Revival, and Revolution is the book that first presented the FBC mission to apply the Gospel-fueled Great Commission in every realm of God's creation: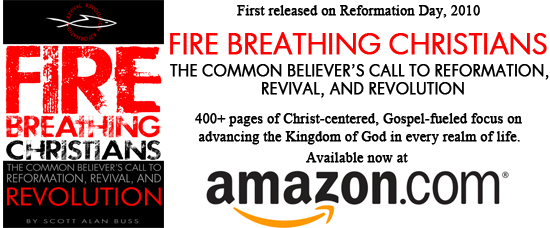 _____________________________________________________
An alternate white cover version of Fire Breathing Christians is available:

_____________________________________________________
There is also an alternate black cover version of Fire Breathing Christians:

Finally, here are a few good intro/reminder links for those of you who are new to Fire Breathing Christian and curious about exactly what's goin' on 'round here:
What are you, some kind of [insert label here] or something?!
What's with that shark-fishie graphic thing?
Intro to Fire: The Power and Purpose of the Common Believer
When the Bible gets hairy. (Or: Is it right for men to have long hair?)
And especially this one: Never forget that apart from God's grace you and I are complete morons.
Thank you for your support!