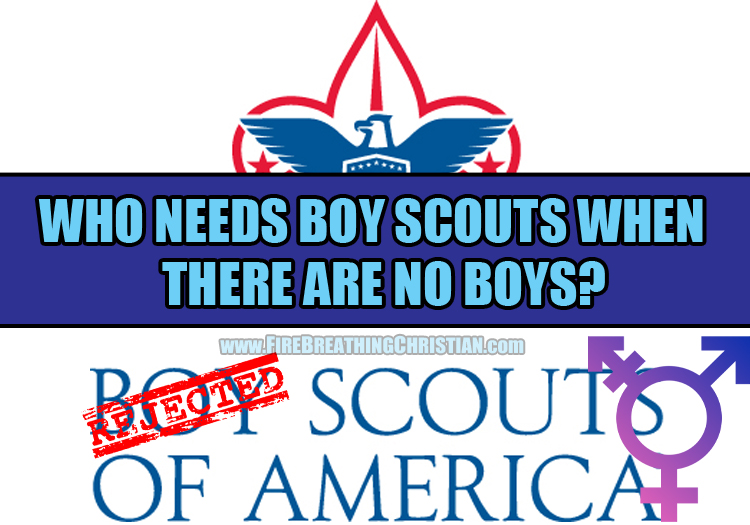 Who needs Boy Scouts when there are no boys?
To be more precise, when there is no objective, biologically defined construct known as "a boy", and when even one's sex is regarded as subject only to the subjective, feelings-based whims of any given moment, then what place could there be for an organization like the Boy Scouts?
That question has been asked and answered by the organization in question, with its leadership subsequently deciding to drop "Boy" and just be known as "Scouts" so that it can more aggressively and coherently(?) pursue girls as members.
While, like the many actual women who are shrieking in horror while being mercilessly trampled underfoot by pretend women spearheading the trans movement, groups like the Girl Scouts are trying, from their own laughably compromised foundation, to protest the Boy Scouts' move, for obvious and quite pragmatic reasons.
One wonders if the Girl Scouts wish they'd just dropped "Girl" from their name before the Boy Scouts dropped "Boy" from theirs, but hindsight is 20/20.
As for this latest chapter of America's Romans 1 style plunge into suicidal stupidity, AP covered it this way:
"For 108 years, the Boy Scouts of America's flagship program has been known simply as the Boy Scouts. With girls soon entering the ranks, the group says that iconic name will change.
The organization on Wednesday announced a new name for its Boy Scouts program: Scouts BSA. The change will take effect next February.
Chief Scout Executive Mike Surbaugh said many possibilities were considered during lengthy and "incredibly fun" deliberations before the new name was chosen.
"We wanted to land on something that evokes the past but also conveys the inclusive nature of the program going forward," he said. "We're trying to find the right way to say we're here for both young men and young women." . . . "
Ah, "young men" and "young women"…such soon-to-be antiquated terminology. We all know that such lingo is merely temporary window dressing destined to be jettisoned in favor of ever more inclusive PC-speak as soon as possible.
But, for now, "men" and "women" it is.
Which, as you might have guessed, is where the Girl Scouts' interest comes in, as reported later in the same AP piece:
"The name change comes amid strained relations between the Girl Scouts and Boy Scouts of America.
Girl Scout leaders said they were blindsided by the move, and they are gearing up an aggressive campaign to recruit and retain girls as members.
Among the initiatives is creation of numerous new badges that girls can earn, focusing on outdoor activities and on science, engineering, technology and math. The organization is expanding corporate partnerships in both those areas, and developing a Girl Scout Network Page on LinkedIn to support career advancement for former Girl Scouts.
"Girl Scouts is the premier leadership development organization for girls," said Sylvia Acevedo, the Girl Scouts' CEO. "We are, and will remain, the first choice for girls and parents who want to provide their girls opportunities to build new skills … and grow into happy, successful, civically engaged adults."
The Girl Scouts and the BSA are among several major youth organizations in the U.S. experiencing sharp drops in membership in recent years. . . "
"Sharp drops in membership in recent years," huh. Go figure.
You mean homosexuals and "transgender" types aren't providing enough replacement children to keep up with the losses that come when sane heterosexual parents yank their children out of your transblended conversion of a once respected organization?
Weird.
Or not.
---
If you've benefitted from the work done at Fire Breathing Christian, we ask that you
consider financially supporting the cause. You can do this in one of three ways: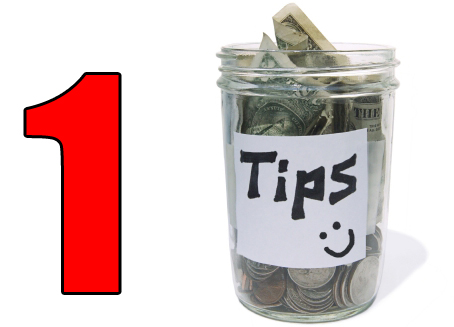 You can drop a few bucks in the tip jar by making a one-time donation through PayPal.
---

You can also donate using cryptocurrencies at the following locations:
Bitcoin (BTC) at 1Mu4a75yjroSLrMZiQFLoD66JhumVvH6E1
Ethereum (ETH) at 0x7Be44b19C1ADDC2322AFD18cad206D9DcD37dB27
Litecoin (LTC) at LN9AMhvasWRHhw25DCxvR9XtuySceKrs87
To sign up for your own cryptocurrency wallet (and receive $10 free bitcoin with your first $100 purchase), please click here.
---

You can make a regular contribution by joining our monthly support team.
---

You can use our Amazon.com affiliate link every time you order anything at Amazon.com.
---
We depend on God's provision through His faithful people.
Thank you for supporting Fire Breathing Christian!
---

Please check out our video channel and our news satire site.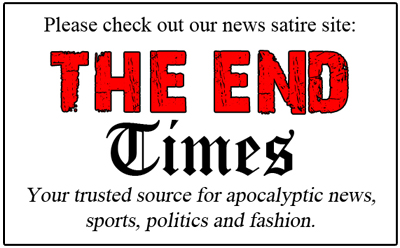 ---
You can also help support the Fire Breathing Christian mission by checking out these books:
Stupid Elephant Tricks – The Other Progressive Party's War on Christianity takes a painful but much needed look at how Christ-less "conservatism" has captivated Christians and co-opted them into helping march the culture ever deeper into darkness: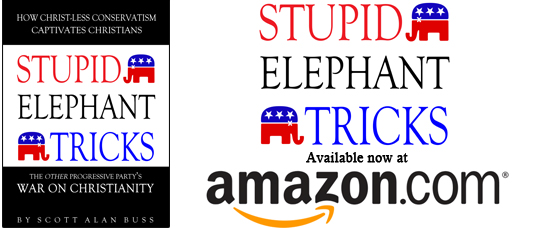 _____________________________________________________
The Beginning of Knowledge: Christ as Truth in Apologetics is an approachable, easy to read introduction to Christ-centered apologetics: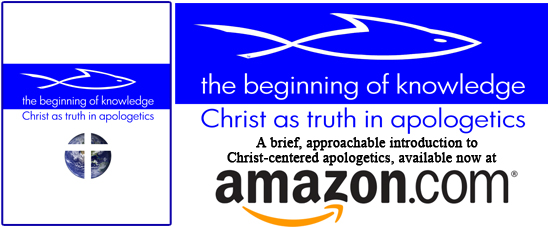 _____________________________________________________
Apathetic Christianity: The Zombie Religion of American Churchianity explores the tragic true horror story of all-American dead religion masquerading as Christianity: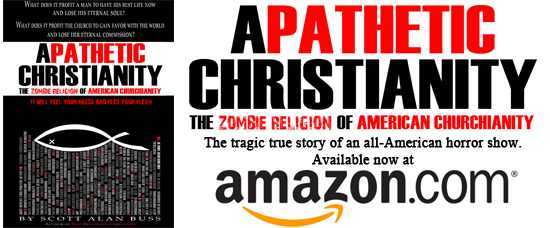 _____________________________________________________
On Education is a compilation of some of the most provocative and compelling Fire Breathing Christian articles on the subject of children's education: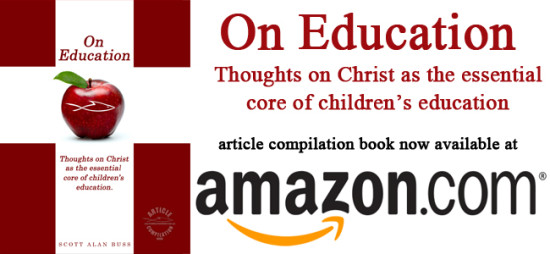 _____________________________________________________
There Is No "God-Given Right" To Worship False Gods is a compilation of some of the most provocative Fire Breathing Christian articles on the subject of America's embrace of a satanic approach to religious liberty: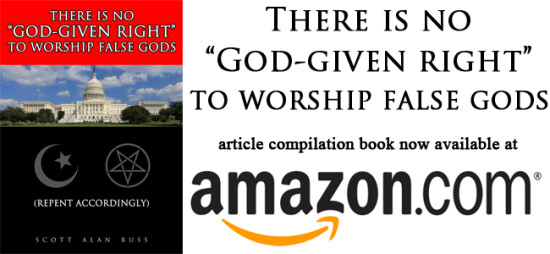 _____________________________________________________
Fire Breathing Christians – The Common Believer's Call to Reformation, Revival, and Revolution is the book that first presented the FBC mission to apply the Gospel-fueled Great Commission in every realm of God's creation: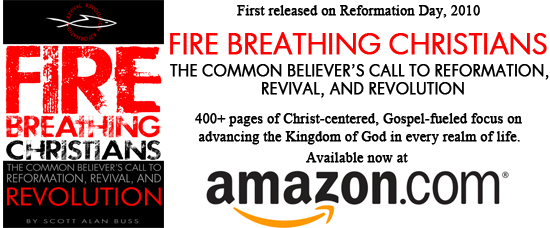 _____________________________________________________
An alternate white cover version of Fire Breathing Christians is available:

_____________________________________________________
There is also an alternate black cover version of Fire Breathing Christians:

Finally, here are a few good intro/reminder links for those of you who are new to Fire Breathing Christian and curious about exactly what's goin' on 'round here:
What are you, some kind of [insert label here] or something?!
What's with that shark-fishie graphic thing?
Intro to Fire: The Power and Purpose of the Common Believer
When the Bible gets hairy. (Or: Is it right for men to have long hair?)
And especially this one: Never forget that apart from God's grace you and I are complete morons.