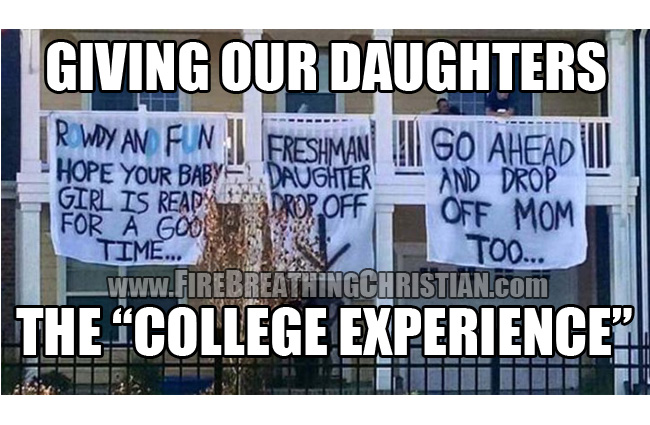 Ever wonder why we're having the cultural experience that we're having right about now?
Ever wonder why we're having the "gay marriage is 'legal'" experience now in America? (See: "Supreme Court" Votes for Wrath of God Upon America.)
Ever wonder why we've been – and continue to have – the "child-sacrifice for convenience is 'legal' experience here in America? (See: Selling murdered baby parts in America? Sure. Why not?)
Ever wonder why we've been "enjoying" the production of more and more secular-minded "Christians" and a more and more openly pagan culture for generations now? (See: Limp Wristed Gospels Make Limp Wristed Cultures.)
Ever wonder why each successive generation of Americans – certainly including the professing Christians among them – is more and more secular-minded and openly pagan than the last? (See: Why is the beast of Socialism eating our children? Ask your pastor.)
Well, there's no need to wonder, really.
The answer is obvious. Painful, but obvious…if only we'll take an honest, hard look at it.
It's all about education. It's all about the pursuit of knowledge. It's all about the way we understand – and teach our children to understand – the foundations of reality. It's all about the presuppositions upon which we build everything else – the presuppositions upon which we define knowledge and by which we pursue education.
More specifically, it's all about our buying into the satanic approach to education as introduced by the serpent in Genesis 3. (See: Redeeming Children's Education: Confronting Our Satanic Approach to the Pursuit of Knowledge.)
For the latest in the unrelenting stream of confirmation as to the darkness of our chosen path to education, USA Today (and many others) reported last week on some (predictably) pathetic developments at, ironically, "Old Dominion" University:
The Sigma Nu chapter at Old Dominion University has been suspended while the school investigates an incident involving controversial banners hung outside an off-campus house, Brad Beacham, executive director of Sigma Nu's national chapter said in a statement Monday, according to NBC News.
Reading, "Rowdy And Fun! Hope your baby girl is ready for a good time," "Freshman daughter drop off" and "Go ahead and drop off mom too," the sexually suggestive posters reportedly targeted incoming female freshmen. [Pictures of the banners in question are at the top of this post. – SAB]
Of course, this thing really isn't surprising, however appropriately disgusted we might be by this particular set of culturally normative details. The expectation of such things has been the norm for American college life for longer than I've been alive.
Of course our daughters are openly approached and encouraged to be viewed as objects of our uncontrolled sexual appetites. That's just how "the real world" works…or so we have been thoroughly programmed to believe.
Last week I heard a local Pagan "conservative" talk show host cover this story. He took the position that this wasn't really a big deal. He talked about how most students (including most female students) who were asked supposedly responded by saying that they thought the signs were funny and how he, if he was talking to his son about these things, would probably begin by chuckling about them.
In case you missed it the first time, this was a "conservative" talk show host on a "conservative" talk radio station.
Obviously then there's about a 99.9% chance that he'd claim to be Christian then, too.
And his general perspective was shared by many other similarly "conservative" voices that I heard in the days following the breaking of this story.
Welcome to 'Merica!
[insert "U! S! A!" chant here]
article continues below
As long as we embrace the satanic basis and model for education, we will be led by the nose to sacrifice our little boys and girls and sons and daughters in new and creatively destructive ways.
Each generation will continue to surpass the last.
All while the current generation of "Christians" wonders why – oh why! – is all of this happening…as they keep right on feeding their children to the beast.
The subjugation and destruction of the family is a primary objective of the enemy. To that end, biblical manhood and womanhood must be undermined at every level and ultimately obliterated entirely.
This is why we see gender chaos encouraged at every turn by the American Corporate State…the same Corporate State that owns and operates public schools, in case you missed the connection. (See: American Public Schools are Officially Gay.)
This is why we see our daughters openly treated as animals alongside our similarly debased sons.
This is why the people of God must stand and lead the way in repentance. This is why we must, by God's grace, reject the satanic model of life and submit to the loving, perfect lordship of Christ in practice right here and right now…especially in the vital life- and culture-shaping realm of education.
It's all about Christ.
It's all about the cross.
It's all about the Gospel…the true Gospel, as opposed to the pathetic little counterfeit we've been pitched from most pulpits for generations now. (See: Beware the "Gospel in a Bottle".)
We either begin with Christ as the basis for all knowledge (see: Proverbs 1:7), or we reject Him as that essential starting point and core. There is no third option…however much the serpent (and American State) may encourage us to believe otherwise.
Jesus is our basis for everything, because He owns and defines everything. (See: Art, math, beauty, logic, law and economics…it's all about Him.)
The sooner we learn and embrace that beautiful truth, the sooner we will be able to teach others rightly…beginning with our own children.
Once that happens, the worldview inspiring those repulsive "Old Dominion" banners will finally, really, and truly begin to be driven from the culture…one supernatural salvation and grace-fueled act of obedience at a time.
Once we actually obey Christ in the realm of education, we will finally see life return to it…and to everything it touches…all by His grace, all for His glory, and all to our eternal benefit.
[For more on the subject of the modern day satanic war on biblical womanhood and how some faithful Christian women are actively engaging the enemy on that important front, please visit LadiesAgainstFeminism.com.]
~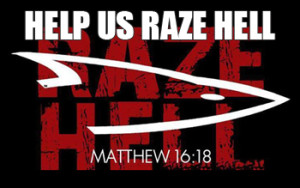 If you know of anyone who might appreciate this post, please share it. If you'd like to see articles like this continue, please click here to help.
Please also "like" us on Facebook, "+" us on Google+, follow us on Twitter and feel free to sign up for new articles by email using the buttons in the upper right corner of the FBC home page.
Also feel free to check out the latest designs at Fire Breathing Tees and the latest memes at Fire Breathing Memes. Thank you for your support!
© 2015 Scott Alan Buss – All Rights Reserved.