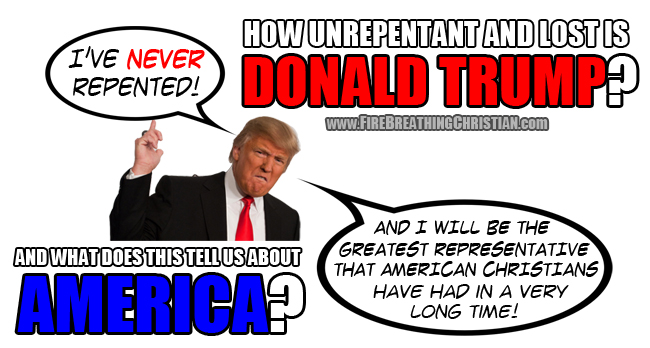 The Donald is on fire.
And so is American culture.
Coincidence?
Nope.
In the past month, The Trumpinator has moved from a merely dominant top spot in the polls to an even more "absolutely amazing" position, leaving his fellow Republicans struggling to figure out just how to tackle the brash billionaire who promises to "make America great again" without the slightest bit of apology for his self-assessed awesomeness and without the slightest need for pesky things like repentance, submission to God, or respect for Republican Party leadership (with the last one being the only one that matters to "the experts", of course).
The All-American "conservative" pride concept, having shaken off any residual semblance of a true Christian foundation, seems to be embodied by Trump. He "tells it like it is", Americans – including many professing Christians – like to say. And nothing reflects this modern American "Christian" sensibility and worldview as clearly as Trump's utter dismissal of the concept of repentance. (See: When Conservatism Trumps Christianity.)
Fellow Republican Statist President wannabe Ben Carson recently picked up on Trump's "absolutely amazing" dismissal of the core Christian concept of repentance and tried to score some political points by reminding us all that The Donald isn't, you know, the most humble sort of guy and that, you know, that might tell us something about his faith. (We will try to replay and examine some of Carson's rambling, pseudo-spiritual "critiques" in a future episode of The Fire Breathing Christian Podcast, Lord (and schedule) willing.)
As Politico reported yesterday:
Trump, who says he is a Presbyterian, has faced growing questions about his faith. In a recent interview with Bloomberg's "With All Due Respect," Trump said that his favorite book is the Bible, but declined to name a specific passage. A church he has named as his parish said he is "not an active member."
Weeks earlier, he told a crowd of religious conservatives in Iowa that he couldn't recall ever asking God for forgiveness, though he said he has taken Communion.
"When I drink my little wine — which is about the only wine I drink — and have my little cracker, I guess that is a form of asking for forgiveness, and I do that as often as possible because I feel cleansed," Trump said.
Before he announced his presidential bid, Trump told the Christian Broadcasting Network, "I will be the greatest representative of the Christians that they've had in a long time."
And this guy is rocking the polls.
Republican polls.
Where politically active "conservative Christians" hang out.
Sure, it's early, but right now most politically active professing "conservative Christians" would vote for this guy in a heartbeat if he won the Republican Party nomination. And many of them will likely vote for him to win that nomination.
What does that tell us?
What does it say about America?
What does it say about American "Christians" and the lordship of Christ over their politics and views on law, liberty, and civil government?
What does it say about whether our imploding culture is going to finally repent and submit to the lordship of Christ in practice…or whether it will continue to cling to pride and rebellion, believing that "We the People" can "make America great" apart from submission to Christ? (See: Will America repent or will America be destroyed?)
article continues below
When The Donald says both that A) He has never repented, and B) He "will be the greatest representative of the Christians that they've had in a long time," he seems in many meaningful ways to be…absolutely correct.
American "conservative Christians" don't seem to be much into the whole repentance and submission to Christ deal and they are totally eating up The Trumpinator's All-American pride- and arrogance-fueled approach to "making America great again", so…
…it ain't lookin' good.
For America, anyway.
But remember always: We don't need America.
God doesn't need America.
We need Christ.
We need repentance.
We need restoration.
We need cultural resurrection by and through the Christ that Donald Trump (and most "conservative Christian" Americans) don't seem to have the time for these days.
Whether America is blessed with such pride-crushing humiliation and restoration-enabling repentance or not, God's people and Kingdom will endure and prosper forever. (See: Roaring into Post-America Christianity.)
So pray for Donald Trump.
Pray for America.
Pray for repentance and restoration all around…while there is still time…
~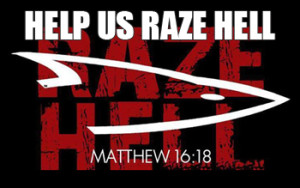 If you know of anyone who might appreciate this post, please share it. If you'd like to see articles like this continue, please click here to help.
Please also "like" us on Facebook, "+" us on Google+, follow us on Twitter and feel free to sign up for new articles by email using the buttons in the upper right corner of the FBC home page.
Check out The Fire Breathing Christian Podcast too, and see the latest designs at Fire Breathing Tees and the latest memes at Fire Breathing Memes. Thank you for your support!
© 2015 Scott Alan Buss – All Rights Reserved.