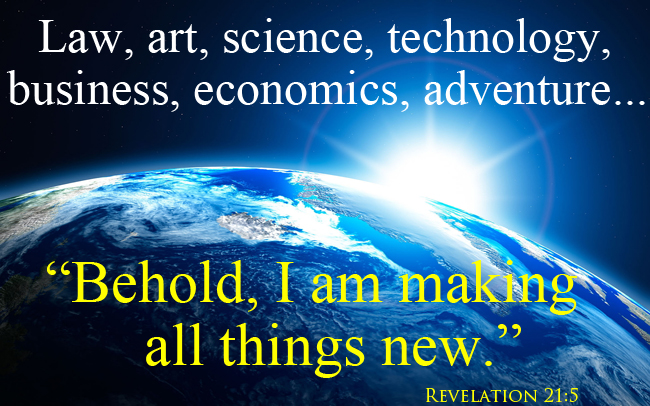 Christ revives.
Christ restores.
Christ reconciles.
Christ resurrects dead things and gives them true life.
As Christians living in the West at the tail end of 2015, we tend to have little trouble accepting this beautiful truth as it applies to men's souls.
And that's about it.
When it comes to art, law, economics, business, education, drama, history, language, science, technology, and all of the other life-, culture-, and civilization-shaping things in creation that touch (and are touched by) man's spirit and soul, we have no hope for restoration there. At least not here and now in "the real world".
Instead we tend (and are encouraged) to believe that while people can be saved, those saved people will not necessarily have a real life-, culture-, or civilization-improving impact here and now in what the enemy has assured us is "the real world" – a world that belongs to him (See: Encouragement from Satan and Obey Your King). Here and now we are encouraged to keep our religion "in its place", and leave things like law, civil government, economics, art, education, business, science, and pretty much everything but religion to pagan "experts". That's the typical approach to life and culture that we see from most professing Christians these days. Consequently, this lazy, apathetic counterfeit religion posing as Christianity has played the single greatest role in promoting (mostly through preemptive surrender) the advance of the spirit of anti-Christ over cultures and civilizations across the globe. The fire of anti-Christianity is raging across the planet first and foremost because professing Christians, in their denial and surrender of the Gospel-fueled Great Commission, are fueling and fanning its flames.
We've bought the lie that Jesus saves people's souls…and that's about it. (See also: The True Gospel Conquers Everything; The Modern American "Gospel"…Not So Much.)
So the culture goes to hell…along with vast masses of "Christians" who've never been confronted, corrected, convicted, and supernaturally saved through the faithful presentation of the whole, everything-impacting and everything-defining Gospel of Jesus Christ.
Welcome to 'Merica!
…and the 'Merica-led West.
It all comes down to Christ, as always.
Does He really own, define, and sustain everything in His creation?
Including art?
Including law?
Including science, technology, and economics?
Including history, language, and business?
Including you and me?
Yes He does.
He owns, defines, and sustains everything and everyone in His creation.
And He commands that all people everywhere repent and submit to His absolute rule and reign over every realm, area, and facet of His creation.
Not out of dry, legalistic obligation, but out of love – awestruck love for the Lord who made everything and freely chose to demonstrate His grace by saving for Himself a people who loved sin and hated holiness before He supernaturally intervened in their lives, giving them a new Spirit (His) and a new nature with new passions. Where once they loved their sin and hated His holiness, their new God-given Spirit changes everything about them at the core, giving them for the first time, by His grace, a true, Christ-centered zeal to see "all things made new" and reconciled unto Christ by the power of His Gospel-fueled Great Commission.
This is why His people are commanded and equipped to pull everything toward Him.
Law, economics, art, science, civil government, education, and everything else…it all belongs to Him. As such, each of these beautiful creations – each of these manifestations of His Nature in His creation – can only produce true light, live, and vibrant beauty when they are fully subjected to His loving rule over them.
This is why to shield any of these realms from His explicit rule is to invite their increasing perversion and use as tools of darkness and death.
The enemy and an enemy-worshiping world seeks to lead us ever deeper into darkness by "protecting" law, economics, art, and everything else from the rule of Christ.
Christ calls us to reconcile everything (including law, economics, art, and everything else) to Himself by the supernatural power of His Gospel-fueled Great Commission.
He is the image of the invisible God, the firstborn of all creation. For by him all things were created, in heaven and on earth, visible and invisible, whether thrones or dominions or rulers or authorities—all things were created through him and for him. And he is before all things, and in him all things hold together. And he is the head of the body, the church. He is the beginning, the firstborn from the dead, that in everything he might be preeminent. For in him all the fullness of God was pleased to dwell, and through him to reconcile to himself all things, whether on earth or in heaven, making peace by the blood of his cross.
~ Colossians 1:15-20
Jesus came and said to them, "All authority in heaven and on earth has been given to me. Go therefore and make disciples of all nations, baptizing them in the name of the Father and of the Son and of the Holy Spirit, teaching them to obey all that I have commanded you. And behold, I am with you always, to the end of the age."
~ Matthew 28:18-20
Choose this day whom you will serve: The One who owns, defines, and sustains all true law, art, beauty, love, and truth…or the many who would tear each of those things apart in order to make themselves god in practice.
---
If you know of anyone who might appreciate this post, please share it. If you'd like to see articles like this continue, please click here to help.
Please also "like" us on Facebook, "+" us on Google+, follow us on Twitter and feel free to sign up for new articles by email using the buttons in the upper right corner of the FBC home page.
Check out The Fire Breathing Christian Podcast too, and see the latest books at R3VOLUTION PRESS, the latest designs at Fire Breathing Tees and the latest memes at the Fire Breathing Memes page.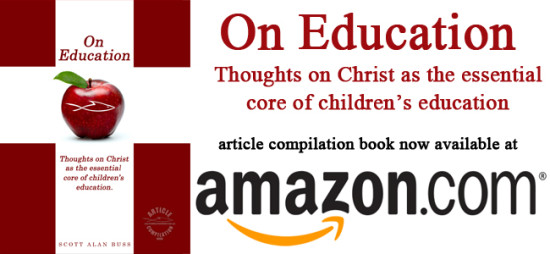 _____________________________________________________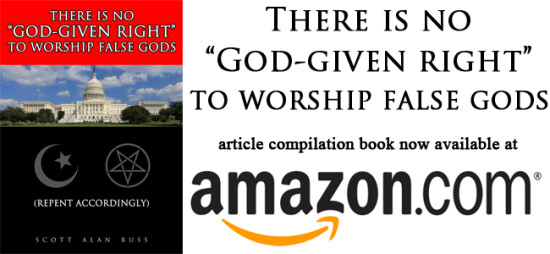 Finally, here are a few good intro/reminder links for those of you who are new to Fire Breathing Christian and curious about exactly what's goin' on 'round here:
What are you, some kind of [insert label here] or something?!
What's with that shark-fishie graphic thing?
Intro to Fire: The Power and Purpose of the Common Believer
When the Bible gets hairy. (Or: Is it right for men to have long hair?)
And especially this one: Never forget that apart from God's grace you and I are complete morons.
Thank you for your support!