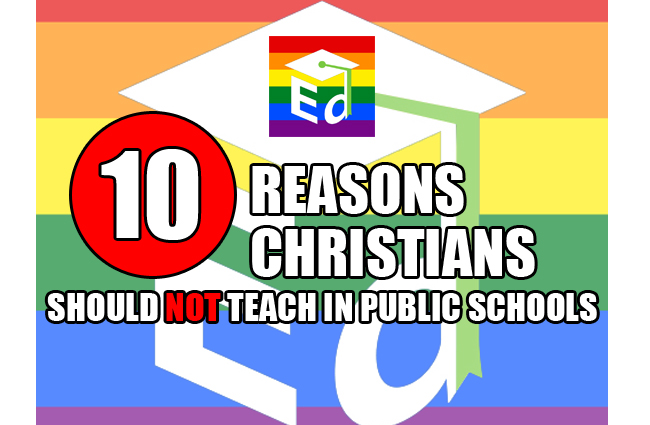 Some of my favorite people have been public school teachers. Some of my favorite people are public school teachers. Some of my favorite people are Christians who are teaching or have taught in American public schools.
As a product/victim of American State-run worldview programming myself, I have much to be thankful for. High on the list is God's perfect, purposeful use of even the satanic system of mind-sculpting known these days in America as public schools. I am thankful for God's perfect use of even the pagans who taught me in those schools. I am also very thankful for the Christians who taught me in those schools. Most importantly, I am thankful that the Lord has since delivered me from much, if not all, of the explicitly anti-Christian worldview foundations upon which the whole sorry State-run public school approach was, and is, built. True to His unbreakable Word (see: Romans 8:28), He has perfectly used even the things crafted by rebellious men (many of whom claim to be Christians) in direct opposition to His Word, all to His glory and all to my benefit.
Because I love the Lord who has delivered me from so many of the fundamental lies that this system was designed to have me believe and build my life upon, and because I love both the Christians and the lost who are still subjected to that system as students or empowering it as adults, I am compelled to share some hard biblical truths in a Spirit of faith, trusting that by "testing all things" and challenging others to do the same (1 Thessalonians 5:21), including the deeply entrenched and often adored idol of State-run anti-Christian "education", the Lord may be pleased to use my flawed expression of obedience and concern to help awaken His people and move them to repentance so that we might together experience restoration on the vital life- and culture-shaping subject of children's education. (See also: Redeeming Children's Education: Confronting Our Satanic Approach to the Pursuit of Knowledge.)
Before diving into the ten items respectfully submitted here for your prayerful consideration in light of the Word, two quick points of clarification are in order:
While many points considered here will generally apply to the subject of State-run/anti-Christ "education" as it is currently practiced throughout the West and the rest of the world, this post is aimed primarily at addressing modern American public schools.


.

I wholeheartedly agree with and am eternally thankful for the fact that God does indeed use Christians in sinful circumstances to advance His Kingdom. This certainly applies to Christians currently employed by the State for the purpose of educating children according to State-defined (and explicitly anti-Christian) standards. The ten biblical critiques of the system and satanic approach to the pursuit of knowledge presented here are in no way intended to question the sincerity or salvation of those presently involved in the State-run system. We are all works in progress. We are all learning as we go. The hope here is not to crush true Christians who are, for whatever reason, presently enabling the System in question. The hope here is to lovingly confront and correct the unbiblical foundations of the System itself, as well as our defense or enabling of that System as Christians, so that we might honor the Lord as Lord in practice, and thereby find the true joy, peace, and life that flows from a biblical, Christ-centered approach to the pursuit of knowledge.
I hope that these clarifications are helpful.
I also recommend the following three previous posts in order to get a better sense of how we are striving to approach this tender and very important subject here at Fire Breathing Christian:
With these points of clarification and reference made, off we go into…
Ten Reasons That Christians Should Not Teach In Public Schools
Teachers in pagan/State-run schools are modeling a satanic approach to the pursuit of knowledge. (See: Genesis 3.) While it is certainly true that one can learn enough to, for a time, productively use mathematics, language and the like in a practical manner apart from repentance and regeneration by the grace of God, even this practical use of God-crafted reality is wholly dependent upon His Nature and His grace (something every Christian should clearly emphasize to every student when considering any subject). Put another way, when an unrepentant sinner "learns" math, they are relying upon God's Nature to both learn and apply what they have learned, however much they may ignore, dismiss, or even hate the fact of the provision.


.


The pagan mind believes that it can rightly learn and apply truth in math, art, history, language, etc. apart from God – as originally advocated by the serpent in Eden. (See also:

Redeeming Children's Education: Confronting Our Satanic Approach to the Pursuit of Knowledge

.) Everything about this satanic worldview centers on the notion that Christ can be dismissed as essential to the pursuit of truth in life here in "the real world". Thus, the satanic approach to education openly dismisses the (biblically essential) authority of Christ.


.


The Christian worldview, in stark contrast to this, makes plain that Christ is the Author, Sustainer, Owner, and Definer of all things – including law, art, economics, math, science, and everything else (see: Colossians 1:16 and Romans 11:36), and that all true knowledge and rightful application of anything in His creation requires explicit connection with and subjugation to Him. When a professing Christian teacher agrees to dismiss the lordship and authorship of Christ in pursuit of understanding anything in Christ's creation, they are modeling for their students a satanic approach to the pursuit of knowledge.


.

Teachers in pagan/State-run schools are modeling open rejection of the Gospel. The Gospel command to repent and submit to Christ as Lord is comprehensive. It covers everything. It calls us to nothing less than the faithful proclamation and application of the Nature of God as revealed in His Word as the binding, perfect standard over every realm of life. When teachers agree to treat many vast swaths of life – like the arts, law, and the sciences – as though they may be somehow coherently set apart and properly studied from the Gospel, they are denying the true Gospel, replacing it with a pathetic counterfeit (see: 

Beware the "Gospel in a Bottle"

)

 

and they are "educating" in a manner that is openly opposed to the Gospel-fueled Great Commission (see: Matthew 28:18-20).




.

Teachers in pagan /State-run schools are, in practice, endorsing a pagan worldview.

All

education is religious. All education is theological; it all begins with an assumption about the nature and necessity of God. Every approach to life (including the pursuit of knowledge) is inherently religious. Approaching the pursuit of knowledge rightly by beginning with God is a core truth about the pursuit of truth that could not be made more plan in Scripture (Proverbs 1:7, Proverbs 9:10, Psalm 111:10, Colossians 2:3, Colossians 1:16). When teachers in practice reject the many biblical commands to maintain a Christ-centered approach to the pursuit of knowledge and instead embrace a Christ-dismissing (and therefore Christ-mocking) view of the same, they are inherently endorsing (and modeling endorsement of) the pagan worldview and religion.


.



Teachers in pagan/State-run schools are modeling opposition to the Great Commission and the subversion of discipleship. In a Christian worldview, the pursuit of knowledge (education) is always understood in the context of discipleship. The Gospel-fueled Great Commission couldn't be more beautiful, powerful, or clear: We are to become and create 

disciples

to obey

all

that Christ has commanded. (See again: Matthew 28:18-20.)


.


This obviously includes all that He has lovingly revealed on the vital subject of children's education. Christians are commanded and equipped to take every thought on every subject in every context captive to Christ (see: 2 Corinthians 10:5). The pagan/State-run system of satanically inspired "education" is diametrically (and purposefully) opposed to that God-given command. When teachers embrace or enable a pagan approach to the pursuit of knowledge in which obedience to Christ isn't advocated, much less vigorously pursued, they are modeling both rejection of and active opposition to the Great Commission.


.

Teachers in pagan/State-run schools are modeling a self-centered approach to knowledge…and life. Enabling an approach to education that centers on how we might acquire and use knowledge of His creation as we see fit according to our desires to suit our purposes apart from explicit connection with and subjugation to Christ is to validate the foundation of a thoroughly satanic approach to reality and life (see again: Genesis 3). When teachers agree with the basic pagan proposition that knowledge is ours to pursue and apply apart from God in such a self-serving manner as we see fit, they are modeling a self-centered approach to life.


.

 

article continues below




.

Teachers in pagan/State-run schools are modeling denial of the sufficiency of Scripture. (See: 2 Timothy 3:16-17.) When the clear manner in which Christ addresses the nature of knowledge in general (it's all about Him) and the pursuit of children's education in particular (see: Deuteronomy 6:4-7) is dismissed in favor of diametrically opposed approaches to truth, knowledge, and the necessity of Christ as the heart of it all, education becomes fundamentally corrupted. Where God has lovingly provided us with everything that we need to know in order to pursue and enjoy true, life- and culture- invigorating education, the pagan/State-run System of systems has lead us into ever-increasing darkness and chaos by convincing us that the satanic model of education is somehow legitimate here in "the real world" (see also:

Encouragement from Satan

). When teachers enable and participate in this openly anti-Christian approach to truth and knowledge, they are modeling denial of the sufficiency of the Word of God.


..

Teachers in pagan/State-run schools are modeling rejection of the 

complete

and

comprehensive

lordship of Jesus Christ. Having a Bible on one's desk is not enough. Going to church on Sundays (and/or Wednesdays, and/or every other day of the week) is not enough. Being polite and kind and well-groomed and generous and sweet is not enough. Non-Christians of all sorts can do all of these things. True Christians, on the other hand, are lovingly commanded and supernaturally equipped by the grace of God to be disciples, and Christian disciples are all about the faithful proclamation and application of the lordship of Christ over every subject in every area of life (see: Romans 11:36). The reason that the true Gospel is so hated by the world is that it is comprehensive. It leaves nothing to the lordship of man. When teachers openly comply with the pagan notion that Jesus can, if one insists, be "lord" over part – but

not

all – of life, they are modeling open rejection of Christ's lordship over everything.


.

Teachers in pagan/State-run schools are modeling satanic expressions of theft and covetousness. By endorsing an approach "education" centered on pursuit of the things made by God (art, language, logic, math, etc.) apart from submission to God Himself, teachers encourage students to covet and pursue that which is not and can never be theirs (true knowledge of any subject apart from God). To claim that such true knowledge on a subject can be had apart from God also models and encourages theft – the theft of God's glory. With the entire foundation of State-run "education" modeled on a satanic approach to the pursuit of knowledge, we should not be surprised that coveting God's possessions and attempting to steal His glory are fundamental to a State-programmed worldview (see: Isaiah 14 and Ezekiel 28).


.

Teachers in pagan/State-run schools are enabling the perpetual redefinition (or undefinition) of reality. In accordance with the satanic drive toward chaos – and in direct opposition to Christ's call to submission and order through Him (Matthew 28:18-20) – teachers in  pagan/State-run schools are enabling a system that has over the course of many generations already managed to radically (and unbiblically) redefine everything from liberty, freedom, justice, and law to marriage, family, gender, and even life itself. The approach is purposeful and systematic. The trajectory is fixed and will continue for as long as this satanic model to the pursuit of knowledge is enabled by Christians. (See also: American Public Schools are Officially Gay.)


.

Teachers in pagan/State-run schools model the embrace of religious pluralism and the supremacy of the State above all "equally submissive lesser gods" (Statism). The pagan/State-run system centers itself on rejecting God's clear repudiation of religious pluralism (see: Exodus 20:1-3) by promoting and building upon the wildly unbiblical presupposition that "all gods are equal". This blasphemy is now central to America's identity. (See also:

Note to 'Merica: There is no "God-given right" to worship false gods. Repent accordingly.

) This "equal regard" for all gods, aside from being the equivalent of a vulgar gesture and spit in the face of the one true God, is also inherently dishonest (go figure!) in that it's actual aim is to establish the supremacy in practice of one true god – the State – above all lesser gods. This is known as Statism. Satanic Statism is therefore not surprisingly the one religion that is openly advanced at every turn through State-run "education". (See also: Statism 101: State-run "education" makes a State-dependent population.)


.
That we are stopping here at ten points is not intended to convey the notion that there are merely ten major items of consideration along these lines. To the contrary, there are many more, and we may well add another list (or two or three) at some point in the future.
There are also many more thoughts to share as to what each point means in detail, but, as this post is already getting to be bit long, I'll pause here and thank you for your prayerful consideration.
If we truly Love the Lord, we will strive to obey Him in all things at all times in all contexts (see: John 14:15).
If we truly love our children, we will teach them to do the same.
The answers to these questions will determine our place in God's creation of history.
______________________________

If you appreciate Fire Breathing Christian, consider making a donation through PayPal.
You can also donate using cryptocurrencies at the following locations:
Bitcoin (BTC) at 1Mu4a75yjroSLrMZiQFLoD66JhumVvH6E1
Ethereum (ETH) at 0x7Be44b19C1ADDC2322AFD18cad206D9DcD37dB27
Litecoin (LTC) at LN9AMhvasWRHhw25DCxvR9XtuySceKrs87
Sign up for my weekly Newsletter here.
You can check out my books here and a Recommended Reading List here.
The Hellrazer Report, my new media site featuring regular videos covering events of the day from an informed, optimistic Christian worldview perspective, can be found here or through the linked logo below.

You can also check out The End Times, my satire site and the world's most trusted source for apocalyptic news, politics, sports, and fashion, by clicking here.

It's more important than ever for us to stay connected, and diversifying those connection points is a great way to be sure that we can stay connected when one or more platforms goes down or disallows our perspective. Here are some places that you can connect with me now: Gab, GabTV, Bitchute, Rumble, MeWe, Facebook, Twitter, Brighteon, Telegram, Instagram, and YouTube.
Of course, the best way to stay connected is through the Newsletter, which goes directly to your email, so be sure to sign up if you haven't already.
Finally, here are a few good intro/reminder links for those of you who are new to Fire Breathing Christian and might be curious about exactly what's goin' on around here, worldview wise:
What are you, some kind of [insert label here] or something?!
What's with that shark-fishie graphic thing?
Intro to Fire: The Power and Purpose of the Common Believer
When the Bible gets hairy. (Or: Is it right for men to have long hair?)
And especially this one: Never forget that apart from God's grace you and I are complete morons.