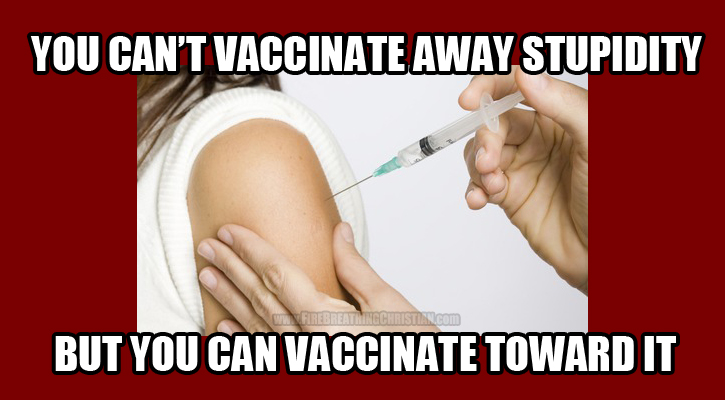 It's flu season again in America.
Which means that every Walgreen's, CVS, school, and hardware store here in "the land of the free" and the home of the NSA seems to be relentlessly pimping and profiting from flu vaccines.
Which also means that we are well served to remember that once upon a time, not that long ago, in a galaxy not very far away, things like the measles and the flu were not a big deal.
I repeat: Not a big deal.
At all.
Which is not to say that these things didn't cause harm and even at times kill people, which they certainly did (and still do).
It's just that we weren't afraid of them.
They were no biggie.
We weren't terrified by their popping up every now and then in our communities.
We expected it.
We were more reasonable and more responsible back then.
We were more sane, chill, and balanced.
Put another way: We were more like something called "a thinking adult".
But the times, they are a-changin', and here in Snowflake America – a land filled with and defined by mass pride, mass ignorance, and mass State-dependence, things like the measles and the flu are an absolute terror – a terror relentlessly (albeit comically) pitched by the State and its dependent, snowflakey little children as the plague by which humanity may well come to an end if we don't get those idiot vaccine skeptics to just shut up and get with the program already.
We covered this tragi-comedic desperation on the part of State and its vaccine-promoting disciples in an article published back in 2015 entitled "MEASLES!!! RUN FOR YOUR LIVES!!!".
Sadly, though not surprisingly, there are still many adherents uncritically buying into the State/Corporate line on vaccines, that being: "Vaccines are safe and effective, we should all vaccinate ourselves and our children, and anyone not getting with the State/Corporate program on vaccines is risking not only their lives and their children's lives, but the very existence of humanity itself. So there!"
So it should come as no surprise that every time there's an "outbreak" of measles or the flu, it's promoted as an example of a looming apocalypse – a lurking end-of-the-world scenario that would never even be possible if we'd just listen to our loving, protective Uncle Scam and get our shots on CDC schedule like the good cattle that we are (which makes the "herd immunity" pitch all the more ironic when you bother to stop and think about it, which we did last year in Building Herd Immunity Against Pro-Vaccine Propaganda.)
Nevermind the skyrocketing of serious conditions like autism and auto-immune afflictions of various sorts since the CDC vaccine schedule was radically ramped up to the point of making it "the new normal" for American children to be pin cushions injected with all manner of toxic garbage.
Nevermind that what was once an ultra-rare condition (autism) is now staggeringly common…and projected to impact one in two American children in roughly twenty years' time at the current rate of increase.
Talk about an outbreak!
Talk about an epidemic!
Talk about an existential threat to civilization!
One in two children.
Let that sink in.
Deeply, please.
And remember (or talk to someone who does remember, which shouldn't be too hard since the aforementioned CDC vaccine schedule rocket-style ramp-up began in the 1980s): There was a time when the measles and the flu did not inspire the rampant fear (and very profitable promotion/marketing of fear) that they do today.
That was before the age of the American Snowflake.
That was before the age of American-children-as-vaccine-pincushions, which just happens to have also been an age of generally healthier children.
Since becoming the most vaccinated people on earth, we've become among the sickliest.
Weird, huh?
But, of course, where vaccines are concerned, that's just "an unfortunate coincidence".
So says the State and its Corporate owners…who just happen to profit incredibly from the ramped-up CDC shot schedule that is "coinciding" with the autism and auto-immune epidemics sweeping the land.
And because the State and its Corporate owners have spoken, we're not supposed to ask any pesky questions of those pimping and promoting vaccines as "necessary for the greater good".
Questions like: Have you ever even read the insert included with the MMR vaccine (for example)?
Seriously.
Have you ever read a list of vaccine ingredients?
Do you know (or care) that the most popular American vaccines' ingredient lists (usually) include an admission of material originally procured from a murdered baby? (For more on this, please read Vaccines & Vampires: How shooting up dead baby bits became "normal" in America.)
Have you heard that the CDC has been caught egregiously suppressing/altering studies that, before alteration, pointed clearly toward a solid link between the MMR vaccine and autism?
Do you believe in the concept and necessity of informed consent where things like vaccines are concerned?
If so, does it bother you that most in pro-vaccine leadership positions openly trample (and encourage trampling) the concept of informed consent when it comes to convincing/coercing/forcing parents to inject their children with dozens and dozens of products that have not been properly tested?
Does it bother you to know that in the 1980's the American State indemnified its vaccine-producing Corporate owners, offering them unique protection from the normal legal consequences that would come if a vaccine could be proven to have injured a child (or a thousand children)?
Did you know that VAERS (the Vaccine Averse Event Reporting System), the mechanism that the American State put in place of normal routes to litigation where vaccines are concerned, has paid out billions of dollars to victims of vaccine injury?
Make that over 3.5 billion since it was founded in the '80s.
With around $200 million paid out just last year.
That's well over three billion dollars in just a few decades' time, paid out to partially compensate some victims of injuries caused by the vaccines that we are constantly encouraged to believe are "completely safe and effective".
Yeah, really.
Look it up.
Do a little research.
Educate yourself instead of relying on State-sanctioned "professionals" to do your thinking for you.
Stop being an easily manipulated member of their increasingly sickly and dependent cattle.
Start being a responsible, critically thinking adult…before they finish vaccinating those sorts of qualities completely out of the herd.
---
If you've benefitted from the work done at Fire Breathing Christian, we ask that you
consider financially supporting the cause. You can do this in one of three ways: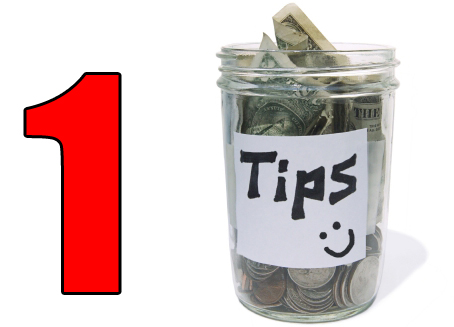 You can drop a few bucks in the tip jar by making a one-time donation through PayPal.
---

You can also donate using cryptocurrencies at the following locations:
Bitcoin (BTC) at 1Mu4a75yjroSLrMZiQFLoD66JhumVvH6E1
Ethereum (ETH) at 0x7Be44b19C1ADDC2322AFD18cad206D9DcD37dB27
Litecoin (LTC) at LN9AMhvasWRHhw25DCxvR9XtuySceKrs87
To sign up for your own cryptocurrency wallet (and receive $10 free bitcoin with your first $100 purchase), please click here.
---

You can make a regular contribution by joining our monthly support team.
---

You can use our Amazon.com affiliate link every time you order anything at Amazon.com.
---
We depend on God's provision through His faithful people.
Thank you for supporting Fire Breathing Christian!
---

Please check out our video channel and our news satire site.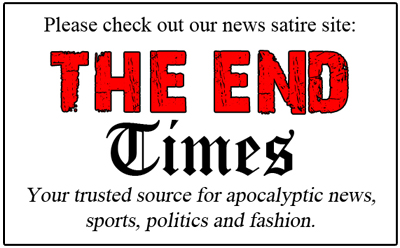 ---
You can also help support the Fire Breathing Christian mission by checking out these books:
Stupid Elephant Tricks – The Other Progressive Party's War on Christianity takes a painful but much needed look at how Christ-less "conservatism" has captivated Christians and co-opted them into helping march the culture ever deeper into darkness: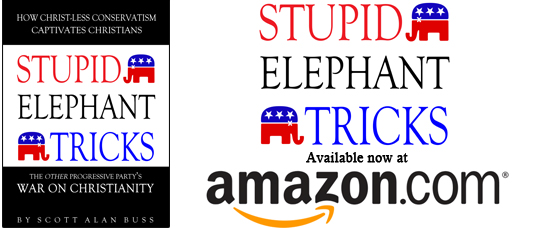 _____________________________________________________
The Beginning of Knowledge: Christ as Truth in Apologetics is an approachable, easy to read introduction to Christ-centered apologetics: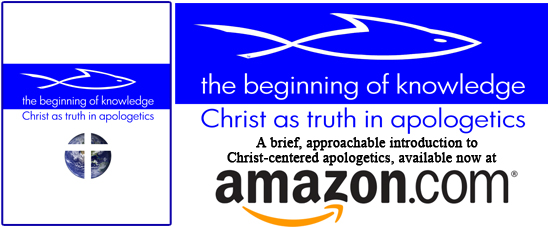 _____________________________________________________
Apathetic Christianity: The Zombie Religion of American Churchianity explores the tragic true horror story of all-American dead religion masquerading as Christianity: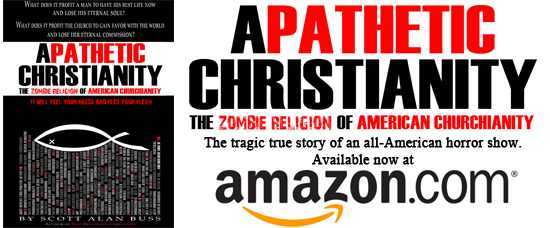 _____________________________________________________
On Education is a compilation of some of the most provocative and compelling Fire Breathing Christian articles on the subject of children's education: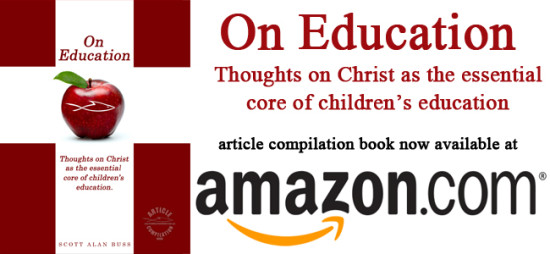 _____________________________________________________
There Is No "God-Given Right" To Worship False Gods is a compilation of some of the most provocative Fire Breathing Christian articles on the subject of America's embrace of a satanic approach to religious liberty: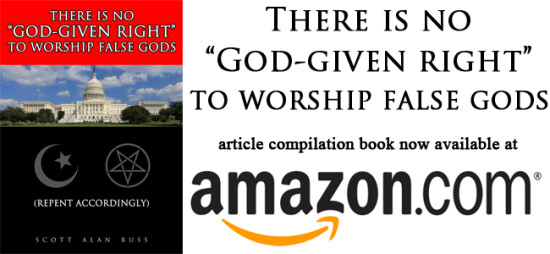 _____________________________________________________
Fire Breathing Christians – The Common Believer's Call to Reformation, Revival, and Revolution is the book that first presented the FBC mission to apply the Gospel-fueled Great Commission in every realm of God's creation: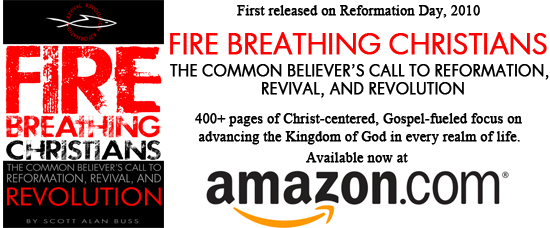 _____________________________________________________
An alternate white cover version of Fire Breathing Christians is available:

_____________________________________________________
There is also an alternate black cover version of Fire Breathing Christians:

Finally, here are a few good intro/reminder links for those of you who are new to Fire Breathing Christian and curious about exactly what's goin' on 'round here:
What are you, some kind of [insert label here] or something?!
What's with that shark-fishie graphic thing?
Intro to Fire: The Power and Purpose of the Common Believer
When the Bible gets hairy. (Or: Is it right for men to have long hair?)
And especially this one: Never forget that apart from God's grace you and I are complete morons.