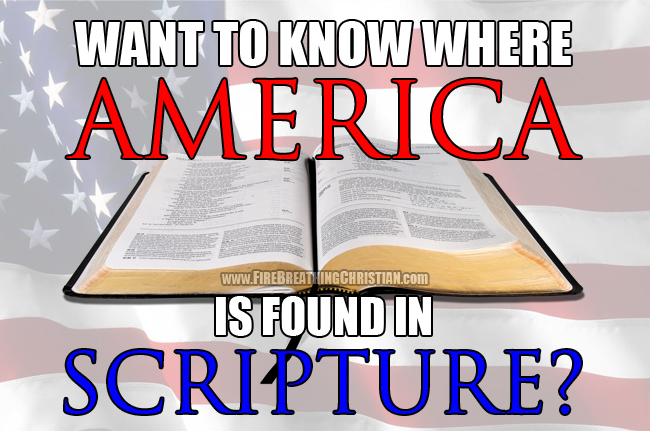 Every now and again someone somewhere tries to "find America" in Scripture.
It's in this context that I offer for your consideration…
Psalm 2
Verse 1: Why do the nations rage and the peoples plot in vain?
Why do "We the People" rage against Christ as King? Why do we despise and reject even the thought of Him ruling over us in practice and in detail?
Why, rather than repent and submit to Him, do we instead proudly pursue and relentlessly defend approaches to law and liberty that enable "legal" porn, "legal" child sacrifice, "legal" casinos with "legal" strip clubs, "legal" divorce on demand, "legal" "gay marriage", "legal" adultery-based businesses like Ashley Madison, and, of course, "legally" protected mosques, witches' covens and satanic temples where the open worship of all manner of false gods – including Satan himself – is "legal" and even cherished as a "great American virtue" held high for the world to emulate?
Talk about vanity…and plotting a socio-political course in vain…
Verses 2-3: The kings of the earth set themselves, and the rulers take counsel together, against the Lord and against his Anointed, saying, "Let us burst their bonds apart and cast away their cords from us."
From every angle and at every opportunity, the Pagan Political Left and Pagan Political Right wings of the progressive movement conspire to eviscerate true liberty, freedom, family, marriage, and life as personally embodied, defined, and sustained by God the Son, King Jesus. They strive to intimidate, control, and enslave God's people through all manner of anti-Christ approaches to politics, law, economics, business, civil government, and pretty much everything else.
Verse 4: He who sits in the heavens laughs; the Lord holds them in derision.
The reigning King and Author of all creation laughs at these pathetic, feeble attempts by created things to deny their Creator. He purposefully uses even their pouty, incoherent rebellion to demonstrate His majesty, power and unshakable sovereignty over every bit of His creation. Even these would-be gods who plot against Him are His tools for His glory according to His purposes on His schedule…however much they may imagine or pretend to believe otherwise.
Verses 5 and 6: Then he will speak to them in his wrath, and terrify them in his fury, saying, "As for me, I have set my King on Zion, my holy hill."
. . . And Jesus came and said to them, "All authority in heaven and on earth has been given to me. Go therefore and make disciples of all nations, baptizing them in the name of the Father and of the Son and of the Holy Spirit, teaching them to obey all that I have commanded you." (Matthew 28:18-20)
The fact of Christ's present and complete authority over all things – including law, economics, business, and civil government – is indeed a terrifying prospect, most especially for those who love to claim Him with their lips while denying Him in practice by refusing to submit to the crystal clarity of His Word.
Sound familiar, 'Merica?
Verses 7 and 8: I will tell of the decree: The Lord said to me, "You are my Son; today I have begotten you. Ask of me, and I will make the nations your heritage, and the ends of the earth your possession.
Does anyone really think that the Son forgot to ask?
Does anyone really think that the Father is not even now delivering to the Son the nations of the earth as His possessions?
Verse 9: You shall break them with a rod of iron and dash them in pieces like a potter's vessel."
Those who persist in refusing to obey Christ here and now in His creation will be broken. By Him.
His personal Nature defines and sustains all of His creation. So it is that all who persist in rebelling against His Nature will be purged from His creation.
Verse 10: Now therefore, O kings, be wise; be warned, O rulers of the earth.
Yes, this includes you, American Presidents, Congressmen, Senators, Governors, Mayors, County Commissioners, and Sheriffs.
You are being warned.
You are being reminded.
You are being commanded to submit to your King…
Verse 11: Serve the Lord with fear, and rejoice with trembling.
The Author, Definer and Sustainer of all things, including law, civil government, politics, and all legitimate offices therein, commands your obedience.
Submit to Him…or suffer the inevitable consequences…
Verse 12: Kiss the Son, lest he be angry, and you perish in the way, for his wrath is quickly kindled. Blessed are all who take refuge in him.
Kiss the Son, America, lest He continue to pour out His wrath upon you until there is nothing left of you.
Take refuge in Him.
Repent of all of your proud rebellion.
Beg for His forgiveness and salvation!
Hold nothing back.
Repent of the "legal" porn, "legal" child sacrifice, "legal" casinos with "legal" strip clubs, "legal" divorce on demand, "legal" "gay marriage", "legal" adultery-based businesses like Ashley Madison, and "legally" protected mosques, witches' covens and satanic temples.
Kiss the Son and submit to His perfect, loving and unbreakable authority…before He wipes you from the face of His earth.
______________________________

If you appreciate Fire Breathing Christian, consider making a donation through PayPal.

You can also donate using cryptocurrencies at the following locations:
Bitcoin (BTC) at 1Mu4a75yjroSLrMZiQFLoD66JhumVvH6E1
Ethereum (ETH) at 0x7Be44b19C1ADDC2322AFD18cad206D9DcD37dB27
Litecoin (LTC) at LN9AMhvasWRHhw25DCxvR9XtuySceKrs87
Sign up for my weekly Newsletter here.
You can check out my books here and a Recommended Reading List here.
The Hellrazer Report, my new media site featuring regular videos covering events of the day from an informed, optimistic Christian worldview perspective, can be found here or through the linked logo below.

You can also check out The End Times, my satire site and the world's most trusted source for apocalyptic news, politics, sports, and fashion, by clicking here.

It's more important than ever for us to stay connected, and diversifying those connection points is a great way to be sure that we can stay connected when one or more platforms goes down or disallows our perspective. Here are some places that you can connect with me now: Gab, GabTV, Bitchute, Rumble, MeWe, Facebook, Twitter, Brighteon, Telegram, Instagram, and YouTube.
Of course, the best way to stay connected is through the Newsletter, which goes directly to your email, so be sure to sign up if you haven't already.
Finally, here are a few good intro/reminder links for those of you who are new to Fire Breathing Christian and might be curious about exactly what's goin' on around here, worldview wise:
What are you, some kind of [insert label here] or something?!
What's with that shark-fishie graphic thing?
Intro to Fire: The Power and Purpose of the Common Believer
When the Bible gets hairy. (Or: Is it right for men to have long hair?)
And especially this one: Never forget that apart from God's grace you and I are complete morons.